Miller's sets up summer location in Strasburg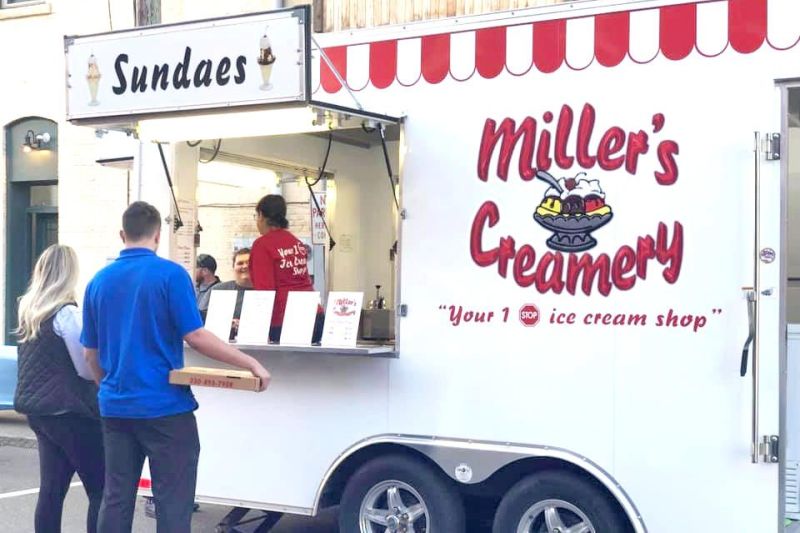 Miller's Creamery has been serving ice-cream treats at three locations for many years. The 17-year-old business also has offered its flavors at festivals, weddings, car shows and other outdoor venues, but all that changed with 2020 being the year of the coronavirus. Limited gatherings and social distancing have caused cancellations or long delays for many events, forcing Miller's Creamery, like most other food vendors, to get creative.
"We're going to have our concession stand in Strasburg for the summer," said Gladys Miller, owner of the business. "It will be set up on Route 21 across from the antique mall there."
The Strasburg Antique Mall is at 1020 N. Wooster Ave. in Strasburg.
The Dover location at 211 W. Third St. downtown opened with patio seating last week and will reopen for indoor customers with appropriate precautions this week.
"The New Philadelphia location has always been walk-up," Miller said. "But now there are picnic tables for seating."
The New Philadelphia location is on 1706 E. High Ave. near Harry Clever Field. A franchised location in Millersburg rounds out the areas covered by the business.
While most of the scheduled events Miller's Creamery had planned for the summer have been canceled, not all have. "We're seeing some weddings going forward this summer. We also supply ice cream, sherbet and caramel corn to the Uhrichsville Water Park. They had not planned to open this summer, but we've just learned that they plan to likely open sometime in June," Miller said.
Through the shutdown Miller's Creamery has tried to keep their 24 employees busy. "We also have a wholesale side, so that helps," Miller said. "Our staff has been just excellent through all of this, very helpful."
Miller's Creamery offers homemade ice creams, scratch-made sherbets, caramel corn, light snacks, and burgers and sandwiches. The ice cream, sherbet and caramel corn products are available in many stores and locations throughout the area, as well as the store locations.
"It was very hard in the beginning," Miller said of the statewide order to close most restaurants and bars in March. "Hard for us just like everyone else. But now things are beginning to happen. We've been talking with a lot of people this week and making plans, and it's very exciting."
Miller's Creamery began in 2002 when Norman Miller, Gladys' husband, thought the family should have something to do on the side in addition to regular jobs The following year, after buying and converting an older mobile building, the first Miller's Creamery opened in New Philadelphia.
A full selection of homemade sherbet flavors was added, then the family recipe caramel corn. Soon it became necessary to choose a production partner for the corn, hire additional employees and set up a distribution center as area stores and markets began offering Miller's treats.
The Dover location, with sit-down indoor dining, opened in 2015. From small and humble beginnings, the business has become a full-time occupation for the Miller family.
Without festivals, car shows and other events this summer, fans of Miller's Creamery might have worried they'd be without their favorite ice-cream flavors. The Strasburg location should answer that.
Miller said she is looking forward to opening the Strasburg concession soon with most of the goodies customers have come to expect. "We think it's a good location. I hope it will be successful there," she said.
The Dover and New Philadelphia locations are open 11 a.m. to 9 p.m. with hours stretching to 10 p.m. beginning in June.