Mom designs furniture that grows with children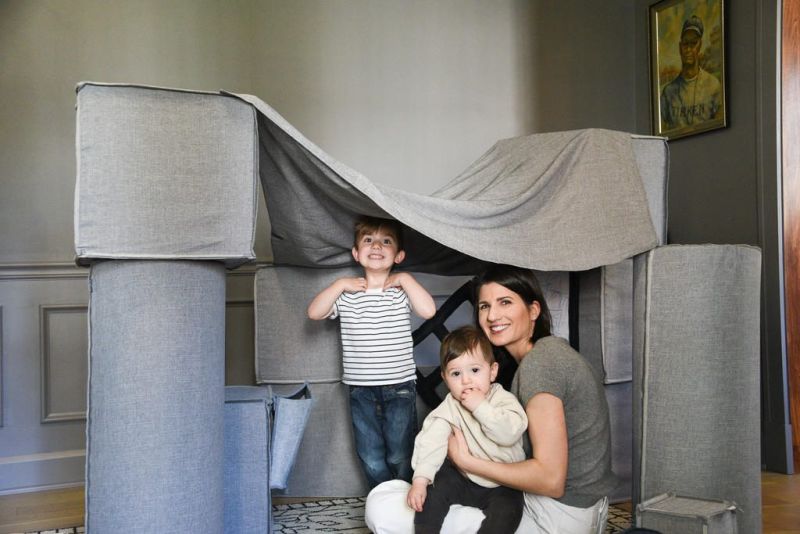 It's a familiar problem for parents of young children: a growing pile of items a growing child needs for a brief window in their young lives but are then discarded as the child outgrows them.
Tracy Nikodemo, mother of a toddler, saw this as a problem she was uniquely positioned to tackle. Her company, Little Creatives, is in the final days of a kick-starter campaign that has exceeded its $12,000 funding goal well ahead of schedule. The company will make sturdy, adaptable furniture pieces to carry a child into adulthood.
Nikodemo said she was searching for furniture pieces for her 18-month-old child that could grow with him. "You buy something, and it doesn't take long until you have no use for it, and it gets stored away and never sees any kind of useful life again. I was looking for something we could use for years to come." Her search turned up little, if anything.
"There were things that, even if they could be adapted over time, were so poorly made that they wouldn't last long enough to see that happen," Nikodemo said. "I wanted something to last 10 years of regular use, at least, for both children and their parents. I just couldn't believe this didn't exist and that no one had thought of it."
Nikodemo, a designer for well-known retail companies, set to work coming up with something that filled the need she saw common to many families. "Looking unsuccessfully for solutions that were already out there became the basis for my own market research," she said.
There followed many months of coming up with products she felt would find a place in parents' homes.
A mini chair and a play sofa are the main initial offerings for the kick-starter campaign. Each can be reconfigured and doubles as creative play blocks. At the same time, the pieces are meant to be enjoyed by adults.
"The foam we use is extremely sturdy and will easily hold an adult's weight," Nikodemo said. "It really cannot be compacted. So much of children's furniture out there won't take the weight of anything but a small child, so again, it sees little use outside that small childhood window. These pieces will last for many years."
Nikodemo has been meticulous about development and testing, she said. "I went through a lot of drawings, then mockups to work out just the right configurations. Once we had working models to test, we had children over to interact with what we had to get feedback, then changed things as needed and tested them again."
Fabrics are easily washed, removable polyester. "We tested every stain we could think of and didn't find any we couldn't wash out easily with mild soap and water," Nikodemo said.
The furniture is recommended for age 2 1/2 to adults. The pieces begin as cubes that are easily assembled by all age groups. Accessories make it possible to create covered play forts that are then quickly and easily converted back into a simple chair or sofa in any room in the house.
"Something that was unexpected about our design is that they can help young children learn motor skills," Nikodemo said. "My own child was cruising from block to block, which were sturdy enough to support him, and this actually helped him to learn to walk."
Along the way, everything has been "tested, tested, tested," Nikodemo said. "We wanted to make absolutely sure everything would stand up to the kind of activity children might subject it to. We wanted things to be easily assembled, easily cleaned and that would offer years of regular use."
The kick-starter campaign continues through Nov. 18. Preorders placed there will continue until the campaign expires at www.kickstarter.com. Search for Little Creatives.
After the 18th, preorders may be made through the company website at www.shoplittlecreatives.com. Preorders will be delivered in late February or early March, Nikodemo said. At that time shipments will begin for orders as they are received.
Extensive information with demonstration videos is available at each website.