Mr. Lightning: taking the area by storm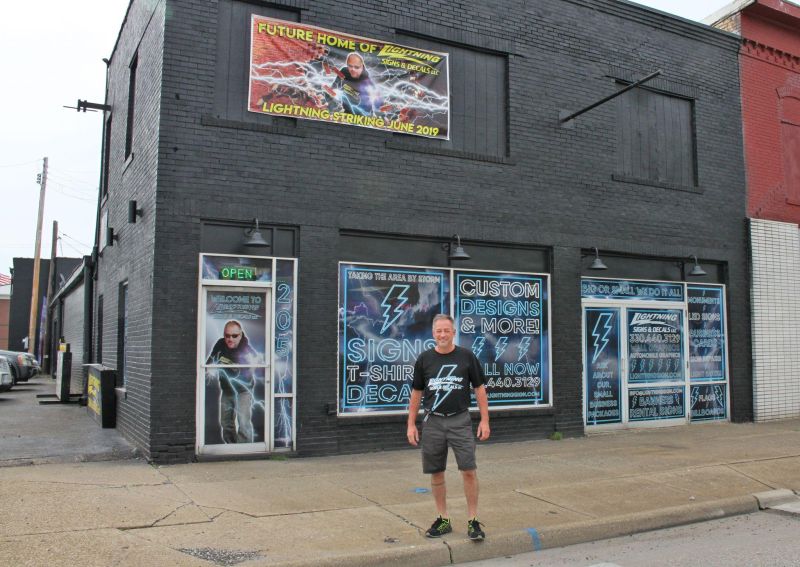 Although you might recognize "Mr. Lightning" from the Lightning Signs & Decals' flashy TV spots, the real flash of recognition comes from the company's work. It's everywhere, from the signs on storefronts to the decals on the backs of cars.
"Mr. Lightning," aka Cris Call, started out of his garage, and in less than a decade, he has taken the New Philadelphia area by storm. Recently, Lightning Signs & Decals moved into a 5,000-square-foot space double the size of the space the company has occupied for the last four years.
In early June, Call hung his shingle at 205 S. Broadway St. and hoisted the trademark bucket truck with the official mascot mannequin in tow to the top of the roof.
Lightning Signs & Decals creates custom signs and banners; prints personalized graphics for business cards, shirts and yard signs; and stocks decals as an authorized distributor for Mossy Oak, Browning, Realtree and Bone Collector. Also, it's a place you'll want to keep in mind the next time you need a fishing license or a U-Haul.
Two full-time designers help Call run with his customers' ideas.
"We design signs to make our customers' businesses stand out from their competitors," Call said.
Call, with the help of his five-person install crew, works around his customers' schedules.
"We can do installs after-hours and even Sundays," Call said. "It takes training, and my crew knows what they're doing."
They stand behind everything they do, securing and straightening and ironing out wrinkles and bubbles.
"It's rare, but if there's ever an issue, we'll go back and fix it," Call said.
There's a chance to shine. Lightning Signs & Decals creates custom LED lighting signs and carries state-regulated reflective decals for street signs and vehicles.
"We also convert florescent light signs to LED. You don't have to worry about the ballast going out, and they're brighter, more cost-effective and they last longer."
One thing that catches the eye is that Lightning Signs & Decals is one of the few companies in the area that does direct-to-garment printing.
"A lot of companies don't have the equipment, and they're still doing the old screen printing," Call said. "We can take a picture off a phone and put it on a shirt."
For the foreseeable future, all signs point to Lightning Signs & Decals sticking around.
The new Lightning Signs & Decals is at 205 S. Broadway St. in New Philadelphia. Call them at 330-440-3129. Look for the bucket truck Monday through Friday from 9 a.m. to 5 p.m. See "Mr. Lightning" at LightningSign.com.