New Philadelphia man finds success with hot sauce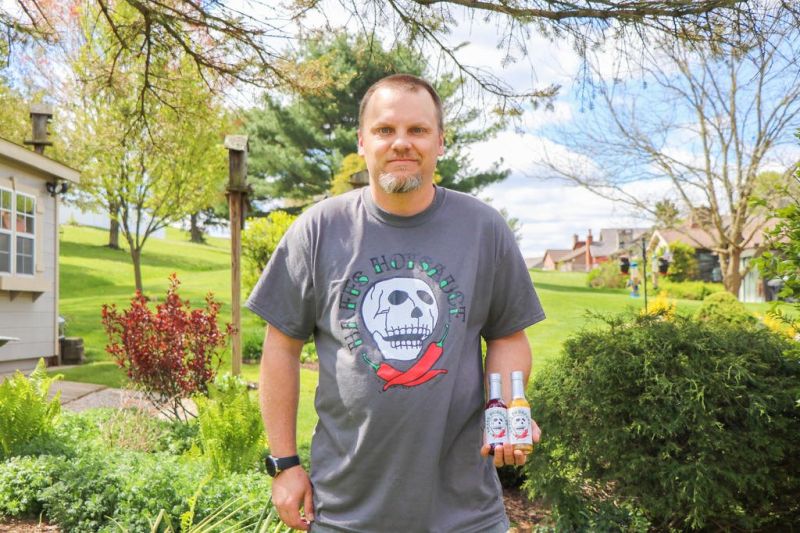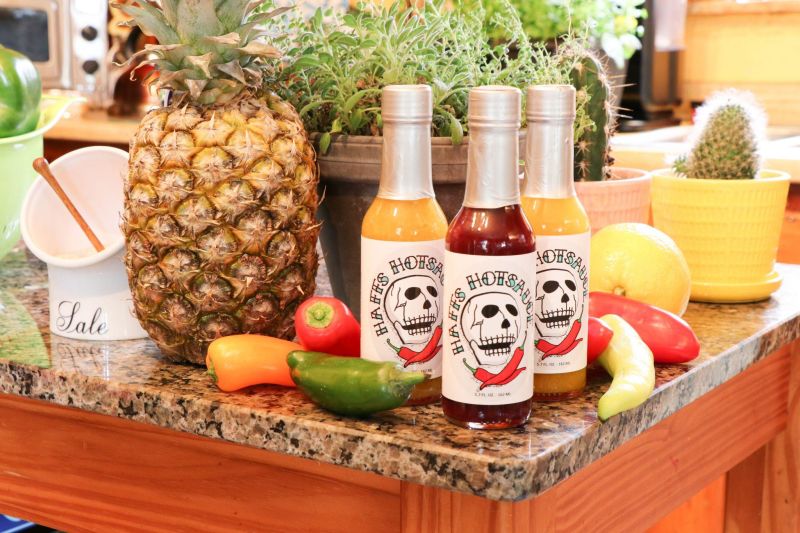 It's almost a Hollywood clichè. The main character makes something that is popular among friends, and those friends urge the main character to start a business, which is then a great success.
Bryan Mehaffey of New Philadelphia has lived out just such a familiar script as demand for Haff's Hot Sauce has overrun his ability to keep up, little more than a year after producing the first batch.
The secret, it seems, is in Mehaffey's creativity in coming up with interesting flavors to go with the intense heat of his sauces, which have been produced in New Philadelphia from peppers he grows himself.
"We started just last year," Mehaffey said, "but got more serious in February. I've been growing peppers at home for a couple of years."
Mehaffey uses the hottest of chilies including the famed Carolina Reaper, a chili that looks as demonically hot as it truly is, with a bright red, bumpy skin and short tail. It registers around 1.5 million on the Scoville scale of chili heat.
"I took some of my sauce to a party, and people there said I should bottle and sell it, and that's how it got started," Mehaffey said.
"You should sell this" doesn't begin to encompass how much work is required to get going with a new food product, as Mehaffey quickly found. "There was an awful lot of research at first," he said. "There are numerous certifications from various agencies you have to get. And you cannot do this in a home kitchen. It has to be a commercial kitchen."
A commercial kitchen is something Mehaffey didn't have at home, so he began searching for such a kitchen to use. The solution turned out to be as creative as his recipes.
"I talked to Buckeye Career Center about using their kitchen as a sort of incubator location until I can reach the point of finding another place," Mehaffey said. "They didn't have anything like that set up, but we came to an agreement and made it work."
Batches of his Haff's Pineapple Ghost Pepper, Haff's Sugar Rush Peach and Haff's Indigo Fire Blueberry have been exceeding demand since.
"Your Pizza in New Philadelphia started offering it on their wings. They went through 6 gallons of the sauce in the first week," Mehaffey said.
That's more than Mehaffey, who works alone with some behind-the-scenes help from family, can keep up with from a small home garden. He is now beginning a partnership with a co-packer in Columbus, but that doesn't mean the flavors of his sauces will change in any way.
"The sauces will be my recipes, and I have full final approval of every step," Mehaffey said.
Mehaffey will then ship the finished hot sauces to locations around the area. The need for a large-scale production partner was becoming urgent. He is looking forward to reviews by well-known hot sauce writers in Australia and Las Vegas.
"And that could really create a much bigger demand. We had to do something to be ready for that," Mehaffey said.
All this sauce production also shares time in Mehaffey's life with a regular full-time job and other responsibilities.
What happens if Haff's Hot Sauce really takes off with national or even international demand? "I want to have my own kitchens and production facility right here in New Philadelphia," Mehaffey said.
As it stands in the shorter term, Mehaffey has plans for a minimum of six flavors with a goal of nine within two years and rotating signature flavors available in area restaurants. The next to arrive will be a strawberry, kiwi and Carolina Reaper sauce.
It is clear Mehaffey takes as much pleasure in naming the sauces as he does in putting together the recipes, a process which also requires considerable creativity. With so many sauces available on the market, unused names are hard to come by, and Mehaffey has had to rename a few along the way.
Find Haff's Hot Sauce at Dawn & Jerry's Pizzeria in New Philadelphia, Park Street Pizza in Sugarcreek, McAlpine Meadery in Beach City, on the menu at Your Pizza and at Boltz Family Farms in New Philadelphia.