New ProVia facility means a surge of economic growth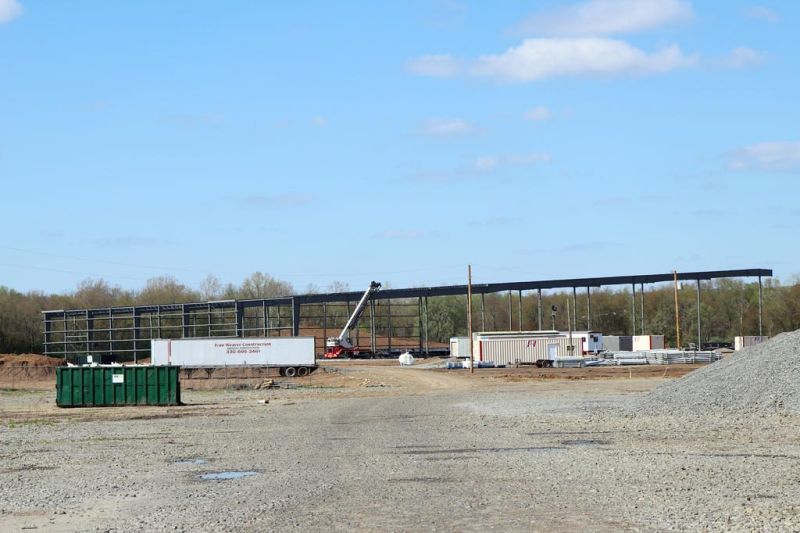 Franklin Township is getting an economic influx as a large local company moves a new $22 million facility to the north side of Strasburg on a 79-acre lot located between state Route 250 and state Route 21.
ProVia, a national leader in door and window production, will soon set up shop at its new facility, and with that comes what is assumed to be a financial windfall for the area.
The new facility will be a 400,000-square-foot building for ProVia to continue its expansion.
"It's a pretty big structure, and we are totally committed to it for several reasons," said Joe Klink, director of corporate relations with ProVia. "We are excited about not just what this means for our company, but what it means as far as creating an economic impact in the area."
According to Klink, the new facility will serve as both the new window production facility and the distribution center for ProVia.
A few years ago ProVia built a new 16-bay loading dock at its main hub in Walnut Creek. It seemed at the time those loading docks would be more than enough to handle all of ProVia's local production. However, that all changed when the company did research through distributors and the window industry and found out what the public wanted in vinyl windows. They put that to good use, and the vinyl window business took off.
"We are now beyond the capacity of what that loading dock area can handle," Klink said.
ProVia even added a 70,000-square-foot addition to the Walnut Creek facility, but that was not enough. Thus the need to build arose. "There was barely enough room to move around. This move can't come fast enough," Klink said.
While the distribution center will head north to Strasburg, the old facility in Walnut Creek will be dedicated to creating more entry door production.
Klink said they began exploring possible building options throughout the area, both near and far, looking at Massillon, Navarre, Dover, New Philadelphia and other areas.
"We were very diligent in our search," Klink said. "We looked at a lot of land options and did a lot of research. Then this farm came up for sale, and not only was it flat and spacious, but being a distribution center, it is so perfectly located from an interstate standpoint. We can easily connect to Route 30, U.S. 77 and Route 250. It was ideal."
Klink also said it will be 20 minutes from the current Walnut Creek and Sugarcreek facilities as well as close to the facilities in Baltic and on Cherry Ridge near Sugarcreek. This move will allow them to create hiring opportunities for both their current employees who might want to move north while at the same time attracting jobs from Strasburg, Massillon and Canton.
"It helps open up access to additional labor force," Klink said. "Having that kind of flexibility to add to our labor force is going to be a huge advantage."
Through its work with Jobs Ohio, ProVia has committed to adding at least 197 new jobs. That alone will have economic repercussions, but what this brings to the area economically doesn't stop there.
Harry Eadon, president of Eastern Ohio Development Alliance, said he and his staff were recently discussing the new ProVia facility, trying to evaluate the economic impact of adding hundreds of jobs to the area and what that might look like in the future.
However, Eadon said looking at the bigger picture, the new facility means more than just the jobs created inside the company. It also entails the employment of a number of businesses outside that are helping to build the $22 million project and will utilize the expertise of a number of local companies.
"There will be a significant number of construction employers and laborers used to build the project," Eadon said. "In addition there are the materials needed to build, and many of those materials are being purchased locally, creating a whole different economic impact. There is obviously going to be some spin-off from that from a standpoint of the schools and the agreement they made with the schools."
Eadon said he and his staff should have a better idea in late May on the effects of the project when it comes to putting together numbers on job creation, tax benefits, infrastructure development, potential to bring in additional site and business development, potential housing development, community growth, and better quality of life.
One thing is certain: It will have an impact on Strasburg Franklin Township and the surrounding counties.
"It is going to be an enormous impact," Eadon said. "We are excited that it is a 79-acre site, and this first building could be the first of two or maybe even three projects that they could conceivably have on that site. This will be the place where they will continue to grow."