New store offers unique furniture and home decor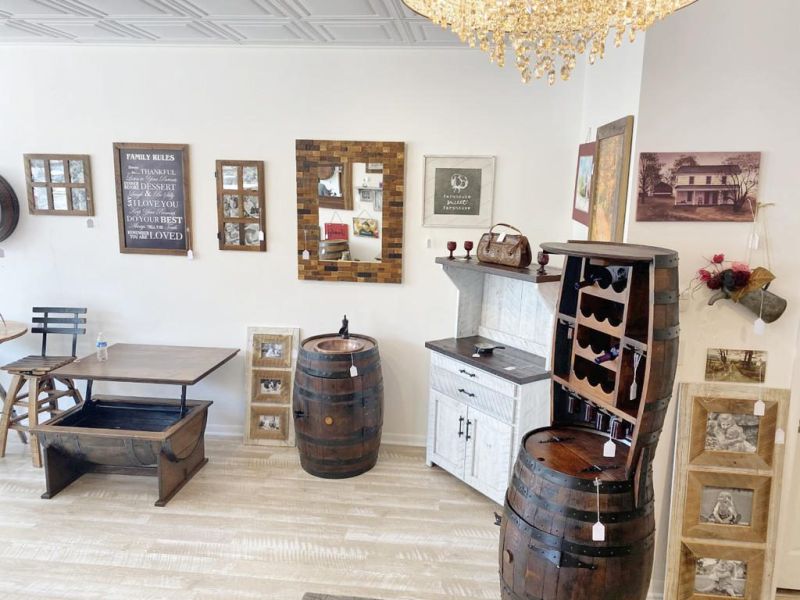 Ashley and Dan Gingerich have opened Antique Barnwood Creations on the square in downtown New Philadelphia, and it promises to offer unique furniture and home decor pieces you're unlikely to find anywhere else.
Most everything in the store is one of a kind, beginning with recycled, locally sourced barn siding and framing parts, then crafted into pieces by local Amish craftsmen.
Antique Barnwood Creations opened Aug. 10 and has seen steady traffic since, Ashley Gingerich said. "It has been steady. And if we don't have exactly what someone is looking for, we can design it for them from scratch. We encourage people to bring in a picture of something they'd like to have made," she said.
The store is just across Broadway from the county courthouse, with an open feel, clean white walls and light flooring creating a contrasting backdrop for the many barn wood creations on display.
There are reimagined Adirondack chairs, rustic tables and stools, shelves from reclaimed doors, upholstered pieces and hall seats dotted here and there with antique pieces, blankets, and barn wood picture frames. A series of large glass chandeliers light the store from overhead.
They knew they'd found the right location for the store as soon as they looked in the window while scouting. "It brings in plenty of light and is really the perfect location. We love it," Ashley Gingerich said.
The whole business is a family affair. "My husband disassembles the barns along with our two older boys, Kevin and Kyle, and then the wood goes to an Amish craftsman who turns it into all these pieces," Ashley Gingerich said, pointing out several items nearby. "They designed the wormy chestnut cart there with the industrial wheels, the chairs and tables, all of it. Another person creates the pieces you see made from recycled whiskey barrels."
The couple has a deep background in building things. Ashley Gingerich watched with childhood fascination as her grandfather built things in his shop, and Dan Gingerich is a homebuilder. He deconstructs the barns carefully, something he learned to do both from observation and experience.
"The first time we took a barn down," Dan Gingerich said, "we didn't take nails out or sort things as we went, and that doubled the work. Now we take everything apart carefully, starting at the top of the barn, and pull out nails and sort and stack as we go. It takes longer up front, but it's much easier that way, and you are able to reuse as much as possible. We try to preserve every piece of wood we possibly can."
It can take a couple of weeks to disassemble an average-size bank barn, and each barn yields its own mix of wood species, metal parts and metal roofing sections. All of it is incorporated into the end creations in some way.
Nothing is wasted. A random oversized saw blade was later inlaid into the top of a table. Corrugated metal forms the sides of a hall seat. Found oil lanterns become electric wall fixtures. With such unique items and a constantly changing inventory, Antique Barnwood Creations is a store that warrants frequent visits to see what's new.
Ashley Gingerich is a Uhrichsville native while her husband is from the Baltic area. They currently live in Dennison. The store is open Monday through Friday from 10 a.m. to 6 p.m., Saturdays from 10 a.m. to 3 p.m. and closed Sundays.
Antique Barnwood Creations is located at 101 W. High Ave., New Philadelphia.