Ohio's seasons inspired natural product line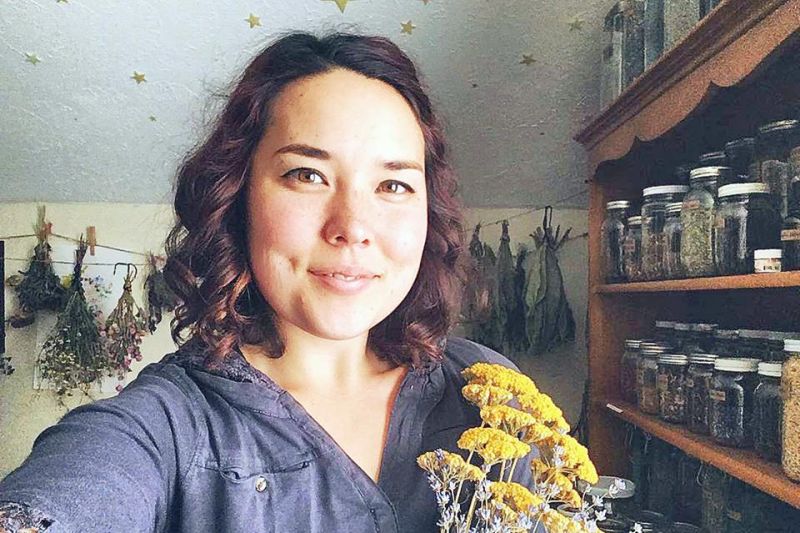 A local woman has started her own online business, making natural products straight from her 5-acre homestead.
Having grown up on the west coast of Kauai, Hawaii and having lived in the Arroyo Grande and Monterey Bay areas of California before meeting her husband in Monterey, Natalie Akane Friedrich first came to the area in 2010 with her husband to experience the state and meet her husband's family.
"I stayed, in love with the four seasons," Friedrich said.
These four seasons inspired her natural product line. "Ohio's changing seasons tantalize my senses and greatly inspire my work," Friedrich said.
Friedrich started making natural products for herself. "I love growing herbs, identifying and foraging wild species," she said. "I wanted to make my own simple and effective everyday body products with fresh, high-quality ingredients to replace what I bought in stores."
Friedrich said she was self-taught in making her products and learned through trial and error. "Eventually my batches got bigger to share with friends and family," she said.
Those Friedrich shared with provided support and encouragement to expand. "Creating products that contributed to nourishment and wellness of others feels very fulfilling for me," she said. "I want to inspire people to care more deeply about themselves and dedicate some time to grow and tend that relationship in a healthy way. I want people to tap into their greater potential and find their own natural glow."
Friedrich took a class with a tea maker and started learning herbal tea blending, which became another favorite activity. "Every process of the tea from growing, harvesting, blending, brewing, sharing and sipping is so good for the body and soul," she said. "Drinking tea is a daily ritual for me. I love choosing the blend of herbs perfect for that moment."
A year ago Friedrich took her products online at Gnat and Bee. She also stocks her brand in five locations and attends local craft shows. "I love connecting with customers, explaining my products and suggesting routines based on their needs," she said. "I see my products as tools for each person to use on their own path back to themselves."
Friedrich said she finds natural products important because she is concerned about harmful toxic chemicals in conventional body-care products. "Using natural and organic topical products is a strong foundation to keep you safe and healthy. This, along with eating clean, nutritious foods, will keep us looking and feeling our best and help prevent disease," she said.
Friedrich said body-care routines don't need to be expensive or elaborate and that her plant-based products can be seen as a means to cultivate a positive relationship with your body and spirit that is full of compassion, grace and presence.
Friedrich uses her products for herself and her family every day, from skin care, salves for cut skin and bites, and a sore muscle salve to help her mother's arthritis to even an insect repellent.
The freedom of an online shop and her pop-up booths greatly appeals to Friedrich. "It's important to me to have a flexible schedule to dedicate quality time with myself, my husband and our daughters who are 4 and 5 years old," she said.
Friedrich also has a day job as one of the market managers at Local Roots in Wooster.
"I love lifting up other small businesses, having a home in our community, and I sometimes get to represent Gnat and Bee during my hours there," Friedrich said of her time with Local Roots.
Friedrich said she would love to teach classes at the market such as herbalism, natural-body care, tea ritual and watercolor.
Supporting local small businesses is something Friedrich is passionate about. "To support a small business is an act of mindfulness and building community," she said. "When you purchase from a small business, you are directly supporting the maker's hard work, passion, life and family. We usually show more appreciation for small business purchases because of its rarity, quality and handmade nature. Giving through monetary means or action makes a difference in the success of their unique journey."
You can help to keep a business open that actually cares about you, according to Friedrich.
"The commercial world is filled with identical and disappointing options," Friedrich said. "But when you shop small, you find character. You can see where the maker put their soul into what they love to do. Let's show these movers, makers and shakers that we care and respect their efforts, even against all of the big competition out there. Let's show that we want to have connection in our community and give our local economy a chance to thrive."
You can find out more about Friedrich's online business at www.gnatandbee.com.