Opening the door to your next home improvement project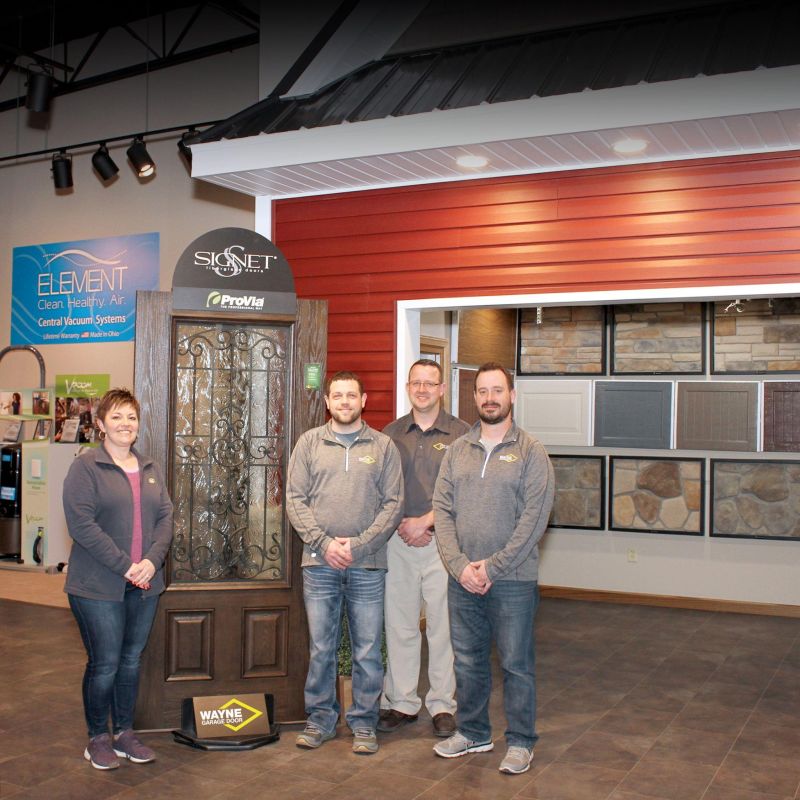 The name Wayne Garage Door is truly a misnomer.
"We do much more than garage doors," said Bob Habeger, president of the Dover-based company. "We're a professional one-stop shop for garage doors, storm doors, entry doors, windows and many of your other remodeling needs."
Although about 60 percent of the company's business is in commercial and industrial service, Wayne Garage Door services a substantial number of residential customers throughout Southeast Ohio and beyond.
Wayne Garage Door's residential products include:
• Garage doors, openers and operators
• Storm doors
• Bay and bow windows
• Entry doors
• French doors
• Sliding patio doors
• Awnings
• Stone veneer
• Central vacuum systems
• Sunscreens and shades
• Glass block windows
• Home automation systems
"As you might guess from our name, garage doors were the company's first product when it was established by Menno Yoder in 1973," Habeger said. "Slowly, over the years, people recognized the quality of our products and workmanship and started to ask us about doing additional things."
Wayne Garage Door began with a small showroom and warehouse, then established the first service department in the area.
"The department consisted of highly skilled craftsmen and technicians who provided quick service and repair," Habeger said. "Anyone can install a door, but not everybody provides top-notch service."
Today, each product line has its own specialized department and manager, he said. Overall, the company has about 60 employees.
"We don't send our garage door specialists to hang windows and entry doors," Habeger said. "The specialization of our service and installation staff is part of what makes us a very good company. Our people know what they're doing."
Wayne Garage Door's product line, he added, is carefully chosen.
"Quality is the first consideration," Habeger said. "We also try to utilize a lot of products that are local."
Haas residential garage doors, for example, are made in Wauseon, Ohio, west of Toledo.
"We specify Haas because we feel that it is the best quality door on the market," Habeger explained. "The gentleman who owns it used to be a door dealer, so he understands our needs, and they supply a product we can rely on."
ProVia entry doors and windows are made in Sugarcreek.
"It's advantageous to have ProVia right here in our backyard," Habeger said. "They have the best quality door on the market, and their warranty is exceptional. We've relied on them to provide solid and attractive products over the years, starting with doors and expanding from there."
One area where Wayne Garage Door stands out, according to Bryan Yoder, chief technology officer, is integrating doors and security systems.
"Some companies install doors, and others set up access and security," Yoder said. "We specialize in both, which allows for a seamless integration. There aren't very many companies that do both."
The latest technology, he said, allows homeowners to operate garage-door openers with their Smart Phones.
"With home-automation systems, just about anything in the house can be controlled with your phone," Yoder said.
Habeger said the company prioritizes training of its service and installation teams.
"Many of our employees are certified in certain areas through class testing," he said. "They put a lot of time into their craft and developing their skills. And we are continually getting complimented about their professionalism, cleanliness and respect for customers' homes."
Your home-improvement project might begin at Wayne Garage Door's newly remodeled showroom.
"We like to keep the showroom fresh and new by changing our displays and showing the latest styles and colors," Habeger said. "We recently built a dormer over our garage in the showroom, which gives it a real garage feel."

You can view Wayne Garage Door's vast selection of residential and commercial products at its showroom, located at 2150 State Route 39 NW in Dover. Showroom hours are Monday from 7 a.m. to 6 p.m. and Tuesday through Friday from 7 a.m. to 5 p.m. You also can find additional information at WayneDoor.com. The phone number is 330-343-6679.