Orrville Chamber finishes month-long promotion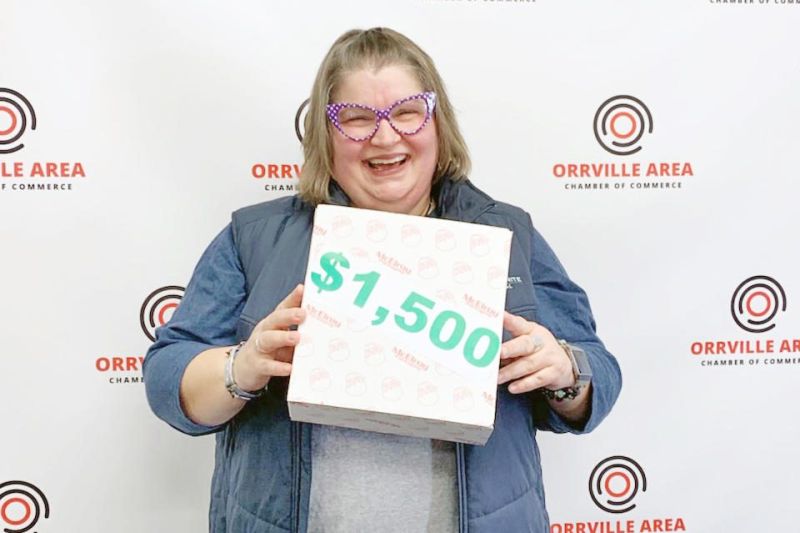 The Orrville Area Chamber of Commerce celebrated the holiday season with a new month-long promotion, Holiday Connections, encouraging the public to get gifts locally, give to support charitable needs in the local community, and gather with family and friends at free local events.
"Over 60 chamber members participated in Holiday Connections," said Stacey Barrett, events and operations coordinator at the chamber. "Many were Get, Give or Gather host locations, helping to promote staying local at their businesses and on social media. The remainder were sponsors of the promotion and our giveaways."
A few chamber members supported the promotion by sharing their own resources to enhance visibility for the promotion and for participants involved.
Pink Tomato Creative designed four selfie wreaths the chamber had at various events and retail locations throughout the promotion.
WQKT gave Sunday PSA slots to participating nonprofits to help share their donation needs during the season.
AloNovus helped to promote Holiday Connections with a market cover story and ads printed every Saturday of the promotion.
"We were thrilled to receive a warm response from our members with a new promotion," Barrett said. "The community was also excited to see that the chamber not only wanted to promote shopping small and local, but also promoting to support local needs by donating and attending local community events."
To show appreciation to the community for spending their holiday dollars locally and for sharing their experiences on social media, the chamber presented the 12 Days of Christmas Giveaways, gifting out over $4,200 in cash and prizes.
Over 200 entries were received into the drawing pull that began on Dec. 6 via social media. Twelve winners received gifts ranging from $50- $1,500, all sponsored by various chamber members including The J.M. Smucker Company Store & Café, Kidron Merchant Associations, Jus B Media, The Red Bucket, Doylestown Thrive, Heartland Point, Galaxy Restaurants, Buehler's Fresh Foods, Spherion, Allium Naturopathic Health, Huntington Bank, Stoller Lawn & Garden, Farmers National Bank, MT Business Technologies, and McElroy Packaging.
Winners were all from the Wayne County area. Entries were collected using Gleam, an online software, and drawn at random.
Winners, in order of win, included DeAnna Martin, Orrville; Melisa Jordan, Wooster; Cassi Zook, Michigan but relocating to Orrville; Jeanne Gault, Orrville; Jane McClellan, Orrville; Maria Hostetler, Orrville; Tasha Mcclure, Orrville; Becky Marshall, Orrville; April Croskey, Orrville; Laura Taylor, Doylestown; and Doug McGuire, Orrville.
The grand prize winner, receiving $1,500 cash, sponsored by McElroy Packaging, was Kerrie Kauffman of Orrville. She posted a picture on her Twitter ringing the bell for Salvation Army at Buehler's Fresh Foods in Orrville.
The Orrville Area Chamber will continue to coordinate Holiday Connections and model more visitor-attraction events to bring traffic to all Eastern Wayne County has to offer.
For more information on how your business or organization can be involved in chamber-member promotional events, email Barrett at stacey@orrvillechamber.com or call 330-682-8881 ext. 51.