Paradise found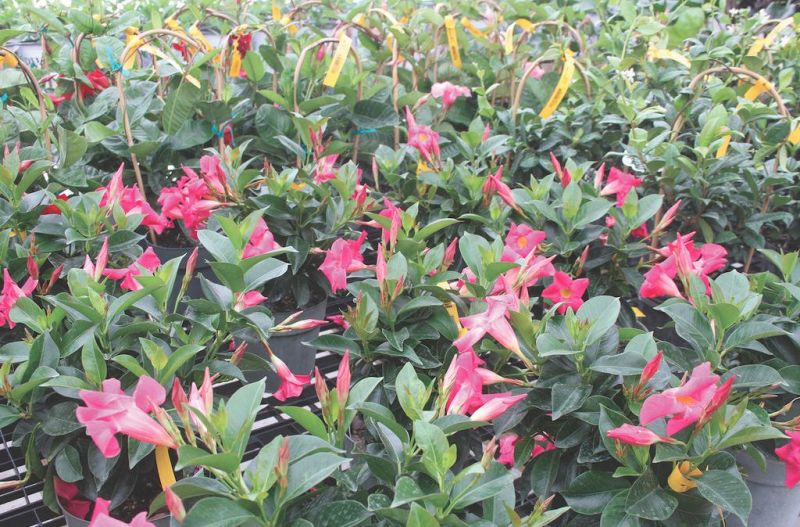 Spring has finally sprung, which means it is time to freshen up the homestead, both indoors and outdoors. For many folks in and around Holmes County, that springtime sprucing begins with a trip to The Olive Branch Home & Garden.
"People walk in and see our upcycled furniture shop and then go through a set of double doors and realize, holy smokes, there's this huge tropical paradise," said Denise Schlabach, owner of the business that began life as The Petal Path in 2009 and transitioned to its current moniker last spring to reflect a new beginning. "It's always fun to watch people when they realize we're more than just a furniture shop. The shop opens to a gutter-connect greenhouse."
That greenhouse is 20,000 square feet and, depending on when you visit, may contain bedding plants, herbs, vegetables, perennials, flowering shrubs, hanging baskets, flowering cactus, succulents, jasmine, gardenias and up to 15 varieties of hydrangea bushes. Among the most unique offerings are a candy corn plant with coloring that resembles the sweet Halloween treat and a popcorn plant that actually smells like the addictive movie snack when its leaves are rubbed. Of course, there also are potted olive trees, which thrive when grown inside near a west-facing window.
"What makes us different is we're not getting a finished product off a truck and putting a price tag on it," Schlabach said, adding her greenhouse offers a selection of high-quality plants that cannot be found at other greenhouses. "We're there from the beginning to make sure the product is fertilized and taken care of properly so it's rooted out. There's nothing worse than getting home and realizing a plant has hardly any root system. We know the plant because we started it. We are the grower and the retailer."
Visitors can enjoy envisioning their gardens as they stroll through the state-of-the-art greenhouse, which is easy to maneuver because of its hose-free watering system. Those who prefer the beauty of plants and flowers but do not like to get their fingers dirty can opt for flowers that have already been potted in decorative planters, or they may bring in a favorite container for custom potting. Olive Branch also provides commercial gardening work such as planting beds or filling planters for local businesses.
The adjacent upcycled furniture and gift shop is equally impressive. It features one-of-a-kind furniture such as barn wood tables, oak barrel chairs, shelves and benches as well as planters and handmade jewelry.
"Everything we have is handcrafted by someone locally, so you won't find it anywhere else, and there are never two things that are exactly the same," Schlabach said. "No box says, 'Made in China,' in our retail shop."
The inventory changes often, so Schlabach encourages folks to stop in regularly. Custom work is available, either from conception through completion or the reworking of a well-worn family heirloom. Designers work onsite, so customers can check on the refurbishing and make adjustments to the design if desired.
Olive Branch closes for the season on Saturday, July 28 but will reopen for two special events: "Wedding Extravaganza" on Saturday, Oct. 6 and "Prom Spectacular" in January on a date to be announced. More information will be available on the Facebook page, The Olive Branch Home & Garden, and at OliveBranch.online.
The Olive Branch Home & Garden is located at 6584 state Route 39, between Berlin and Millersburg. Hours are Monday through Friday from 9 a.m. to 5 p.m. and Saturday from 9 a.m. to 3 p.m.