Piccalilli Eclectic is ready for holiday shoppers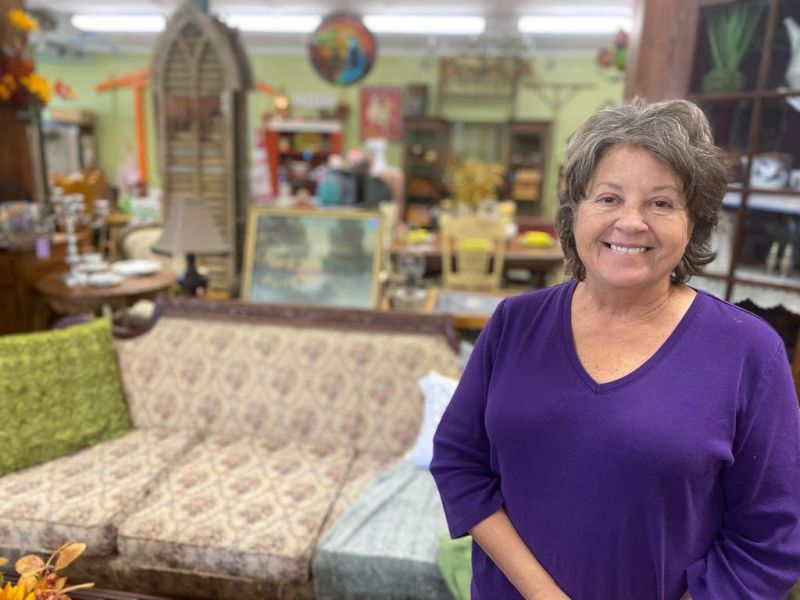 How does one describe Piccalilli Eclectic in Uhrichsville, except to say the name is apt? The vintage store, or gift store, or repurposed furniture store, or decorative paint supply store or handmade jewelry store is just as its name indicates: eclectic.
"We've been open since August," said Vickie Gardner, who owns Piccalilli Eclectic, along with her husband, Anthony. "We bought the property several years ago and have been working on getting it ready for the past three years."
The building at 1517 Roanoke Ave. had been the longtime location of a tractor sales and service business. The hard work has been worth it, Gardner said, standing in the multi-hued room that was once a showroom of farm equipment.
"It was a lot of painting, and we wanted to use as much bright color as possible to really get some light and airiness in here," Gardner said.
The business boasts shades of purple, green, orange, gray and yellow from floor to ceiling. "I wanted a little bit of color everywhere," Gardner said. "That's where the eclectic part starts."
The business is a natural for Gardner as she credits her love for vintage and antique items to her grandmother, with whom she grew up. "She was an old-fashioned sort of grandmother in her day, a lot different from most grandmothers now," she said. "She had a lot of older things that I came to appreciate, and it stayed with me."
Gardner also has a love of taking on projects. "I've always loved old things. I like old things better than new, even if things are in bad shape, and I enjoy bringing them back to usefulness," she said.
Gardner has successfully recycled numerous objects on display at Piccalilli Eclectic, blending them into the vintage pieces throughout the store.
The shop offers a few consigned items but none of the usual booths with separate vendors. Gardner wanted to retain control over what was offered in her store, keeping the level of quality in step with her vision for the space.
The word "piccalilli" refers to a kind of pickle found in the United Kingdom. In terms of the eclectic part of the name, the store shows off Victorian-era settees still wearing their velvets, an early 20th-century oak desk, orphaned shutters, cupboards, a barber chair, purses, children's chairs, artwork and case pieces large and small, and a wooden workbench with built-in vise, dishes, vintage kitchenware and small appliances.
There also are numerous examples of handmade jewelry. "There aren't a lot of places to shop nearby, and I wanted to offer small things that people could come and get as gifts without having to go very far," Gardner said.
Pointing to pieces she has rescued with paints, Gardner said, "We carry Dixie Belle chalk paints from Florida. We don't paint over good wood, but if a piece is damaged and can't otherwise be saved, it can become something else that is very beautiful."
Outside are outdoor decorative pieces, along with the flamingos that form the basis for the colorful style Gardner brings to the business. "I've always kind of liked pink flamingos," she said, "so they had to be here."
Piccalilli Eclectic is open Wednesday through Sunday from 10 a.m. to 5 p.m. When the store is open, there are signs beginning at McCauley Drive helping to find the right place.