ProVia earns Remodeling Magazine's top award for vinyl windows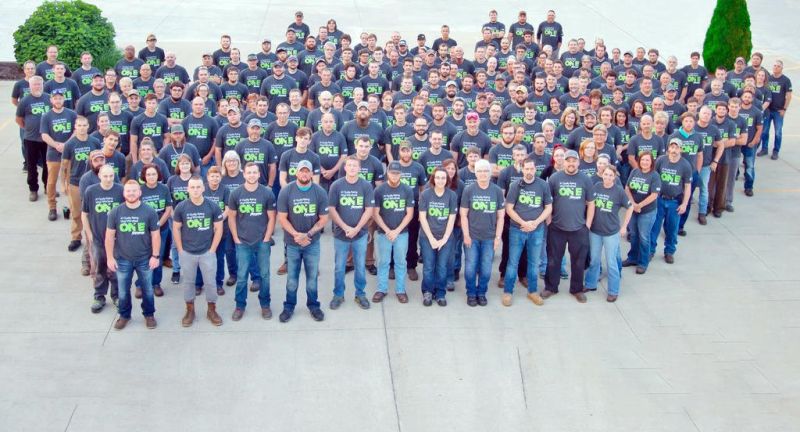 Earlier this year ProVia earned a 2019 Energy Star Partner of the Year Sustained Excellence Award for its continued leadership and superior contributions to Energy Star.
The Sustained Energy Award, in association with the Environmental Protection Agency, is the highest honor among Energy Star Awards, and previous winners have emerged from Fortune 500 companies to family-owned businesses.
Brian Miller, ProVia president and CEO, said the Energy Star Award has been something the company has won for its doors for a long time, and he said he believes they remain the only door-manufacturing company to receive the award.
However, in 2017 the company added that accomplishment to its vinyl windows division, and this year they earned the distinction for both doors and windows. Since then ProVia has won the designation three straight times for its windows and has amassed nine SEAs for its doors.
The accolades didn't stop there for ProVia. The local company that is in the process of building a new large plant in Strasburg added another award to its growing list of honors.
Remodeling Magazine recently came out with its 2019 Brand-Use Study, a biennial report that bases its merits not on what people think, but on the brands used by professionals. Winners in the various categories were chosen by remodeling professionals who opt to use a company's product because of the professionalism and high quality.
Remodeling Magazine created 40 different categories that enveloped every type of possible remodeling a home or business might undertake, from kitchens and bathrooms to garages, roofing and patios.
The categories included Doors: Entry and Siding: Manufactured Stone, where ProVia ranked second. However, it was in the category, Windows: Vinyl, that ProVia was most excited. That was because professionals tabbed them as the number-one window they trusted to build their homes.
The number of contractors who made up the Brand-Use Study included 1,493 remodelers nationwide, and the study included quality and categories like brand familiarity, which brands they use and which products exuded the greatest overall quality.
"This is a tremendous honor for us," Miller said. "This includes representation from 1,400 remodeling contractors across the nation, and it includes some of the most well-known companies in the world."
According to Joe Klink, director of corporate relations at ProVia, the award is the result of the company focusing its attention to even greater quality than they ever had before.
ProVia had long been a force in the door-remodeling world, but it wasn't always known for its windows. That all changed in 2015 when the company made a push to expand its operation and did a great deal of research on what it took to make the highest quality vinyl windows.
"For decades we kind of dabbled in vinyl windows," Klink said. "In 2015 we revamped our entire window program. Here it is four years later, and we are getting recognized as having the number-one quality of vinyl windows. That is an incredible honor."
Miller said one of the main goals back in 2015 was to bring the quality of their vinyl windows up to the same level as the company's entry doors, a product ProVia is known for in the industry.
Not only did they match that quality, they surpassed it, at least in the awards arena, in just four years.
"When you set out on a journey to do something and it falls very much in line with our vision and our mission, which is to be the premier building products manufacturer and to provide unmatched quality and service and to care for details in ways that others won't, when you set out to do that and you are recognized by not just yourself or your peers, but by the people you are serving, that means a great deal, and this honor is very rewarding," Miller said. "We give all of the credit to our employees because they are the ones who have taken this to the level it is by their dedication and commitment to creating such a quality product."
Miller said reaching the pinnacle of success in quality hasn't come without its hiccups. They listened to customers early on who gave them some constructive criticism. He said the response to changes toward improvement were embraced by the company.
Miller said they have set the bar high when it comes to quality products, which is why they were able to achieve so much in such a short period of time.
"The one thing we have done is to measure ourselves against how we did yesterday and what our fullest potential is," Miller said. "We try not to measure ourselves against our competitors. It's a matter of keeping our eye on finding and hitting our fullest potential. If you do that, these types of recognitions and honors just kind of happen."
Klink said it might shock many people to see a family-owned company in the middle of Amish Country competing and gaining an edge over the national brands. He said the community here should take great pride in having the kind of people who have the work ethic and commitment to creating high-quality products.
He said even coming in at number two is a monumental achievement, and both he and Miller agreed the combination of family and faith is a driving force behind the commitment to quality, in their company and in businesses throughout the area.
That included the second-place accomplishment in manufactured stone.
"Coming in at number two in the Manufactured Stone category was a huge achievement because we are relatively new in the industry," Klink said. "We built our facility at Cherry Ridge just a few years ago, and already we are being recognized for our quality. This has been an exciting progression."
Now the goal for ProVia becomes sustaining the top honor in its vinyl, but again, Miller said they aren't worried about awards, rather their focus is on continuing to grow as a company.