Realtor Jan McInturf reaches remarkable milestone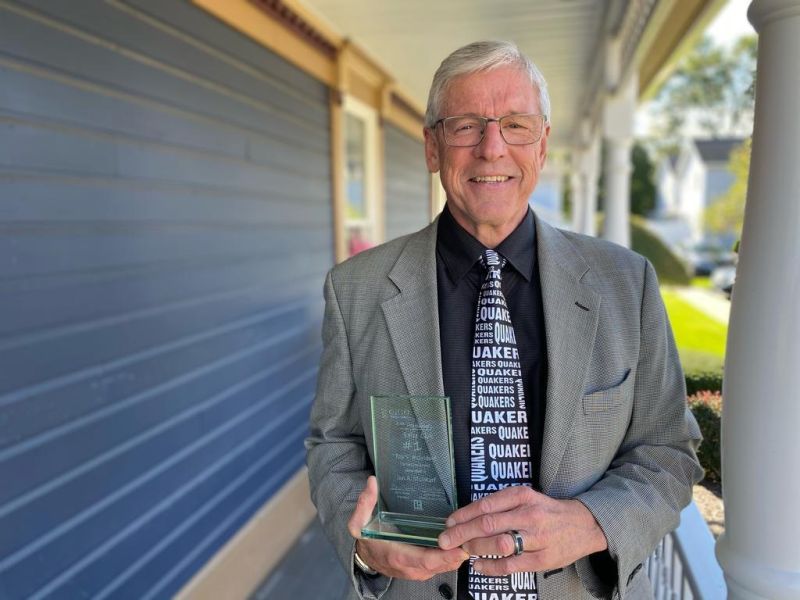 Jan McInturf of McInturf Realty in New Philadelphia has reached a remarkable milestone in a long and distinguished career. Ohio Realtors awarded McInturf with Top Realtor in Ohio for having the largest number of individual real-estate transactions in the state including large metropolitan centers.
The award was delivered in a surprise visit by Ohio Realtor representatives ahead of the organization's virtual convention the last week of September.
"Being the top sales guy in the state is pretty gratifying," McInturf said. "I'm just tickled to death about it. It includes realtors in Columbus, Cleveland and Cincinnati. They came and brought the award, and I was just blown away — blown away completely."
McInturf has been among the top-five realtors in Ohio for a number of years. "I figured number two would be about as high as I could possibly go simply because of the population here," he said. "You're up against some seriously large sales markets."
The award tops the efforts of more than 33,000 realtors in Ohio.
McInturf credits many years of hard work, having the right people around him and dedication to serving the community for the overall success of his company. "It's been 36 years since I started in real estate," he said.
McInturf began after college with a job in manufacturing, then worked as a manager at a siding business. "I took a sales course and realized I didn't want to be in sales the rest of my life. Isn't that funny? I guess it has worked out OK."
Securing his real-estate license, McInturf was set for a long career.
McInturf said the key to success in real estate is simple and clear. "See the people," he said. "If I could write a book about this, most of the chapters would be called see the people, see the people, see the people. It's all about treating people right, and that has to be the case because you eventually get referrals from your customers. I thought it was remarkable when I started working with the children of my customers, and now I'm seeing their grandchildren. It's a very rewarding career when you're helping people realize their dream in buying a home."
McInturf is, in spite of his many accomplishments, modest about taking credit. "I'm very proud of the things we do in this community to give back all we can," he said. "We try to support local charities and nonprofits, and we bring the community together at Christmastime at Tuscora Park. It would be impossible for any of us to do these things without great people. Amy Stucin and Debbie Cummings deserve a lot of credit because I come into the office and hand them the paperwork, and then I go back out and see the people because that's what you have to do."
McInturf said success in real estate is not without its personal sacrifices. "I have to say my wife and family have had to put up with my crazy work hours, and I'm grateful. This is not a nine-to-five business. Many people can only see you in the evening or over weekends, and you have to be ready to see people on their schedule. It means you might have to be away from home a lot and pretty much every weekend with few nights off," he said.
McInturf gave credit to others as well. "Donna Beitzel was with me for 27 years and just retired last year," he said. "She helped build this business to what it is today, and I couldn't have done it without her. I have to give her a lot of credit. And now our office manager, Zika Dreher, is also doing a great job. I am blessed to live and work here in Tuscarawas County. I mean there's really something special here. People who I've helped sell their homes as they've moved elsewhere often reach out to me later and say how much they miss living here."
McInturf Realty is at 1110 Tuscarawas Ave. NW in New Philadelphia. Visit www.McInturfrealty.net and find the business on Facebook. Ohio Realtors is at www.ohiorealtors.com.