Robotic mowers are here to stay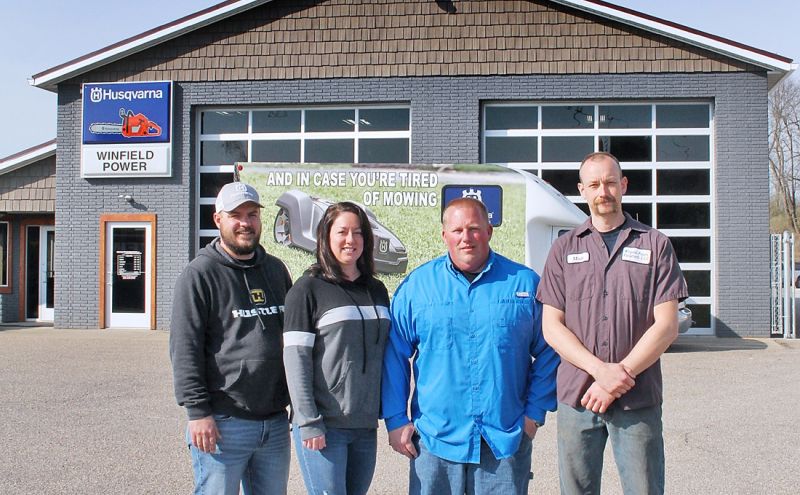 As many homeowners know too well, the decision whether to spend the weekend mowing the lawn or enjoying the fresh summer air relaxing on the patio with a cold beverage has most often been made in favor of the former.
Not anymore.
That's because the Automower robotic mower, available at Winfield Power Equipment, lets you accomplish both activities at once — and the mower does all the work.
"The robotic mowing lifestyle is growing quickly and is not going away," said Matt Howell, owner of Winfield Power Equipment. "And the Automower is competitively priced when compared to a traditional mower. This is our third season selling the Automower, and we have more than 30 robots working flawlessly."
Manufactured by Husqvarna, the electric Automower is a time-saving technology that automatically maintains your lawn any time of the day or night, rain or shine. Complex yards — and even slopes — are no problem for the mower, Howell said.
"With traditional mowing, grass grows tall before being cut off all at once," he said. "By contrast, Automower is a mulching mower that clips just a little at a time, frequently. The result is a lawn that's always picture-perfect and fertilized naturally by tiny, mulched clippings."
Several different Automower models are available depending on the size and complexity of your yard, Howell said.
"The Automower 315X mows up to a half acre," he said. "We recommend this model for smaller lots that don't have a lot of obstacles. The Automower 430X can be installed in larger, more complex yards up to an acre."
The most advanced model — the Automower 450X — will mow up to 1.5 acres of extremely complex lawn.
During operation, the mower stays within an underground guide wire — similar to an invisible dog fence — installed by the Winfield Power team. The unit's GPS feature lets you see where it is at all times using your mobile device. When it is finished mowing, it parks itself at its electric charging station.
"The Automower is 100% safe for use around pets and children due to its safety sensors and fold-away blades, which are mounted in the center of the machine," Howell said.
And, he said, the robots are very quiet.
"After the initial entertainment of watching it, you won't even think about it being there," he said.
On average, the Automower will mow for 1 1/2 hours and then charge for an hour.
"All of the Automowers that we sell will come with the Automower Connect app for your smart phone, which allows you to customize the mowing schedule and adjust cutting height. From the app you can change any setting and start or stop your mower. It will even alert you if something is wrong or if your mower gets stuck. The GPS system not only allows you to track your robot at all times, but also allows the mower to remember where it has been and where it needs to mow next."
The Automowers also have an alarm system to deter theft.
The mower has sensors that can tell if a section of the yard grows faster than others, and it will spend more time there to keep the turf maintained properly.
"Since the mower mows all the time, the grass clippings are just a fraction of an inch and break down as a natural fertilizer," Howell said. "With constant movement, ground moles and other pests will not likely be present."
Yards larger than 1 1/2 acres can be mowed using multiple mowers that communicate and coordinate together.
Although the concept seems new and futuristic, Husqvarna invented the first robotic mower more than 25 years ago.
"They have been extremely popular in Europe and are now gaining a lot of traction in the United States," Howell said. "The Automower is ideal for today's busy lifestyle with kids in sports, both parents working long hours, older generation parents and grandparents — or maybe you just hate mowing grass."
You can learn more about the Automower robotic mower by calling Winfield Power Equipment at 330-343-2747 or by visiting WinfieldPower.com. The dealer of quality turf care equipment and service is located at 9654 State Route 250 NW in Strasburg. This story was underwritten by Winfield Power Equipment.