Rotary Heritage Fund means business in New Philadelphia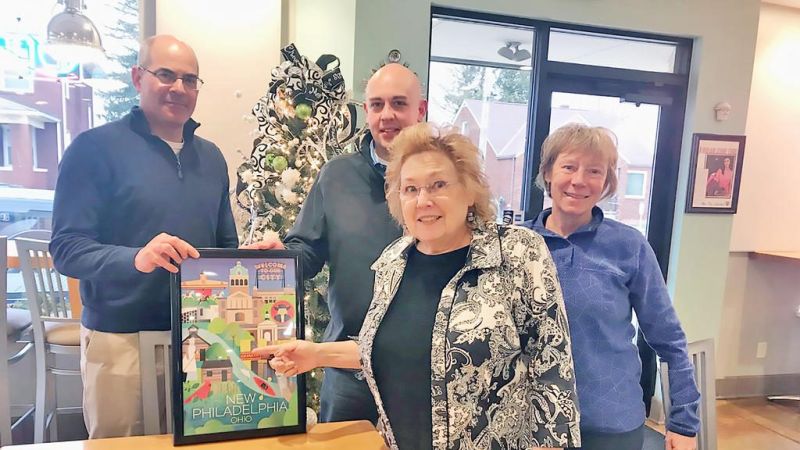 Many downtown New Philadelphia businesses have undergone slight or significant face-lifts with the pace of such renovations picking up after autumn 2014. That year saw the creation of the New Philadelphia Rotary Heritage Fund, an outgrowth of the local Rotary Club, which has offered funding and encouragement resulting in fresh awnings, a restored theater marquee and most recently a complete facade overhaul. The fund has the mission of being "a catalyst for change."
"There's a lot of buzz right now about the work being done on the front of the Miller Clothing and Shoes building," Mike Ernest of the Heritage Fund said. "That's the most recent project we've been able to help with."
Ernest also is the owner of Quaker Cinema, which was the first downtown business to get help from the new nonprofit venture.
"The Quaker renovation project was pretty much well underway," Ernest said. "The sign on the front had been exposed, and at that point my intention was to just leave it alone. Then the suggestion came that if I could dig just a little deeper, matching funds would be available. So we ended up restoring the sign, and I'm very grateful that we did."
That first project became the model for subsequent undertakings as the Rotary Heritage Fund took on a 501(c)(3) status.
The New Philadelphia Rotary Heritage Fund provides matching funds for improvements to business exteriors up to $6,000. Beneficiaries have included Alley Cats Marketplace, Dayspring Christian Bookstore, The Daily Grind Cafe, Coffman Optical, J-N-G Grill, Starlight Enterprises Inc., McGonegal & Struhar, Inspirations Clothing and Resale, and now Miller's Clothing and Shoes, which has seen extensive work to the front of the store's building at its West High Avenue address in the last few months.
"There was a group of people who were gathered, talking about downtown development, not just for New Philadelphia, but in general," said Dee Grossman, director of the Tuscarawas County Convention and Visitors Bureau. "There was a general agreement that all it takes is one business downtown to redo their facade, to start things going, just one. It's really hard for downtown businesses to get money to help with this. It's easier for nonprofits but difficult for a for-profit business to do. So we thought, 'Why don't we start a nonprofit group to get grant money to help businesses who want to make improvements to their store facade?' That was the beginning of it all."
Funding to underwrite the renovation assistance comes from fundraisers and private donations. The Heritage Folk Fest in May is a prime fundraiser for the group. The New Philadelphia Rotary Club remains an important means of assistance as well.
Grossman said donations can be mailed to P.O. Box 331, New Philadelphia, OH 44663. The Tax ID number to write on a donation check is 47-347396.
The Rotary Heritage Fund realizes providing small amounts of funding to for-profit businesses is just the beginning of what could be a trend that will turn the downtown into a city that residents will take pride in and visitors will tell their friends and families about. The fund has a goal of granting $20,000 annually to the downtown businesses.
Grossman said the fund has already received new applications for assistance from businesses embarking on improvements in the coming year.
The group also has produced a limited-edition piece of art featuring New Philadelphia landmarks with posters, mugs, postcards and note cards. All are available at Alley Cats Marketplace at 115 Allen Lane SW near the corner of West High and South Broadway streets and the Convention and Visitors Bureau at 124 E. High Ave. All money raised from the sale of the items will help fund the Rotary Heritage Fund.