Save a bundle while supporting a cause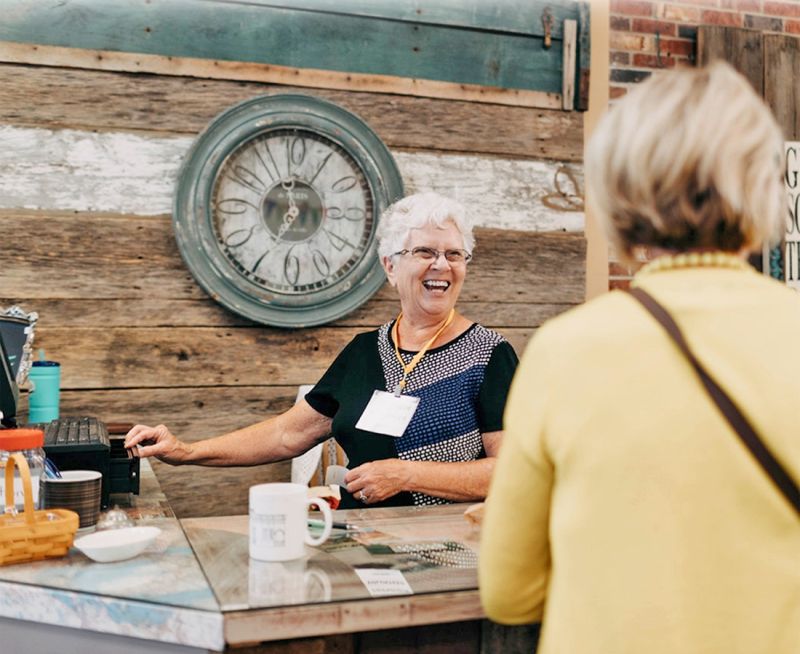 Some shoppers relish the thrill of unearthing a jewel among a collection of gems. Others prefer a more methodical approach to purchasing the perfect side chair or designer jacket at a less-than-retail price. Both types of consumers are in for a treat at Friendtique and Nest by Friendtique, where snagging a deal on quality merchandise also means supporting a good cause.
"It started 14 years ago as a small group of people who were involved with Ohio's Hospice LifeCare and wanted to be more supportive of the organization," store manager Kelvin Bond said. "The group thought opening a small resale boutique would be something they could do to bring a little more money into the organization."
Structured as a standalone 501(c)(3), the group's proceeds go to the Community Care Fund of Ohio's Hospice LifeCare, which covers Wayne and Holmes counties as well as the cities of Wadsworth and Rittman.
Friendtique initially opened in a small rented storefront in downtown Wooster. Two moves later it now operates in a larger building that it also owns. The need for more space prompted the group to lease a second building last year, where Nest now operates.
Both boutiques feature donated higher-end merchandise such as furniture, jewelry, clothing, accessories, housewares, books, other media, toys, games, art, area rugs and lamps. Although both locations carry comparable goods and support the same cause, the similarities between Friendtique's 8,500-square-foot showroom and Nest's 5,000-square-foot display floor end there.
"We really try to keep the stores different from each other," Bond said. "Friendtique is more of a traditional resale store, where there's a lot of stuff to dig through to find. Nest is more displayed, so you see everything there is. Some customers love the dig and some don't, so we tried to design the stores to meet the different needs of different customers."
Patrons generally fall into three categories: Some are local residents who visit the shops once or twice weekly. Others are folks who travel to the area periodically to visit students or faculty at the College of Wooster or to take in a performance of the Ohio Light Opera.
"We also service people who live here and think of us as their downtown department store because we have bedding, pillows, chairs, kitchenware and clothing," Bond said. "They can come in and, for the most part, get anything they need for their household and themselves."
All merchandise is donated — either through walk-in contributions or by arranged pickups of large or cumbersome items.
"We also have a service to pick up estates," Bond said. "So if a loved one passes and you don't know what to do with the stuff left in the house once the family has dispersed the items they're taking, we box up items in the kitchen, closets and on shelves. We load them up, bring them back here and sell them."
Because the inventory is comprised completely of gifts, the boutiques can offer merchandise at attractive but fair prices.
"We're passionate about honoring the donations that come in because we know [donors] want to support our mission of hospice," Bond said. "We do a lot of research and educate ourselves about furniture or glassware. Then we price things individually. Because we do resale, our prices are less than at a traditional retail store, but we also want to honor and get the best price out of each donation."
Stores are staffed by volunteers. Most are retirement age, and many are looking to give back to the organization that helped their families navigate a loved one's end-of-life care. Some volunteers want to help hospice but are uncomfortable dealing directly with patients, so they choose to support the cause by moving furniture; packing up estates; or sorting, cleaning, pricing, staging or selling at the stores.
About 40 volunteers serve regularly, but additional volunteers are always needed. To volunteer time or donate items, call 330-262-2012 or 330-262-2022.

Friendtique is located at 223 W. Liberty St. in Wooster. The phone number is 330-262-2012. Nest by Friendtique is located at 205 W. Liberty St. in Wooster. The phone number is 330-262-2022. Hours for both are Monday through Friday from 10 a.m. to 5 p.m. and Saturday from 10 a.m. to 4 p.m. The shared website is Friendtique.org.