Small business makes big impact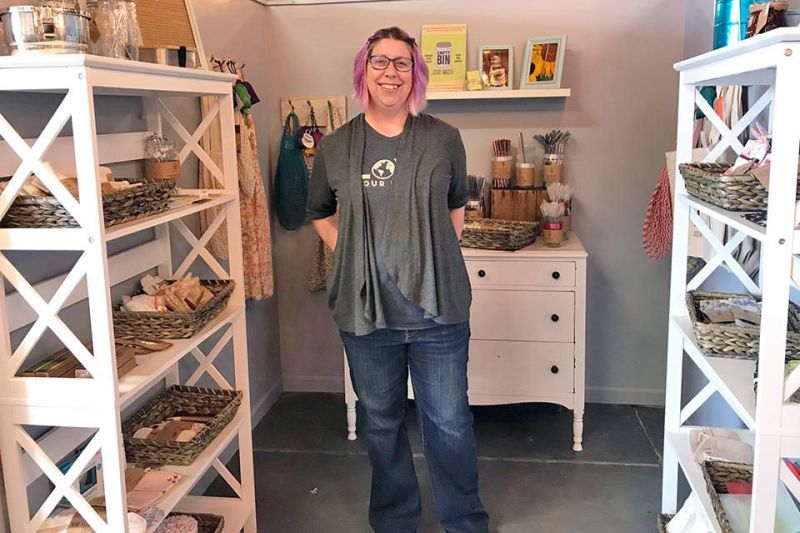 Teresa Mazey changed her perspective when she became a grandmother only a few years ago. While she helped her husband raise his four daughters, convenience took precedence over sustainability and the family used their share of single-use items in the form of paper plates, napkins and countless other disposable items.
They recycled, of course, but it took Mazey's realization that the planet she shared with her step-children and their kids is the only one they have and it might be a good idea to take better care of it.
Recycling was simply not enough.
Today Mazey and her family use environmentally responsible products that replace single-use plastic and paper items. So inspired to lead by example for her young grandchildren, Mazey turned her passion for sustainability into Empty Bin Zero Waste, a cottage business that allows Mazey to make, wholesale and sell reusable items that replace many single-use products.
Based in Akron, Mazey has Empty Bin Zero Waste products for sale online, at farmers' markets, fairs, festivals, and select retailers in Akron and surrounding communities including Alley Cats Marketplace in New Philadelphia, where she is a vendor.
"Most people want to do the right thing. They want to recycle, and they want to make choices that are better for people and the planet," Mazey said. "Providing alternatives to the single-use items is a start to breaking the habits that have us throwing away an unbelievable amount of stuff."
Mazey's journey to more sustainable consumption came when she learned her mother-in-law's sister made her own laundry detergent with ingredients that are readily available at local grocery and drug stores.
That led to her trying her own homemade soap, which led to further discovery of recipes for common cleaning and beauty products that Mazey realized, when mass-produced, often contain questionable ingredients including known carcinogens.
"I started out making my own products at home, but I also purchased stainless steel straws, reusable napkins, beeswax wrap, produce bags and starting to use reusable bags at the grocery store," Mazey said. "I loved all the new tools that helped me use less and create less garbage, but some were actually still made out of unsustainable fabrics or materials. I thought there must be something even better. So I started sewing and making my own products out of organic cotton and/or repurposed fabric. I don't even like to sew. I just knew it was the right thing to do."
Mazey said one estimate suggests 500 million straws are used every single day. Because traditional plastic straws are not recyclable, Mazey offers stainless steel sets that can be washed and reused over and over again. They even come with an optional cleaning tool and a fabric case.
"While I don't make the straws, I purchase them," Mazey said. "We have looked into making our own straws, but it is not as cost-effective at this time. I want to make these items as affordable as possible so anyone who wants to use them can buy them."
Empty Bin Zero Waste also offers straws made of glass and bamboo, stainless steel chopsticks, produce bags, small- and large-tiered Tiffin stainless steel containers, and reusable coffee filters.
Other items for the kitchen and household include un-paper towels and wool dryer balls to use instead of chemically loaded dryer sheets.
Mazey's line of personal-care products can go a long way to promoting a less wasteful lifestyle with offerings that include bamboo toothbrushes, reusable menstrual cups, feminine pads and facial cloths.
"I have been fortunate that I have had the full support of my husband. He's been great," Mazey said. "Changing habits we've had for a lifetime isn't easy, and it doesn't happen overnight, but you can start by doing a little bit here and there, and eventually you're using products that can be washed, reused and repaired instead of tossed out after one use."
Mazey hopes to one day have a brick and mortar store where she can expand her offerings. She recently hired her first employee.
Find Empty Bin Zero Waste online at www.emptybinzerowaste.com and locally at Alley Cats Marketplace, located at 115 Allen Lane SW in New Philadelphia, where Mazey is one of more than five-dozen vendors.