SoBoho shop opens in downtown New Philadelphia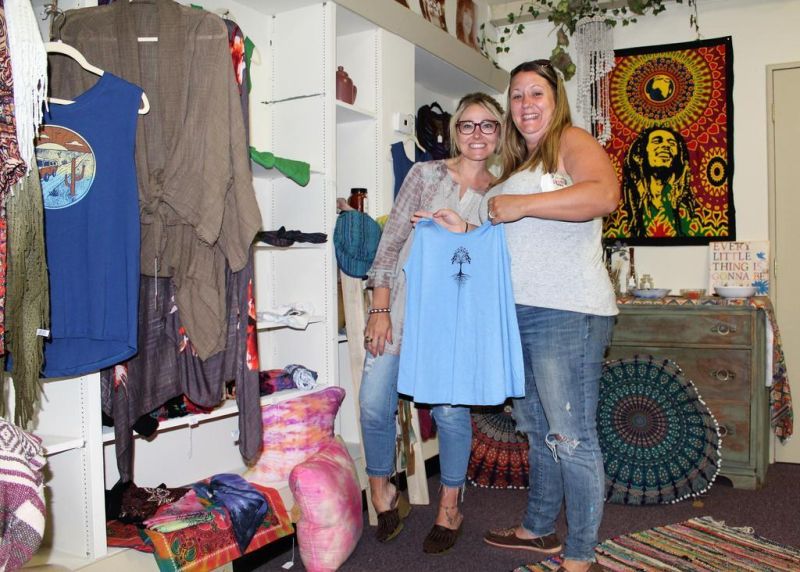 Unexpected events couldn't stop one family's dream to open a specialty store in downtown New Philadelphia. Despite one family member's health issues and COVID-19, the Wayne and Stephanie Woodard family of the Atwood Lake area have opened SoBoho, a bohemian clothing store and more at 117 W. High Ave. Don't look for a grand opening though, thanks to the pandemic.
Bohemian things are associated with an unconventional lifestyle like that of musicians, artists, writers, spiritual pursuits and the vagabond existence of 1960s hippies. The boho style is said to mirror life by mingling colorful objects and patterns from one's travels.
Stephanie Woodard had been planning to open a store that specialized in bohemian clothing for the past two years. "I've always wanted to do this. I've always had a passion for bohemian hippie clothes, just something different that you can't normally buy anywhere else," Woodard said.
The entire family, Stephanie and her husband, Wayne, and their seven children, Justice, 18; Kadence, 15; Ariel, 13; Maddox, 9; twins Mazie and Micah, 8; and Millie, 4, are all involved in helping run the store. "They are good kids, and they help any way they can," Woodard said.
Some of the inspiration for the store came from a family vacation to Tennessee last year where the family visited a bohemian shop.
"I told my husband that is the kind of store I want. We need that in our town," Woodard said. "It was pretty neat because I took some of the ideas from there, and then my kids' ideas, and we all just kind of meshed together."
Woodard formerly worked as a house-keeping manager at an area hotel for seven years, and prior to that, she had been a stay-at-home mom. Her husband, Wayne, works as an equipment operator; he built the tables and helped set up the store while he was laid off during the pandemic.
The Woodards had been saving their money to start the store when in September 2019 their 8-year-old daughter, Micah, got sick.
"They couldn't figure out what was wrong with her. She had all kinds of issues. She started losing weight. She had a fever. She had lymph-node swelling on her body," Woodard said. "After going to oncology, Akron Children's, and so many different specialists, she got admitted to the hospital, and they thought it was lymphoma."
Micah Woodard had numerous surgeries, had her tonsils and adenoids taken out, and had lymph nodes removed from her neck. "When they did a scan, they saw that she had lymph nodes swollen throughout her body," Woodard said.
After more procedures, a spot on her kidney was biopsied at the Mayo Clinic/Cincinnati Children's Hospital, and they found it was Castleman's disease.
"It's so rare. Not a lot of people know about it. There's no cure; she'll be on infusion treatments every 21 days," Woodard said. "Anytime she has a flair up, she has to be put on a steroid."
Patients can only stay on the treatment for a limited time.
Micah Woodard is the first patient at Akron Children's Hospital to have Castleman's disease.
A benefit was held for Micah Woodard to cover the growing costs. "People were so good to us during the benefit," Woodard said, adding all the money collected was put into an account earmarked for Micah's current and future medical needs.
Even though Micah Woodard is doing well, the family won't know for certain if the treatments are working until September. Luckily, her identical twin, Mazie, has not had any similar medical issues.
"So far, the treatments are keeping the fever away and helping keep the lymph nodes down. You wouldn't know she's sick," Woodard said.
With Micah Woodard's symptoms improving, the family weighed their options.
"My priorities changed, and we thought it would be better for me to do something right now to be home with them," Woodard said. "I thought, 'What can we do together as a family?' And that's how the store came about. We decided let's just go ahead and start our family business."
It was a trip this spring to downtown New Philadelphia that led the Woodard family to the store. "We were going to the Daily Grind, but we had to park here," Woodard said of their current location. "I saw the store had a For Rent sign in it, and I knew it was where I wanted to be."
It was a leap of faith as the family put their hearts, souls and stimulus checks into starting the business.
Woodard enjoys having her kids at the store. "It works out because I home-school them all," she said. "They are learning. I use the store as a home-school lesson too."
The store works with more than 200 vendors. A few of the clothing lines they carry are Gypsy Rose, Soul Flower and 42 Pops, among others. In addition to clothing, they sell pillows, plants, rugs, antiques, home décor, macramé and many unique items. Fitting rooms are available, and new items are added weekly.
In the future Woodard plans to add a meditation room in the second room of the store. "We are going to have different events and classes back there," she said. "We want to get people together, meet new people and just get the community together."
Woodard is optimistic about their success. "A lot of time and prayers went into this place, and a lot of people have supported us," she said. "I'm thankful that we can be together as a family."
The store is closed on Sunday and Monday. Store hours vary Tuesday through Saturday. Visit their Facebook page at SoBoho for more information.