The complete outdoorsman experience awaits at Premier Outdoors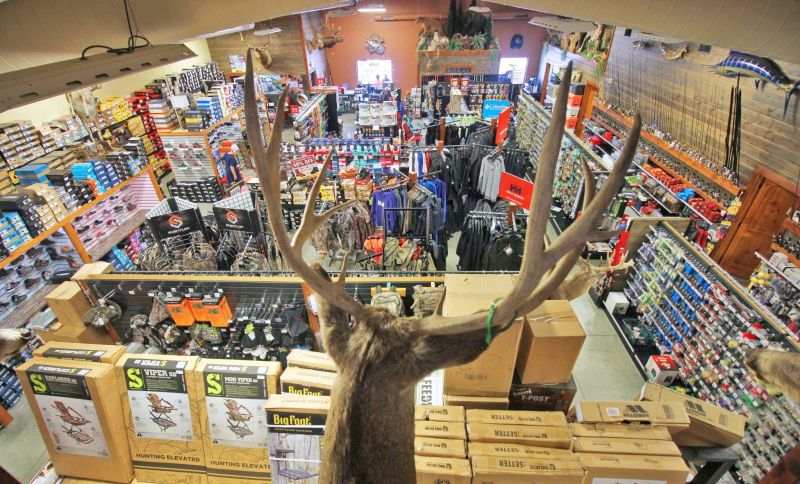 Every good hunt begins with great equipment, and Premier Outdoors in Mt. Hope is waiting to help create the perfect hunt.
A trek to Premier Outdoors is like taking a hunting trip before the hunting trip. Because once inside, outdoorsmen can hunt down everything they need to complete the perfect outdoor excursion.
What has made Premier Outdoors an outdoorsman's dream is that manager John Miller and the knowledgeable staff have taken the time to listen to their customers. In doing so, they have gained insight into what the outdoor community is looking for in equipment, gear and footwear.
"We love to hear from our customers and what they want, and we have built this store based on that concept," Miller said.
Open since July 14, 2015, Premier Outdoors has taken the time to listen to their client base and build their inventory based on the wants of the community of outdoorsmen, and in doing so, it has helped outfit a western hunter from A to Z.
That begins in the store's largest area of expertise, the archery and hunting department. Loaded with the top bow brands, like Elite and Bowtech, and all of the high-end crossbows, like Ravin, Mission, TenPoint and Stryker, hunters and sportsmen can outfit themselves with the best equipment on the market. With a 20-yard range and a stunning techno-hunt system set up in the store, patrons can try out the various bows before buying.
"We want people to come in and shoot them to see which ones they like the best," Miller said. "We want to walk with them through the experience."
Premier Outdoors services all brands of bows and crossbows from paper tuning to complete set-up for the beginner, expertly fitting an archer to suit their specific needs. That includes training them on techniques.
"We don't want to just sell someone a bow and send them away. We want to walk with them through the journey of becoming a better archer," Miller said. "If someone buys a bow and has it for a couple of weeks, they can come back in and we will work with them to go over it again to make sure it is set correctly and they feel comfortable with it."
If an outdoorsman prefers a rifle to the close encounter a bow provides, Premier Outdoors has them covered. The store carries a large selection of top-quality long guns, hand guns and used guns to provide an ample selection geared toward suiting each outdoorsman.
Miller said each department has a qualified manager to aid in the perfect selection of equipment.
While the equipment is vital to a hunt, just as important is the gear, and Premier Outdoors has the finest around, in particular in footwear, where it stocks 35 different brands of footwear with 450 styles in stock.
"People don't realize how much footwear we have," Miller said. "We have people driving in from out of state just for our footwear."
From lightweight, breathable running shoes to durable, high-end hiking shoes and work boots, Premier Outdoors has a seemingly endless display of footwear for men, women and children.
If an outdoorsman prefers casting to firing, the store has a huge selection of fishing gear. From high-end rods and reels from St. Croix, Fenwick and G. Loomis to all of the accessories and even a boat rental, Premier Outdoors can outfit any fisherman to help create that perfect fishing trip with the finest equipment on the market.
Camping supplies and apparel complete the hunting experience. They offer everything necessary for that perfect hunting trip with gear from Scentlok, Skre, TrueTimber, Browning, Under Armour and Columbia.
The store also carries a huge variety of backyard games, softball gear including the best in bats and even Kamado grills for the backyard enthusiast.
There won't be a better time to explore all the store has to offer than at its upcoming anniversary sale Aug. 6-11, where there will be plenty of giveaways and sales along with a whitetail hunting seminar presented by Don Higgins and a meet and greet with Adam Hays III. 
Premier Outdoors is located at 7799 County Road 77, just south of the square in Mt. Hope. Visit their website at www.premieroutdoors.us or call them at 330-473-1028. Hours are Monday from 10 a.m. to 7 p.m., Tuesday and Thursday from 10 a.m. to 6 p.m., Wednesday and Friday from 8 a.m. to 7 p.m. and Saturday 8 a.m. to 4 p.m.