The Power of Her equips women to move mountains together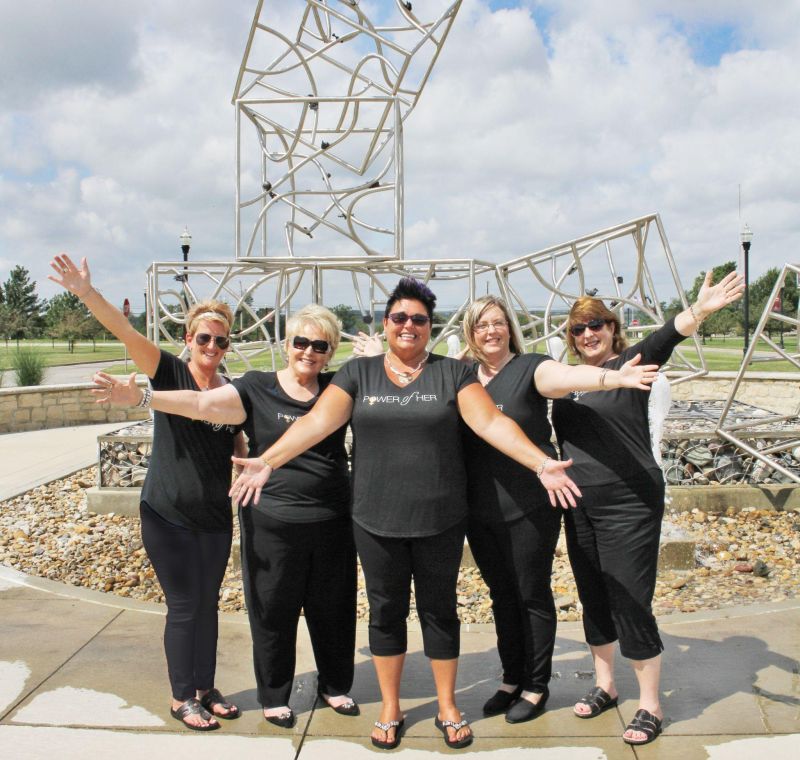 The Power of Her is an annual professional development and networking event geared toward women and small businesses that aims to be fun while empowering and inspiring people from all walks of life by offering a women-focused, educational opportunity.  
This year's event is Oct. 2 from 8:15 a.m. to 3 p.m. at Fisher Auditorium on the campus of the Ohio State University Ohio Agricultural Research and Development Center in Wooster.  
Power of Her founder Angie Giltner said the motto of the annual event is "Together we'll move mountains." Giltner is the owner of Empower Training & Assessment Co. of Wooster, which won Ohio's Small Business Development Center's 2014 Small Business of the Year award.  
"People walk away from this inspired," Giltner said. "They see there is a place for them."  
Now in its third year, the event has grown since it began in 2016. "The event has grown from 100 to over 200 women," Giltner said. "The goal for this year's event is 250."  
The keynote speaker is Annamarie Fernyak, a certified life coach, mindfulness meditation teacher, serial entrepreneur and founder of Mind Body Align LLC, a Mansfield start-up business dedicated to collaboration and networking that grew out of her own need for a nourishing place to work and a desire to hang out with people engaged in personal and professional growth.  
Other featured speakers will include Theresa Rabbitts, Jan Newcamp and Lauren Croskey.  
Rabbitts serves as the student services counselor at the University of Akron Wayne College and has been hailed as a financial aid and scholarship guru by parents and students throughout Northeast Ohio. She is an award-winning poet and short story writer and has written several children's books. Her children are her inspiration and often the material for her comedy.  
Newcamp is a retired registered nurse and professor. She taught at Edinboro University, Gannon University, Mercyhurst University and LECOM Medical College in and around Erie, Pennsylvania. Throughout her career she has served on the board of directors for the March of Dimes, as an officer of her Beta Sigma Phi Sorority, acting vice president of Edinboro's Sigma Theta Tau International Nursing Honor Society and faculty advisor for the Student Nurse Organization of Edinboro.  
Croskey is a fashion consultant and lifestyle blogger based in Holmes County. Croskey relishes getting to connect with other women to show them they are not alone in their daily struggles as women. She blogs about everyday living and the challenges of balancing work, life, marriage and raising kids.
Women who attend can expect to network with other professional women who are entering the workforce, established in the workforce or retired. "They can expect to engage with small businesses from throughout Northeast Ohio that will showcase their goods, which will be for sale, and their services," Giltner said. "In addition, they can expect to hear inspirational and empowering messages from area women leaders. The event is fun, so they can expect to leave smiling and feeling rejuvenated, re-energized and ready to move mountains."  
Event organizers believe women are powerful, strong and capable, whether as individuals or in a group. "We are most powerful, strong, confident and capable when we're lifting up other women in their time of need, celebrating their successes, empowering them with our insight and supporting them throughout their careers and lives," Giltner said. "Women can connect with one another by first and foremost, listening, not just hearing one another, but truly listening to one another. Listening requires the sacrifice of time and energy, making the time for each other and giving our undivided attention during that time together. We can connect and lift one another by never saying 'I'm too busy' or 'I don't have time.' At the end of the day, we make time for the people who are important to us."  
Participant and vendor registration is open. Online registration is easy when you visit www.thepowerofher.us. Participants can save when they purchase five tickets at $25 each; they receive a sixth ticket at no cost.  
Sponsorships are still available, and local businesses and organizations are encouraged to participate. Exclusive, title and supporting sponsorships are $750, $350 and $200, respectively, and help further the mission of the women-centered networking event.  
Fisher Auditorium on the campus of the Ohio State University Ohio Agricultural Research and Development Center in Wooster is located at 1680 Madison Ave.