The Weaver Appliance family takes care of your family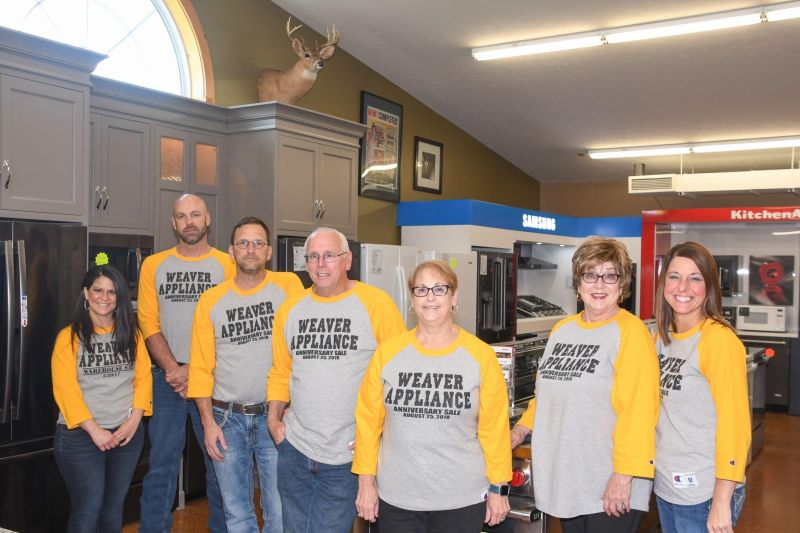 Dennis Weaver's children laugh about how he started Weaver Appliance with little more than his own skills and a small Chevy truck. That was in 1989 when Dennis and his wife Mary Jane made a move from Canton to Sugarcreek.
"Rather than get a job working for someone else," daughter Theresa Clay said, "Dad decided he'd just start his own company repairing appliances."
Business was good and by 1992 the Weavers began selling Maytag appliances. Such were the early days of the family-owned business that today, is in its second generation and thriving.
Dennis is gone now but his work ethic and attention to unparalleled customer service are still the pillars that support the business he proudly built for his family.
Today, they continue to maintain long-standing relationships with the biggest manufacturers and know their products inside and out. The result? You get exceptional service for the life of your home appliances, whether it be a range, cooktop, washer, dryer, refrigerator, freezer and everything in between.
"We're competing for your business with big box stores so that means we need to offer something they can't," said Nathan Bear, president of Weaver Appliance. "We've all got the same great appliances but at Weaver Appliance we're able to provide the kind of service our customers expect and deserve."
Just like you, the folks at Weaver's are busy with work and family so they know how important it is to have delivery or service scheduled in a timely manner.
"Whether I'm getting something fixed or waiting for a new appliance to be delivered, I want to know two things," said Theresa Clay. "How much will it cost and when will it be here."
Weavers offers next day delivery on all in-stock appliances. Service calls are expedited for the convenience of customers.
"It used to be service technicians carried every part on their truck," Bear said. "Today with technology always changing, sometimes we need to order a part for a repair. We promise to get it as quickly as possible and make the service call right away."
With interest-free, special financing available to qualified applicants to spread payments over time along with a variety of promotional rebate savings offers, there is no reason to shop anywhere but Weaver Appliance for your home appliance needs.
Conveniently located at 1780 state Route 39 between Sugarcreek and Walnut Creek. Their hours are Monday, Wednesday and Friday from 8 a.m. to 5 p.m., Tuesday and Thursday from 8 a.m. to 7 p.m. and Saturday from 8 a.m. to 3 p.m. The shop is closed on Sunday. Reach them by phone at 330-852-4555 or email at service@weaverappliance.com. The website is at www.weaverappliance.com.