These gifts are sharp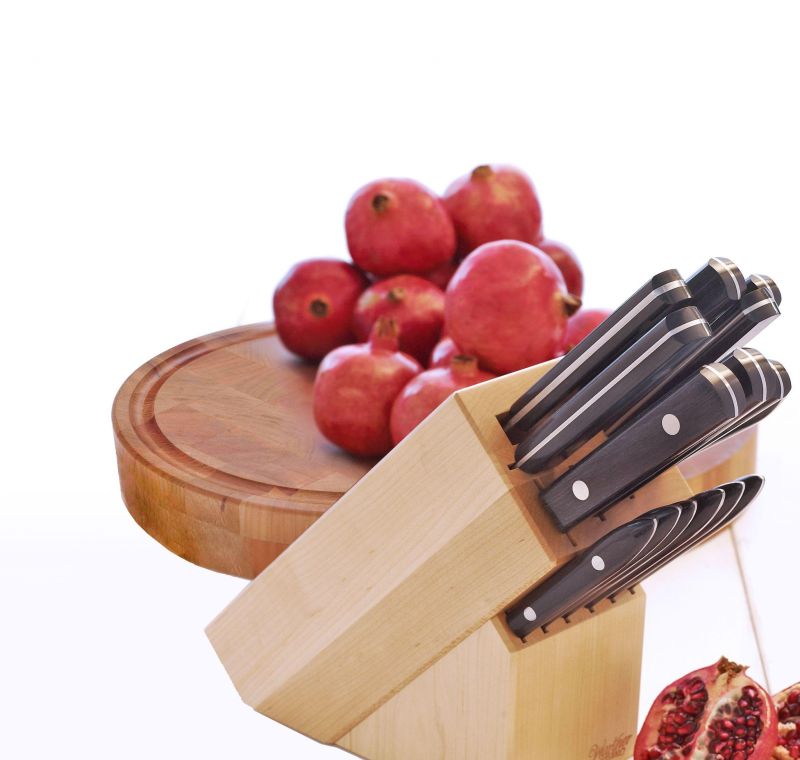 Warther Cutlery is about to have more edge. With the paint almost dry on a newly constructed retail store, Katie Cunningham, marketing director for the company, said visitors can peruse an expanded product selection of its signature knives, among other exciting additions.
Because of the company's explosive growth over the last several years, manufacturing space was at a premium.
"We're just finishing construction on a huge new building that's adjacent to our current building. It will include a bigger store with our complete product selection," Cunningham said. "Our manufacturing space will increase as well, so we can produce right here more of the quality items people depend on us for."
In the meantime, buzz about the new store is already underway, and excitement in the community is mounting. "Our customers told us they wanted more … more products to choose from and a bigger shopping experience, and we listened," Cunningham said. "People love coming here, as much for the products as for the experience."
In response to customer appeal, Warther has beefed up its offerings, both in the store and online. "Now virtually everything in our retail store will be made by us," Cunningham said.
While the team awaits the go-ahead to occupy the new space, the current retail store is open for business and packed with a sharp assortment of new gifts.
"We're thrilled about our expanded wood product offerings," Cunningham said. "Now you'll find wooden spoons, plates, salt and pepper mills, cutting boards, pastry boards, rolling pins, ornaments, home décor, and pretty much anything made out of wood that you can use in your home."
The cutting boards Cunningham mentioned are available in different sizes in cherry, maple and walnut. Some of the boards feature strips of all three woods. "And they're made right here," she said.
Boards can be personalized for a true one-of-a-kind gift. Some people opt to feature the gift recipient's initials while others take personalization to a whole new level. "We've had some people bring in a treasured recipe handwritten by a loved one, and we put the recipe onto a cutting board in that person's handwriting," Cunningham said.
Cutting boards start at $21. And while the wood offerings are grand, it's the assortment of knives that keeps devotees returning to the store season after season to expand their collection.
All raw materials for Warther knives are made right here in the United States. Then Warther's talented craftsmen grind the blades to form the company's signature edge and laser-cut the wood handles before assembling the pieces on site.
"Our cutlery lasts forever," Cunningham said. "The pieces make ideal gifts to give as a set or one knife at a time."
Cunningham said the perfect knives to start anyone's heirloom Warther knife collection are the bread knife or the chef's knife. "The chef's knife is really versatile, and people love it for that reason," she said.
The paring knife is another great option. At just $32, it's ideal for smaller kitchen tasks. The sandwich knife, one of Warther's more popular blades, is an excellent choice for any home cook, and the steak knives are beloved as a wedding gift for any couple starting out.
All Warther knives are guaranteed for life, and sharpening is always free.
Now back to that new building. Cunningham said plans are in place to have the freshly minted Warther Cutlery retail store open for business before Christmas. One can stay up to date on store happenings via the Warther Facebook page. A new Warther experience section will join the product offerings. There, visitors can custom create their own knives, choosing the type of handle and blade combination they desire.
Warther Cutlery is located at 327 Karl Ave. in Dover. Hours are seven days a week from 9 a.m. to 5 p.m. Order online at WartherCutlery.com.