Troyer Gas celebrates 50 years of warming hearts & homes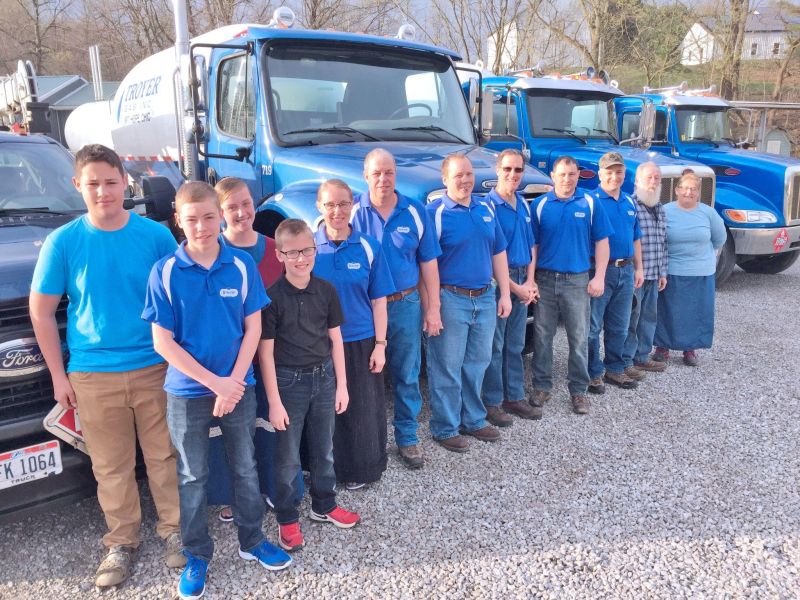 It's approaching zero degrees in mid-winter and your propane tank gauge reads five percent remaining. A national supplier might take days to respond to an urgent request.
Fortunately there is a local option that has been servicing the community for 50 years that can respond quickly and keep your home nice and warm.
Troyer Gas is celebrating its 50th anniversary, and their dedication to the community has ensured nobody has to freeze or suffer from poor service again.
In 1969 Noah Troyer ventured into an arena he knew little about. A dairy farmer by trade, he decided to take a chance on something new. Albert Barkman owned a hardware store in Mt. Hope and sold 100-pound tanks of propane gas. People would stop by and pick one up, but many wanted him to deliver, something he wasn't about to do.
Troyer and Barkman negotiated a price for Troyer to take over the propane gas sales and delivery. The first day was eye-opening and made him question what he had done.
"Dad delivered five or six tanks, got home and wondered what he had gotten himself into," said Norman Troyer, who took over the business from his father in 1996. "He didn't like it and even tried to take it back to Albert. It wasn't what he thought it would be."
However, something inside of Noah Troyer pushed him onward. He felt he could make something of this business. He did just that as Amish families in the area realized Troyer Gas was able to bring propane gas right to their front door.
In 1969 when Noah Troyer bought the cylinder business from Barkman, he was already doing gas lantern repairs and gas irons from a little shop on the farm. He also started selling propane and natural gas ranges, in the mid-80's he designed his own high pressure gas lights and installed hundreds of them. As the business grew, Noah Troyer sold off the appliance and gas lights division.
"It took off in the late 1970s, and it outgrew our farm, so we sold our cows and focused on the propane business," Norman Troyer said.
In 1985 Troyer Gas had to make a big decision as a wave of competing natural gas companies came sweeping through the area. Losing customers quickly, Noah Troyer had to go all-in and invest in the bulk business or continue struggling selling 100-pound cylinders.
"What we found during that time was that we could buy our propane at almost half the price by purchasing it directly from the refinery versus through another propane company," Troyer said. If they had a 30,000-gallon tank, they could get the gas for less than half of what they were paying.
"Dad was relieved because now they weren't being taken advantage of," Norman Troyer said. "All those years we were basically paying double of what we should have been paying."
Knowing they needed a 30,000-gallon tank, they connected with Henry Yoder in Charm, who knew a lot about gas tanks. He led them to a tank in a steel mill in Pittsburgh. The tank was in good shape, so they purchased it, and the propane business took off.
They also invested in larger bulk tanks, which gave them more versatility. Later the family took a leap of faith and sold a rental home for $49,000, the price of the new propane truck they purchased.
"We wondered then if we had made a huge mistake with this truck," Norman Troyer said.
It turned out to be yet another blessing.
Over the years, the company has grown and now has seven employees, and Troyer said they are thankful for the loyalty of each one. Norman Troyer purchased the business from his father and later sold a portion of it to his younger brother, Paul. One could almost say propane courses through the veins of the Troyer family.
Troyer Gas has made its reputation in the area with its honesty and incredible service. Norman Troyer said they understand that when people call in great need, they can provide quickly in ways that national companies never could. In a sense Troyer Gas has remained committed to the service-first attitude Noah Troyer had when he first began 50 years ago.
"People don't want to have to worry about their gas. We understand that and know that families rely on what we provide every single day. We strive to meet their needs. Being able to respond quickly is our secret," Troyer said. "We believe in the Golden Rule of business. We dedicated our business to God and we are thankful for the opportunity to serve this community."

Troyer Gas is located at 7908 state Route 241 in Millersburg. Their phone number is 330-674-1118. Office business hours are Monday through Friday from 7:30 a.m. to 4:30 p.m. and Saturday from 9 a.m. to noon.