Unleashing the beast within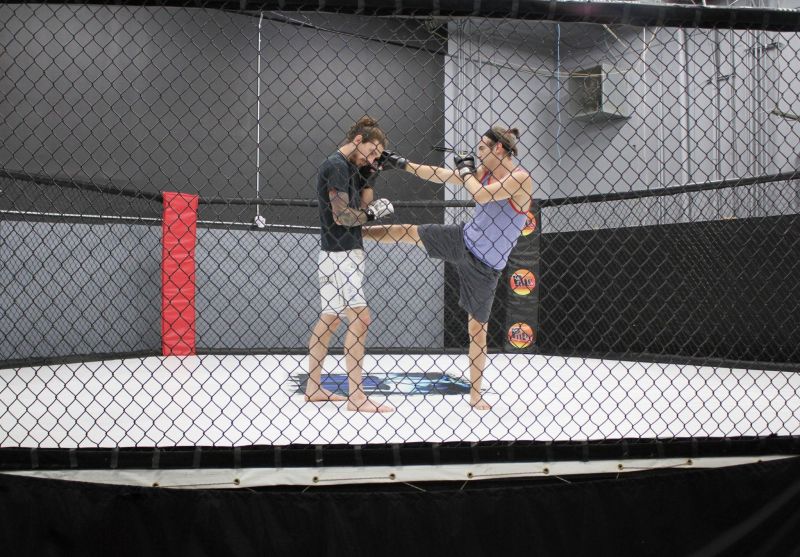 New owner Brian Preston continues to put together an impressive fitness center in the New Towne Mall in New Philadelphia that offers something for everyone, and his goal is fairly simple. "I want to make Tuscarawas County the healthiest county in the state of Ohio," Preston said.
In order to accomplish that feat, Preston and his staff of professionals have made a fitness center that is creative and unique, involving a number of activities that you won't find at your average gym.
Yes, they provide the basics with treadmills, rowing machines, weightlifting and cardio areas, but they also provide strength training, high intensity interval training, yoga, spinning, tai chi, mixed martial arts and much more.
Since taking over ownership one year ago, Preston continues to tweak the center to help create a facility that will entice families to partake in committing to a healthier lifestyle.
With 41,000 square feet of activities from which to choose, there truly is something for everyone.
"We have spent the entire past year totally revamping everything here, and it looks and feels totally different than it was," Preston said.
In order to provide for everyone, Route 250 adds perks, like a child care center where experienced trainers provide activities for children such as the kids' climbing wall rather than just having them sit and watch television. They have added an incredible juice bar that is loaded with high-energy, healthy smoothies. Not only is the juice bar available to members, it also is open to the public for anyone wanting to stop by for an instant, healthy pick-me-up.
Route 250 so firmly believes in its mission to create a healthier Tuscarawas County that it offers free fitness assessments to individuals. During the assessment people can find direction to create a healthier lifestyle that is more about finding the joy in fitness rather than it being a chore.
"For us it is more about working with each individual to find what they enjoy," Preston said. "It is about taking the journey with them."
With so many full-time certified professionals, Route 250 is able to provide hands-on training, meaning the staff isn't just showing people how to work but also is teaching them proper techniques, helping people turn weakness into strength.
With a large number of trainers on hand, Route 250 can provide large groups personal training, where they can correct and direct individuals with one-on-one advice in a group setting.
"That professional expertise, that is what you are paying for," Preston said. "I like the idea of giving individualized attention in a group setting because it provides the expertise of having a personal trainer working with people at a fraction of the cost of a personal trainer."
All of these amenities are designed so that the staff at Route 250 can walk alongside of its members in an effort to create heathier, happier and more productive lives for its members.
"Our goal is for our members to make a small investment for their health now so they can enjoy the payoff down the road," Preston said.
Preston likes to refer to a quote from the Dalai Lama, who once said, "Man sacrifices his health in order to make money. Then he sacrifices money to recuperate his health."
Rather than see people stroll down that ill-fated path, Preston and the staff at Route 250 Health & Performance prefer to help people find encouraging and joyful ways to invest a little now so they can enjoy life to its fullest in the future.
"I guarantee that if someone comes in here for six months, they are going to feel better, they are going to look better and all of their health markers will be headed in the right direction," Preston said.
Route 250 is all about selling health, confidence and self-esteem in creating a new lifestyle. With several membership options available, it is a small investment now that can pay huge dividends down the road when it comes to health. And as Preston likes to say, "It's only expensive if you don't use it."  

 Route 250 Health & Performance is located at 400 Mill Ave. SE in New Philadelphia. To learn more about the center, visit it online at www.route250.com or call 330-339-8030.