Walnut Hills installs new air-purification system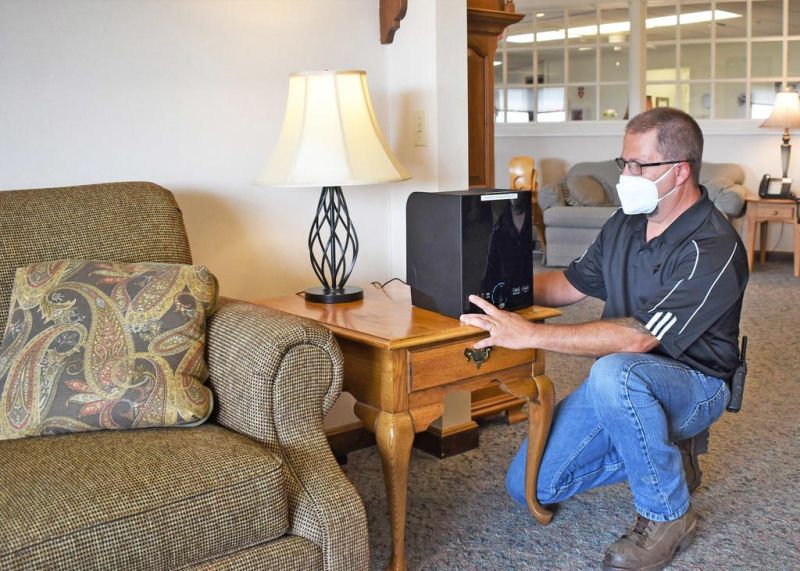 The health and safety of residents has always been a top priority for Walnut Hills Retirement Community.
So when Walnut Hills — and the entire world — started to navigate through the COVID-19 pandemic, there was no doubt the organization would follow all suggested safety protocols and take action to ensure residents and team members were protected.
"We were thrilled to be able to purchase state-of-the-art air-purification units to help protect our residents and team members from airborne illnesses," said Rob Aneshansel, executive director. "Infection control and safety concerns have always been a top focus for Walnut Hills, and the addition of this system adds an additional layer of protection."
One significant step taken was the installation of whole-house air-purification devices in both the nursing home and assisted living HVAC systems. The PlasmaPURE 600 and 1500 models are designed for hospital and senior living applications.
"With the arrival of COVID, our number-one concern was the health and safety of our residents and team members," said Bob Bird, director of maintenance. "After researching various products, we are confident these systems will serve Walnut Hills well in protecting against the coronavirus."
The PlasmaPURE models use Needlepoint Bipolar Ionization to neutralize the positively charged CoV-2 virus. In a study by Northwestern University, scientists discovered that by neutralizing the positive receptor-binding domain of the coronavirus with a negative-charged molecule, the coronavirus was unable to attach to a target host cell.
Walnut Hills also purchased 12 portable Aerus Pure and Clean air purifiers and placed them in common areas of the two congregate buildings including lobbies, dining rooms and visitation areas.
"We see this safety measure as a long-term investment," Aneshansel said. "The systems will help protect our environments against airborne contamination for years to come."
The ActivePure technology in the portable units features a high-intensity UVC light and uses free oxygen and water molecules in the air that are pulled through a honeycomb matrix. The technology creates oxidizers that are released back into the room, destroying bacterial and viral contaminants on surfaces and in the air. Each Aerus unit uses only 43 watts of electricity — less than the standard light bulb.
Walnut Hills is a continuing care living community that offers independent living, catered and assisted living, skilled nursing care, inpatient rehabilitation, and outpatient therapy services on a 110-acre campus in Walnut Creek.
For more information on the safety measures in place to keep residents and team members safe or on the different living options available at Walnut Hills, call 330-893-3200 or visit www.walnuthillsliving.org.