WEDC holds final meeting of 2019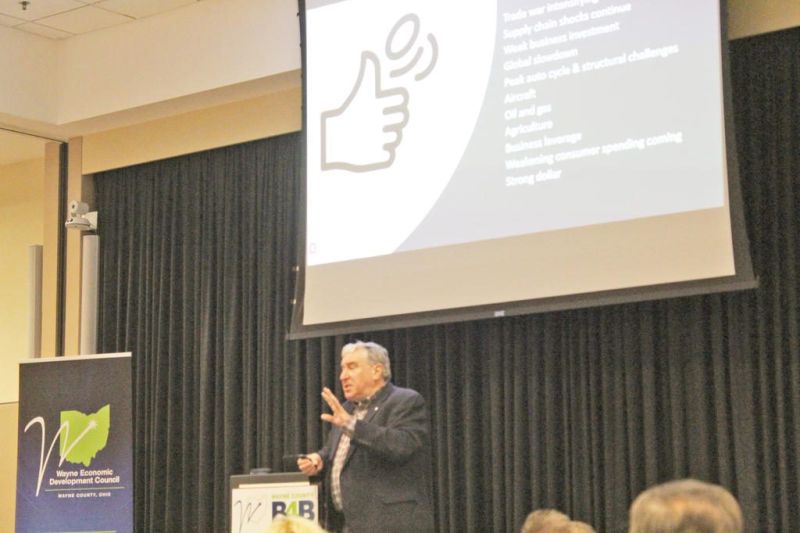 The Wayne Economic Development Council presented the final quarterly briefing for business for 2019 on Dec. 10 at the Arden Shisler Conference Center in Wooster.
"This is a time to reflect and celebrate successes," said Tom Pukys, WEDC president.
Edward (Ned) Hill, Ph.D., professor of economics at the Ohio State University, presented the topic for the program, "Is the Obama-Trump Expansion Ending?"
"This has been the longest expansion since post World War II. Real Gross National Product is growing but slowing. The unemployment rate continues to drop," Hill said. "The Obama-Trump expansion began June 2009. Consumers are driving the economy. Expect robust spending over the holidays, but it is not likely to continue after the holidays. The middle- and low-end consumers are keeping the economy going. The upper class is cautious and has pulled back on spending."
Hill continued by noting that employment is strong and U.S. job growth continues. "The workforce has shifted over the last 40 years with women powering the workforce," he said. "The male-dominated workforce doesn't exist anymore. The 20- to 24-year-old segment has declined, but those 55 and over are growing with 40 percent employment in this sector. Of those 25- to 54-year-olds, employment has stayed the same. Legislators and Jobs Ohio need to figure out how to keep kids in the community. Youth employment is a problem with businesses not employing 16- to 18-year-olds."
Manufacturing has slowed down and been in decline since August as a result of the trade wars, which will continue to some extent. In addition Hill pointed to weak business investment and a global slowdown.
"The aircraft industry is in recession, agriculture had another miserable year, and oil and gas prices continue to be low," Hill said. "Companies are not investing in technology because it changes rapidly and it's expensive. Most plants are not ready for the digital journey."
An attendee asked what consumers have been spending on during the recovery and if they are buying durable goods or apparel. Hill said credit card debt hadn't grown until the last quarter as people had been paying down debt. He also said home ownership rate has dropped, and consumer spending has been generic.
Hill praised Wooster for having a successful downtown and said it helps to attract investors, as potential companies don't want to come to a community with derelict buildings and empty storefronts.
WEDC assists businesses with attraction and expansion. Wayne County has been a top micropolitan area since 2007 and finished 2018 at number two in the United States.
For more information visit www.waynecountyedc.com or call 330-264-2411.
The Dec. 10 meeting was sponsored by Huntington Bank, Wooster Community Hospital, MCTV and OhioMeansJobs Wayne County.