When four are united as one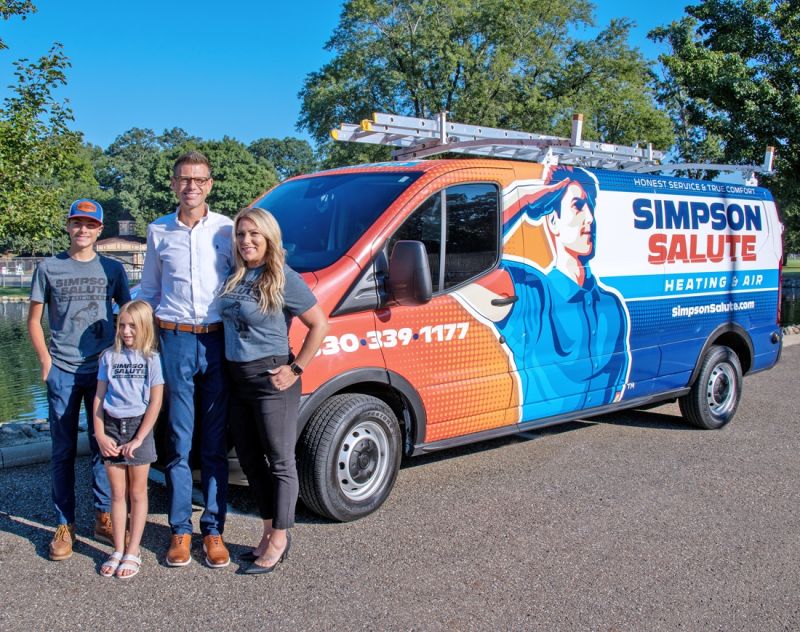 A salute is a gesture of respect.
That's why, when Chad Simpson recently consolidated his four highly regarded heating and cooling businesses into one, the resulting name was obvious: Simpson Salute Heating and Air.
"The name reflects our respect for the people in our community," explained Steve VanHorn, chief operating officer of the family-operated company. "Since the beginning, we have been all about serving and getting involved in our community with everything from helping with charitable causes — like holding the largest Toys For Tots drive in the country — to sponsoring youth sports and raising money for military veterans and our safety forces. Our customers can expect the same respect when we go into their homes."
For decades, Simpson explained, Simpson Heating & Air, Sugarcreek Heating & Air, A&L Heating and Cooling, and Peterman Heating and Cooling "had the honor of fulfilling our customers' heating or cooling needs." But operating as four different companies was getting confusing.
And "exhausting," Simpson said.
"We knew something needed to change, which is why we decided to combine all of our companies into one, enabling us to provide even better service than ever before," he said. "The new and improved Simpson Salute is the team that's dedicated to honest service and true comfort."
Simpson was a certified heating and cooling technician when he started Simpson Heating & Air with his father in 1998. Since he bought his dad's share of the company in 2018, he has grown it from about 15-55 employees, Van Horn said. Prior to that, he also acquired Sugar Creek Heating & Air — which provided a full fabrication shop — as well as the heating and cooling division of Peterman Plumbing. Later, A&L Heating and Cooling was added to the Simpson family of companies.
"All of those companies shared the same mission of delivering the best customer experience with an emphasis on rigorous training and leveraging the most advanced technologies available," VanHorn said. "It made a lot of sense to streamline the operation into one company with one location, with recognizable uniforms and trucks and a brand-new, user-friendly website. The best news is that we're still the reliable, top-quality, honest heating and cooling company you've always known."
As a way to help the community during today's inflationary times, Simpson Salute may pay your electric bill. All you have to do to qualify for the special drawings is take a photo of you with a Simpson Salute truck or sign and post it on social media. Simpson Salute is located at 817 W. High Ave. in New Philadelphia. You can call them at 330-339-1177 or learn more at SimpsonSalute.com.