Where the cool cats shop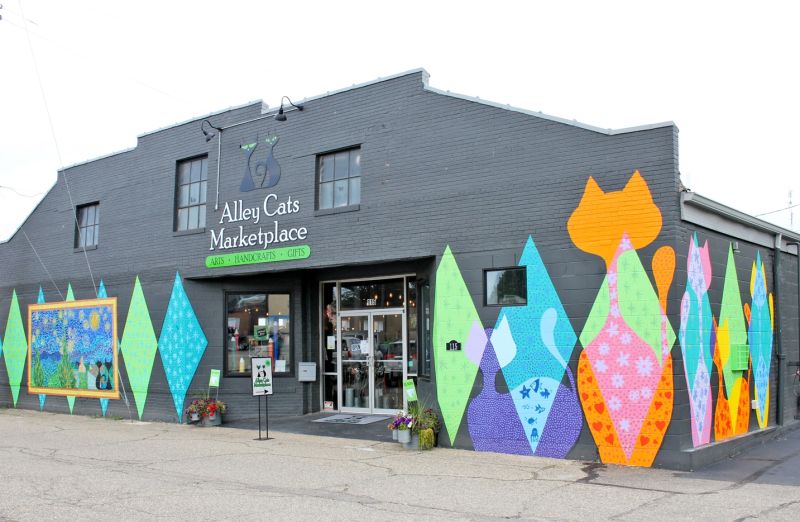 A haven for people who love the unexpected, unusual and wildly artistic, Alley Cats Marketplace is ready to help people get creative with their gifting this year.
"We continue to reinvent ourselves, so it's never the same shopping experience twice," said owner Debbie Aubihl-Knisely. "We offer a place for artisans to display and sell their wares, and this year we've added 10 new makers for a total of 70 regional artisans who hail from Coshocton all the way to Cleveland."
Aubihl-Knisely describes Alley Cats as a mix of genres, so guests can immerse themselves in a wide variety of mediums. "It's an eclectic mix of arts and crafts, so there's something for every creative taste," she smiled.
For example, you'll find photography, metalware and painting tucked in with fabric crafts, pottery, jewelry, handbags and clothing.
The 5,000-square-foot space is housed within what could have been a non-descript brick building. But Alley Cats is a modern, funky space, so the not-to-be-missed exterior is painted midnight black and features bright pops of colorful abstract cats.
Inside, a contemporary, warehouse-style space is set up to accommodate individual artisan booths.
"It's like a never-ending art show where the weather is always perfect and the selection always spectacular," Aubihl-Knisely said. "And our booth spaces are rented by individual artists, so you're definitely supporting small local business when you shop here."
Guests can shop then spend time visiting with friends in the social area, which also doubles as a space for special events. "We host events like Paint and Sip parties, creative card-making, pottery workshops and more," she noted. "We've had to get a bit more creative with social distancing for our events this season, but they're still a ton of fun."
You can stay up-to-date on the latest happenings by checking out the shop's Facebook page.
"With the hustle of the holidays right around the corner, this is the perfect place to discover something unique to take home," Aubihl-Knisely said. "And one of the best things about shopping here is there is no rush. We're very customer focused and invite our guests to relax and get away from it all — right here."
Alley Cats is located at 115 Allen Lane SW, in New Philadelphia. The phone number is 330-340-6730. Hours are Tuesday, 10 a.m.-3 p.m.; Wednesday through Friday, 10 a.m.-5 p.m.; Saturday, 10 a.m.-4 p.m. The web address is AlleyCatsMarketplace.com. This story underwritten by Alley Cats Marketplace.