Gnadenhutten store celebrates beating the odds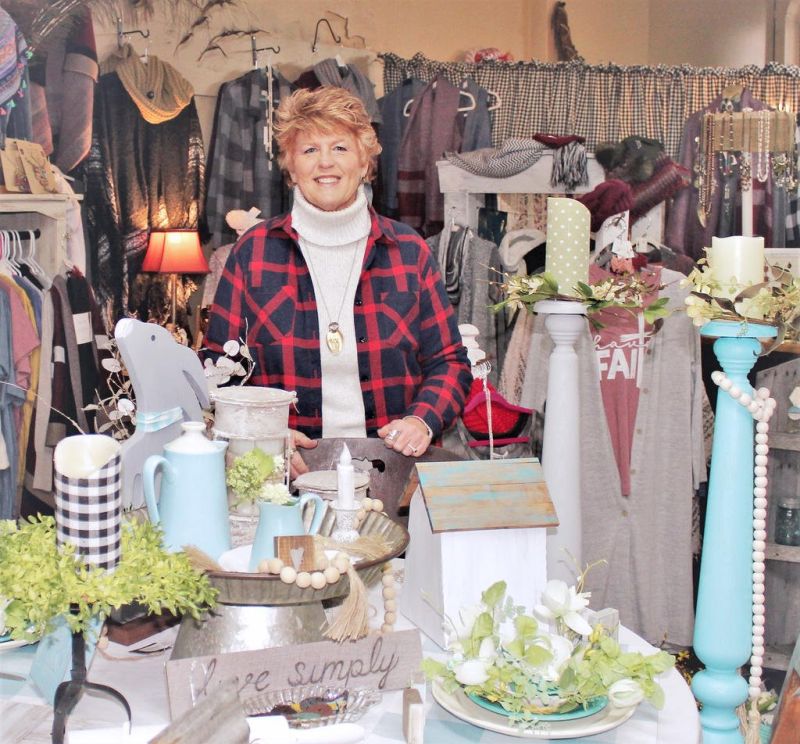 When Hope Johnson wanted to open a craft store in Gnadenhutten, she and her former business partner, the late Lori Davis, heard a lot of negativity. The business, Village Gift Shoppe, is now in its 21st year at the same location at 106 N. Walnut St. in downtown Gnadenhutten.
Johnson and Davis sold their crafts together at local shows or in consignment shops, but when those opportunities declined in the late 1990s, they decided to open a store.
"We just began. Our parents helped us, and we just grew. Here's the comment that made us grow: 'In Gnaden you're not going to make it,'" Johnson said.
The store opened Nov. 9, 1999. The store is a unique place to visit with not only items made by Johnson, but also a select group of consignors and popular decorative items available from craft catalogs.
"What has kept us so unique is the handmade items," Johnson said. "People like unique, one-of-a-kind, handmade items for in their home to make it special — items that are not going to be mass produced. Because even though it's handmade, it's the crafter's unique style, and that can't be totally copied."
Johnson continues to keep current by researching trends online and through print sources.
"If you are going to do this business, you have to stay current all the time and know what colors are in, what the trends are and change your merchandise up all the time," Johnson said. "To me this is fun. This is exciting every day."
Johnson will even help customers decorate their home. "All they have to do is take a picture of what they want decorated in their home," she said.
Johnson doesn't have time to visit homes personally, but doing it this way, she has not only decorated many homes, but also front porches and yards.
First, Johnson has the customer needing decorating help visit her shop to determine their style. "I've got the shop divided into areas: modern farmhouse, country farmhouse, country, primitive, cottage look and a little of the boho look," she said.
If customers don't see what they want, Johnson can get it by either making the items herself or through one of her consignors.
Different areas of the home can have different looks.
"If I do walls or a section of a home, I do not do everyone's home the same. I totally give them their own look, and that's what's fun for me too," Johnson said.
Customers become friends at the store.
"I know my customers; they feel at home and welcome. It's just like a safe haven to come in here to talk even if they don't buy something," Johnson said.
With the pandemic Johnson is grateful for the support she has received.
"I was kept alive, and I'm so appreciative of my customers. Even though we walked through hard times last year, they supported me," she said. "I think people are realizing that small business is the heart of everything, and they are giving back."
Johnson would like to plan some food truck events for the downtown in the future. Follow the store's Facebook page at Village Gift Shoppe for more information.
Just as the community has supported her, Johnson has supported the community for years. She is a member of the Gnadenhutten Lions Club and has helped with their events including soup and salad luncheons two times per year, the Easter egg hunt, Trunk or Treat, and their most popular event, Christmas on the Square.
Johnson began assisting in the organization of the Gnadenhutten Fireworks Festival 16 years ago. With the assistance of Davis, the two helped promote the festival and brought back some popular activities including the baby contest and the queen's contest.
Now Johnson and Cheryl Foote of Gnadenhutten organize the event. They partner with WTUZ for the popular fireworks show, Country Fantasy in the Sky, which combines fireworks and music.
Unfortunately, like so many other festivals, last year was the first year the fireworks festival was canceled.
"This year is still in question until we know how many people are allowed because the park is packed," Johnson said.
Johnson usually starts in March, sending out forms for sponsors to cover the costs of the event. The average cost to put on the fireworks display is $11,000, though they have some smaller fundraisers associated with the festival including the 5k run, baby contest and T-shirt sales.
"We're not funded by the Village of Gnadenhutten. That needs to be put out there," Johnson said of the yearly challenge to find funding for the event.
Johnson credited three local businesses — U.S. Bagging, Stocker Concrete and Stocker Trucking — that have been instrumental in putting on the event in the past.
"We always have to pay half down in April, and last year we got penalized $1,200 because it was canceled, so now we're behind a little bit," Johnson said.
Help, whether in the form of donations or volunteers, is welcome if the festival goes on this year. Volunteers are needed to help prepare behind the scenes for the event.
No matter the popular colors or styles, one thing that never changes is Johnson's dedication to others through her store and her service to the community.