Zoar to welcome new restaurant this month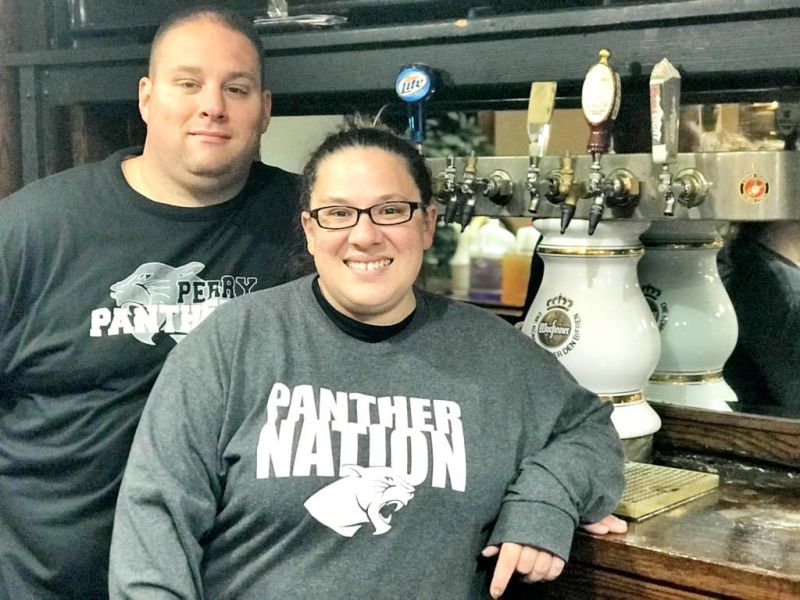 Maggie and Nate Kelly are preparing to open a new restaurant in Zoar, directly across from the historic Zoar Hotel. Donnie's Tavern will be ready for customers later this month with renovated surroundings.
Donnie's Tavern is named in honor of Nate's son and Maggie's stepson, Donovan Kelly, who passed away suddenly at age 15 of an undiagnosed heart ailment in spring 2019. Known to everyone as "Donnie," he was an active student and athlete at Perry High School.
Nate Kelly stood in the center of the former Zoar Tavern, surrounded by tables askance as family and new employees worked to turn the space into a proper dining room.
"We've replaced the floors in here," he said, "and we still have to replace some flooring in the entry and in other parts of the building."
Nate Kelly is confident the schedule to open is on track. "We have most of the equipment we need, we have the menu planned and we'll be ready," he said.
Donnie's Tavern should begin serving customers by mid-late November.
Maggie Kelly is a native of the area, but Nate is from North Carolina, where he built a lifelong career as a chef in upscale kitchens. The couple met at a restaurant at which both worked in Canton. They now have twin boys, along with Nate's two sons from a previous marriage. The family lives in Canton, and Maggie Kelly is a nurse at Aultman Hospital.
"Most of my experience is in high-end resorts, hotels and golf clubs," Nate Kelly said.
They formed Kelly Hospitality and Ventures as part of the process of buying the restaurant in Zoar. "We are a hospitality company first," Nate Kelly said. "Once everything is in place, we'll be able to cover everything anyone might need in terms of hospitality in Zoar: Bed & Breakfast, event venue, outdoor space, meals, all of it."
Donnie's Tavern will be open for breakfast, lunch and dinner seven days a week. "We're a restaurant first and a bar second," he said.
In terms of cuisine, the tavern will offer family-oriented, modern American fare. "We have a four-deck pizza oven being installed. We're going to offer burgers, pizzas and things like that, meat and potatoes. And I'm very much about using local, seasonal ingredients and a changing menu. We'll start off with dishes centered around fall — apples, pumpkin — and we're kicking around the idea of an apple cider-based margarita. It's apple season after all. We want to offer fall flavors," Nate Kelly said.
"We're making everything here," Maggie Kelly said, "all hand made."
"We're planning to offer fish and chips, and we'll use the kinds of fish people are familiar with here, walleye and perch. We will be changing things up through the year," Nate Kelly said. "We'll have Italian dishes, wings, meatballs, some great salads. I know people will enjoy the food."
They said they'll be serving the kind of food Donnie Kelly enjoyed.
"We are super excited to be doing this," Maggie Kelly said. "We're learning all we can about Zoar. We know this place is very important to the community, and we are looking forward to working closely with the people here and bringing them the best food we can."
The couple has been hiring staff. Maggie Kelly said, "We didn't do a lot of advertising. I took a photo of the 'we're hiring' sign we have out front and posted it on Facebook, and that's about it. We have a great staff of servers lined up, and we're very happy about that."
As the building itself is large, there are plans for an ice cream shop. "We have ambitious plans, and we should have everything in place by June of next year," Maggie Kelly said.
The couple stopped for a moment and collectively sighed at all that has happened in their lives this year. It's clear they have undertaken a lot but equally plain they feel up to the challenge.
"We do hope people will be patient with the building exterior," said Nate Kelly, who describes himself as someone who likes to get things done quickly.
The nearly 200-year-old building is undergoing extensive renovation to the outside. "It will take some patience," he said.
Find them on Facebook for up-to-date information on hours and opening dates.