Church expands to serve younger area families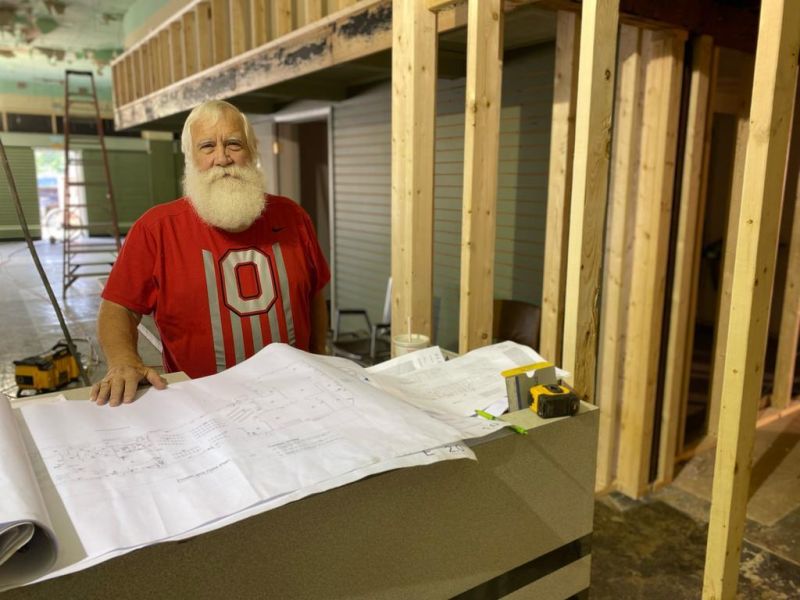 St. John's United Church of Christ on Wooster Avenue in Dover has taken on a major renovation project next door to the landmark brick church, creating a new space to offer area residents a location for community events and for younger members of the church.
The church has owned the building for several years, purchasing it before Adventure Harley Davidson filled the rooms with motorcycle inventory in the 1990s. It has been rented since, and now the church is making use of the space for its own needs.
"We started talking about it last year when I was president of our church council," said Mark Perry, a member of the congregation. "We were looking for someone to serve as a youth and young adult pastor to try and build up that part of our congregation a bit but had no success. So I said I would take on that role for one year while we did this project and got it off the ground. Before we can offer a pastor for youth and young adults, you really need a place to do that, and that's why we're renovating this building."
The large structure is next door to the church building at the corner of Wooster Avenue and Fourth Street.
"We owned this building, and it was in pretty bad shape," Perry said. "We talked about renting it out again, but you'd still have to do a lot of work to get it ready. We decided to do something with the building that will help our church grow."
The spacious front part of the building will become a community center, Perry explained. "It will be open for events, and we'll do some things ourselves here. We thought we could use the walls to display the work of local artists, maybe have open mic nights for musicians and poets. It's all still developing, so we can be as creative as we like."
Among the first jobs to be completed in the building is installation of large new restrooms, something Perry said was sorely lacking.
The central part of the building will be used as worship space by the church, Perry said. "We'll offer contemporary worship services here, which is something we've not done in the past on a very large scale. We think this will be a great space for that."
All of the focus in the new building is to create new spaces for area families to come worship and spend time together.
St. John's UCC is one of the few old church buildings remaining in Dover and saw considerable expansions and renovations in keeping with the original architectural style of the church. The lower levels of the church have long served as meeting spaces for area groups including the County Barbershop Chorus and Scout troops. The church plans to augment this with the new spaces available for the community to utilize next door.
"There's still a lot of work to do," Perry said, pointing out the changed ceiling heights and uneven floors. "The congregation has been very supportive of the project. They approved a $300,000 budget to renovate the building and get it ready, and we will probably be in that ballpark."
Perry said the plan is to have the building ready to open by autumn of this year.
"Many churches talk about the need to get children and young people into church," Perry said. "I think to do that, you have to offer a good space for the parents and families to come. We hope the community will enjoy what we're able to offer here."