Churches finding ways to stay 'open'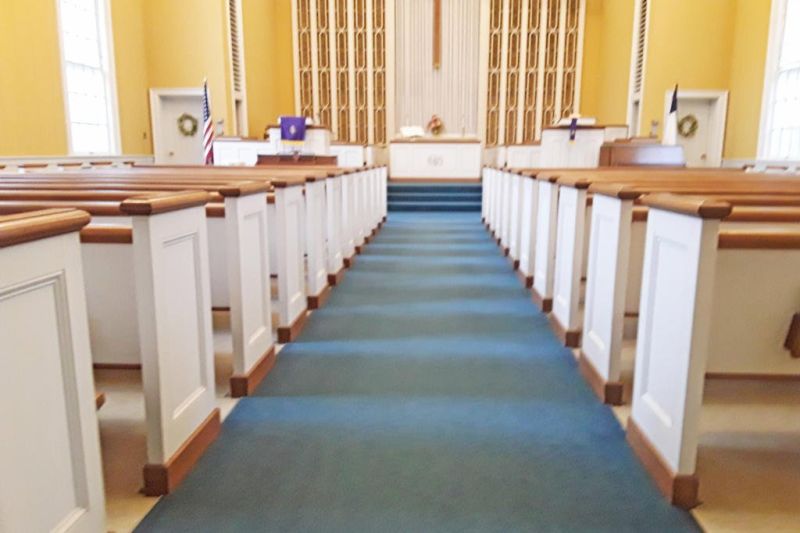 No hymns praising God could be heard "live" in area churches this past Sunday.
No sermons were heard.
And no sounds of young children in nearby day-care facilities echoed through area churches.
Almost all were locked up tight, and calls went right to voicemail.
Even before Ohio Gov. Mike DeWine's order on Sunday that all residents should work from home starting last Monday at midnight, not a single church in the Wayne-Holmes Bargain Hunter coverage had Sunday services.
And according to one news article, even Amish residents in this area were taking precautions and stocking up on essentials and prescriptions.
However, since most strict Amish hold services in their homes, those may have happened.
A call to the Central Christian Mennonite Church last Sunday went straight to VM.
But there are alternatives, as two area residents and one pastor detailed.
There are many ways that the coronavirus has affected our church," said Linda McHenry, a longtime member of Christ United Church of Christ in Orrville. "Our pastor, Rev. Dr. Michael H. Bone, and church leaders are planning the next steps to keep everyone connected and safe. Sunday morning worship services have been canceled indefinitely, but we will gather in spirit from our homes."
All of Christ UCC public services are suspended or delayed. New services will be taped and presented to digitally on the UCC website and Facebook at www.christucc.com/media. The office is still open and Bone, the church elders, and church secretary are available by phone. Everyone in the church is encouraged to reach out to other members by calling them, sending cards, and praying.
The Alcoholics Anonymous group that meets at Christ Church is still permitted to meet in the church as long as the group size and safety precautions are met. The Spiritual Council of the church is also allowing another AA group to meet on a different night in the church after their meeting place was canceled.
Elders and caregivers of Christ UCC have taken on the tasks of mailing DVDs and CDs of the weekly church services along with church bulletins to shut-ins instead of visiting with them in person and hand delivering them, while youth groups are all now connected to Instagram to communicate with each other.
The church elders, who in the past have served home communion and visited with shut-ins, have decided to meet and divide up all the names of church members 60 years old and over. They then will make phone calls to them and ask if there is anything they need. Those members can call the church office and ask for a "Shopper" — younger members or others who will grocery shop and deliver the food and other items to them.
The United Church of Christ is streaming its services although the doors are locked, according to Elizabeth Wallace, the church secretary.
In fact, she reported that they had 191 members in "attendance" last Sunday, including one member who spends her winters in Florida, and said she "missed" being home," Wallace said.
One thing you notice in the United Church sanctuary is that each pew has small packs of tissue at the ends of all pews, next to red prayer books.
Over at St. Mary's Catholic in Wooster, things are similar, according to Orrville resident Mary Starn, who attends there with her husband, Chet.
All Catholic churches have discontinued the sacraments, which has been an integral part of the church for centuries.
Starn said that one alternative is the free television station WUAB, channel 43. Anyone can tune in without cable, and a quick look at TV Guide lists several religious programs on Sunday morning, including a broadcast from the Canton Baptist Temple.
Starn also is an avid walker and swimmer and has been for years.
She is still walking, she said, but does not wear a mask. "Not many people have been out," she said.
Swimming though is no more until the shutdown order is lifted. Mary swam at the Orrville YMCA, and it is now closed to the public.
At the First Presbterian Church in Orrville, Pastor Kenneth Walther, said the church is following the guidance of the Orrville Ministerial Association and not holding services.
Unlike the United Church of Christ in Orrville, the Presbyterian church does not have the ability to stream its services, he said.
But the Orrville church is a member of the Muskingum Valley group of more than 70 churches, and many of those churches post their services to Facebook, he said.
Walther is a retired professor at the Ashland Theological Seminary. And last Sunday, he said, he got to watch one of his former students preach, which he said was "pretty neat."
One unique thing that the Orrville church has done is set up an area behind the sanctuary where small groups of people can come in a pray when the church is open limited hours during the week.
Three chairs have been set up in front of a beautiful, circular stained glass window ... just right to collect reflections from the sun and God.