Growing by faith: Ruslin Hills Church undergoes expansion and renovation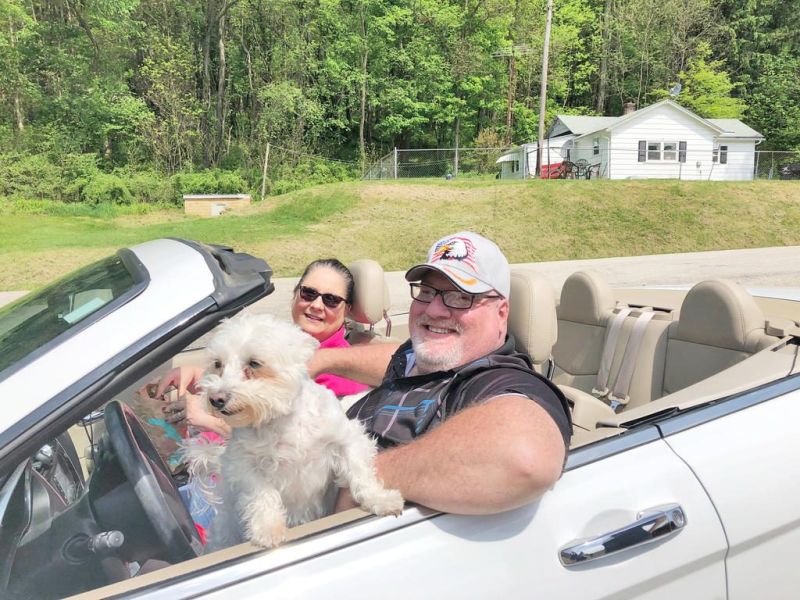 Strains of the old hymn, "Trust and Obey," wafted from car windows and open convertibles, carrying through the quiet countryside during a recent drive-in service at Ruslin Hills Church in Dover Township.
The church has instituted the drive-up services in response to the COVID-19 epidemic. Members of the congregation gather in their cars in the parking lot on Sundays at 10:30 a.m. to listen to the service on FM 106.1 and watch Pastor Duane Houser deliver his sermon from a window at the front of the church. Inside, three cell phones carry the church service live to members who are unable to attend.
The new mode of church service is occurring at the same time that the church is undergoing a major expansion and renovation. In 1998 painting and light remodeling was performed to add new lights, a new ceiling and new flooring. Other than that, this is the first major work performed on the building since 1962 when it was placed on stilts and a basement was built underneath it.
"They said it couldn't be done, but it was," said Jeff Marburger, a member and organist for the church. "They even had a wedding in the church while they were adding the basement."
Marburger said prior to the basement addition, there was just a hole under the structure large enough to accommodate the furnace and a fuel pile.
Marburger said the expansion will provide more room for church activities in the way of an expanded sanctuary and narthex, along with an additional classroom. First-floor restrooms with better accessibility for wheelchairs and a ramped entry also are planned. A new propane furnace has already been installed.
What's in a name?
According to the late Clarence Marburger, who also was a church member, the name Ruslin Hills probably comes from early French trappers or soldiers in the French and Indian War who were in the area prior to 1810. These men may have been reminded of the scenic hills of Roussillon, a picturesque village in Southeastern France known for its red tile roofs and grape vineyards.
The small community of Ruslin Hills was not settled by the French, though. It was established by German immigrants hailing from the Wurttemberg area of Germany, the same area the Separatists who settled Zoar Village fled from in the 1800s.
The close proximity of Zoar and Ruslin Hills indicates the possibility of a prior connection among the early immigrants. According to Thomas Bitticker, the church's unofficial historian, early church records contain a number of surnames typically associated with Zoar including Ackerman and Briehl.
Original church on a different site
The original Ruslin Hills Church building is no longer standing. While documentation of a building location has not been found, there are church records referring to a "meeting house" prior to 1872 when the present building was constructed. Several people believe an area in the old Ruslin Hills Cemetery is its likely location.
"When I started looking through the records that were translated from German to English, I found listed all sorts of weddings and baptisms performed in the church in the 1860s," Bitticker said.
Bitticker has good reason for his opinion. "There is an area in the cemetery where there are no headstones, and the void seems about the right size and shape for a building," he said.
As possible further evidence, Bitticker unearthed a large, rusted door hinge on cemetery land when combing the grounds with a metal detector. "You can tell it's old and was crafted by a blacksmith," he said.
Bitticker said he also found some old nails there made by a blacksmith, as well as evidence of a possible fire. "I'm thinking the old church may have burned down because there are a lot of rolled-up balls of tar laying around that could have been from the roof," he said.
The first Ruslin Hills congregation was organized in 1846 by a circuit rider named Matthias Galster. A lay minister for the German Evangelical (Lutheran) Church, Galster married a woman from Tuscarawas County and had six children, one of whom (Johannes) is buried in the old Ruslin Hills Cemetery.
Records show Galster was present in Zoar, Bolivar, Strasburg and the Mineral City area. Bitticker believes Galster may have held tent or barn services in communities that did not have a regular minister before moving on to other states and eventually passing away in Illinois.
Current building site of tragic accident
Construction of the current church building began in summer 1872 under the supervision of master carpenter Seth Harper of Winfield. An article from the Iron Valley Reporter, which later became the Times-Reporter, states Harper and a work crew comprising 12 citizens from the neighborhood were engaged in erecting the bell tower. They were placing a final beam called a "bent" when the board used to brace it snapped, knocking the men off the roof.
Harper was straddling a pike pole, and the falling brace hit the pole, causing Harper to be catapulted into the air before hitting his head on a rafter and then being violently thrown to the ground.
"He lived for about an hour, they say, and never regained consciousness," Bitticker said.
The church today
The church pastor, Duane Houser, told the story of how he came to be the pastor at Ruslin Hills Church. "My wife, Joyce, had recently been let go from her position as a social worker at Pathway for Children in Canton, a nonprofit that oversees foster care and adoptions," he said.
Houser found himself looking through the newspaper want ads on a Sunday afternoon to help his wife find a job when he stumbled across a small ad that said, "Small evangelical church in the country near Dover looking for part-time pastor."
Houser was then a financial advisor for Prudential, but he had pastored for about 27 years prior to that in South Dakota, Ohio and Indiana and had been an associate pastor for more than 10 years at First Friends Church in Canton.
Houser decided to contact Ruslin Hills Church "just to see what it was about." He called his connection with the church a "God connection" as the ad he saw was only run on that Sunday.
Houser also recalled their first drive from Stark County to the church in the hills. "We got off of Interstate 77, and after we got to Schneider's Crossing and had to keep driving, I thought, 'This place is really in the country,'" he said.
Houser said it has been fun to watch the new addition going up and is amazed at the amount of money that has been raised for its construction, all of which has come from members and friends of the church.
"We've raised nearly all of the $350,000 needed to build the addition, add a new roof and siding, and cover the architectural services and permits needed," Houser said. "Last Sunday before services we were just $9,172.77 shy of being able to pay for the entire project without having to borrow any money, and I'm pretty sure we're going to make it there before construction is completed."
The date for completion is Aug. 14.
Ruslin Hills Church today is an independent nondenominational church and a member of the Evangelical Association of Reformed and Congregational Churches. It is located at 5839 Ruslin Hills Road in Dover. Worship services begin on Sundays at 10:30 a.m.