Local church to present its version of classic story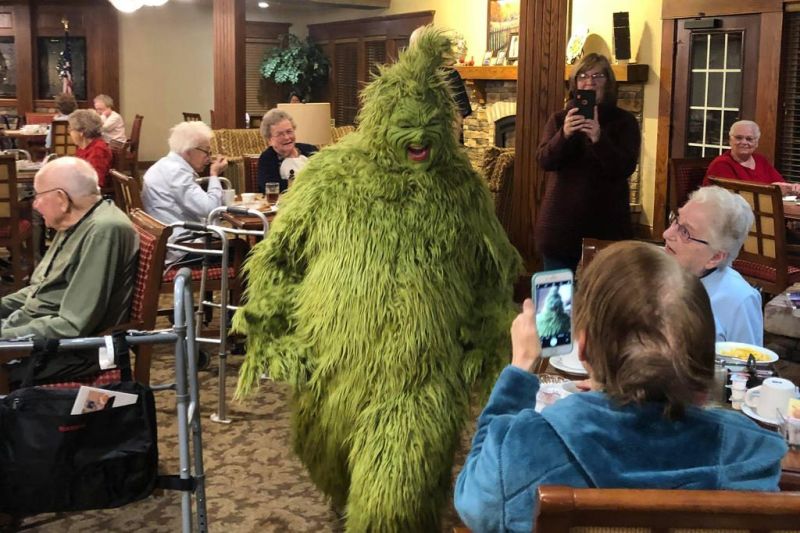 What has become an annual performance of "How the Grinch Stole Christmas," a live show presented by the Potter's House Christian Fellowship Church at New Philadelphia, is set for Friday and Saturday, Dec. 17 and 18 at the former Elder Beerman store at New Towne Mall. Doors will open at 6 p.m., and tickets are available for $5 for adults and $3 for children under 18.
The play is written as a parody adaptation of the 2000 Jim Carrey film by Potter's House Pastor Tom Cunningham.
"The movie was so popular," congregation member Connie Reynolds said, "and Pastor Tom saw it as something that could be adapted for a Christian-themed message."
The cast of about 30 includes the characters with whom people are familiar.
"There's a lot of comedy, a lot of fun in the show," Cunningham said. "It has an entirely new ending. Little Cindy Lou Who is so upset that Christmas has become so commercialized and cold. She finds the Grinch and is not at all taken aback by him or his gruffness. They become friends, and she actually ends up leading him to Jesus."
Along the way, Cunningham said, "We learn about the Grinch's backstory. We find out how he came to be the way he is. The story adds the gospels in a way that is meaningful and believable. There's also a lot of fun stuff. All the Whos come onto the stage by making their way through the audience."
"How The Grinch Stole Christmas" is one of eight plays Cunningham, an old hand at theater since high school, has written, among other scripted projects. In a case of colossal bad timing, a story he authored was being considered for an episode of the television series, "Seinfeld," just before the finale was decided upon and the show came to an end.
"It was 'this' close," Cunningham said.
Cunningham has found it difficult to attract audiences to shows with an unfamiliar title. "You have to have something with drawing power, which is why we've turned to familiar stories we can work with and adapt," he said.
Cunningham's version of The Grinch has been a popular holiday show since it first took the stage locally five years ago. "It's a good idea to get there early to get a seat," Reynolds said. "We have had to turn people away due to occupation restrictions in the building."
"Usually, we have about 700 people a night come out to see it," Cunningham said. "Many of them are seeing it for a second or third time. People are hungry for this kind of message in these times. They want to be entertained, relax and enjoy themselves while watching a good story."
The story is such that congregation members with a variety of skills can participate. "It shows what a small congregation can do," Cunningham said. "You don't have to have a giant megachurch to make a difference and get out into the community with the message of the gospels."
Future planned productions include versions of "The Wizard of Oz" and "Alice in Wonderland."
"That one especially has opportunities to talk about problems with drug addiction and personal struggle," Cunningham said.
The Potter's House production of "How the Grinch Stole Christmas" does not cut corners. "We have a lot invested in the show," Cunningham said. "We use professional-level costumes and makeup. It's real theater and a great show."
Tickets are available at the door. Potter's House Ohio is at 335 Union Ave. in New Philadelphia. The website is www.pottershouseohio.com.