Minister retiring after 23 years of community connection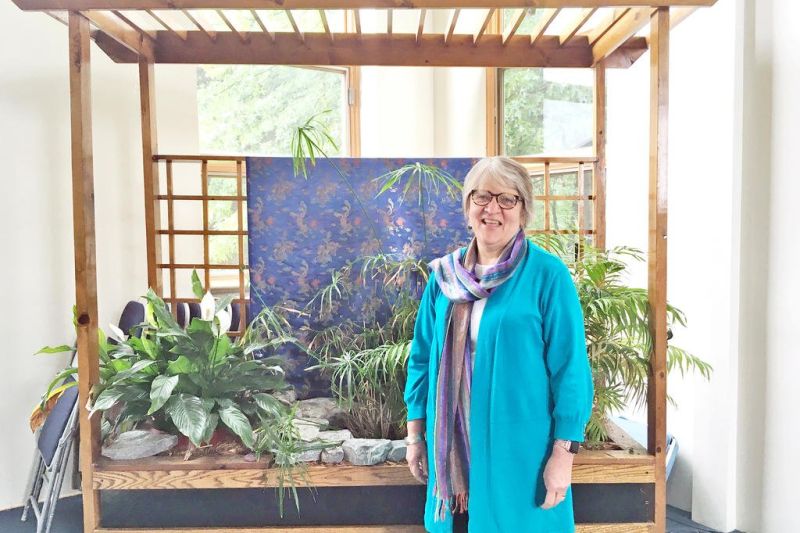 Unitarian Universalist Fellowship of Wayne County will host an open house from 5-7 p.m. in honor of minister Elaine Strawn, who was hired in 1996. She will retire at the end of July.
"She emphasizes network rather than hierarchy. She is nurturing," fellowship board member David Francis said. "She has been a voice for rational religious inquiry rather than the authority of tradition. She reminds us that the liberal religious perspective has a strong moral foundation. She has demonstrated these values in how we welcome others, in constructing our sanctuary based on sustainable principles and how we seek answers to spiritual questions."
Board member and religious instructor Denise Bostdorff said Strawn has been instrumental in the congregation's growth and development.
In 1996 the congregation bought their first building. Congregants numbered less than 100. Today there are more than 200 members with another 200 friends.
Strawn has been highly visible in social, political and environmental issues.
Board of directors member John Waldman said, "Elaine lives the principles of respect, compassion, justice for all and the interconnectedness of the whole world. She walks the talk of Unitarian Universalism."
Rev. Kevan Franklin from Wooster's Trinity United Church of Christ commented on Strawn's impact within an interfaith consortium of area clergy as well as in the greater community.
"She has helped us many times to articulate our shared position on difficult issues," Franklin said. "She is a thoughtful thinker, fair in her judgments and deserves credit for her leadership for the congregation's achievements including the building of a new facility and enhancing programs within the congregation as well as remaining a voice for social justice in the larger community. Elaine is a much needed progressive voice in the community."
During Strawn's tenure, the fellowship constructed a new building, which was awarded the Leadership in Energy and Environmental Design Gold certification in 2006. It was the first house of worship in the U.S. to receive this designation.
In 2001, through Strawn's leadership, the fellowship became a Unitarian Universalist Association Welcoming Congregation for individuals who identify as LGBTQ. In 2008 the congregation was named by the Unitarian Universalist Association as a Breakthrough Congregation.
"Elaine has been a persistent advocate of social justice work," Bostdorff said.
Strawn began her career at a Methodist congregation in Cleveland, worked in secular jobs in fair and planned housing in Akron, then ended up at a Unitarian congregation one day because a minister asked her to do a Roe V. Wade service.
"That brought me into being an active Unitarian Universalist," Strawn said. "One thing that's cool about this congregation, it has a culture of welcome, of asking 'what are your ideas?' Every time a new person comes in, we change in some way. The congregation has incredible lay leaders, skill and talent."
Strawn was active with the group working to ban the Confederate flag at the Wayne County Fair and has been active in anti-war protests, anti-racism protests and World AIDS Day protests. She was a member of the Wayne Area Interfaith Partnership and the NAACP.
In all her accomplishments, Strawn drew ultimate credit back to her congregation.
"It's important to speak up in Wayne County for social causes," Strawn said. "It's important to speak out for the environment, immigration, women's rights, LGBTQ rights."
She described how the congregation has grown in its advocacy. "It's invigorating," she said. "It's what we need to do, what we are called to do. Religion has a long history of confronting power and listening to the poor and dispossessed. It's where most religions started, with the underdog."
Those with a connection to Strawn who attend the open house will have the opportunity to visit briefly with the minister on her last official work day, enjoy refreshments and view her scrapbook as well as offer a comment for the scrapbook.
During the event there will be live acoustic music, a children's station, an ongoing slide show and tours of the building.
A fellowship hall has been named after Strawn, and she has received the designation as Minister Emerita, an honor granted to a minister who has had a successful and meritorious career of service.
The fellowship youth group recently included Strawn in its annual bridging ceremony. Chelsea Churpek, director of religious education, said the ceremony celebrates a youth member's transition from high school into young adulthood.
Bridging symbolizes a continued connection between the fellowship and the wider world. Strawn was included as she bridges into retirement.
Strawn has activities in mind for retirement. "Gardening, music and reading that pile of books I never had time to read," she said.
She also plans six months of discernment to see what comes next.
Anyone who cannot attend but would like to be included is invited to send a card or scrapbook page to UUFWC, attn: Karen Skubik, 3186 Burbank Road, Wooster, OH 44691.
"When I think of Elaine," Churpek said, "I think of wisdom and patience. Her presence and attitude alone make everyone in the room better. She approaches her work with humility and meets each person she talks to on their own level."
Anne Wilson, the congregation's administrator, has worked with Strawn for the past 20 years. "Elaine has married us and buried us, challenged us and grounded us. She has empowered the congregation to be involved, aware and vocal."
"We've been like a seed that Elaine has watered," Francis said. "Our roots are deep."
The Unitarian Universalist Fellowship of Wayne County is located at 3186 Burbank Road in Wooster.