Moravians hold an important place in Tuscarawas County history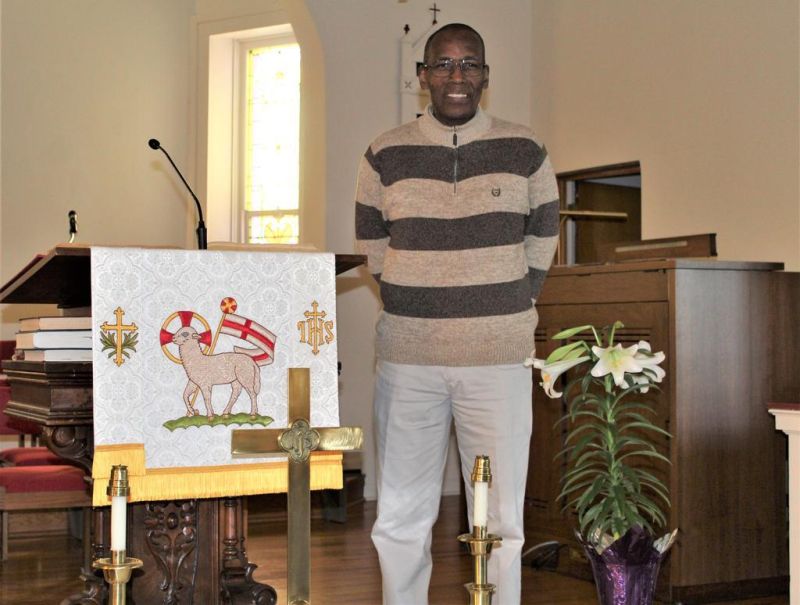 The Moravian religion first came to the Ohio Territory on May 3, 1772, with Moravian missionary David Zeisberger and a group of Christian Delaware Indians who had adopted the religion. They arrived by way of the Tuscarawas River to found Schoenbrunn Village, which will celebrate its 250th anniversary in 2022.
The Moravian religion holds an important place in Tuscarawas County history, and the religion is still alive and well in the area. The six churches remaining in the area are Dover First Moravian in downtown Dover, Schoenbrunn Community along East High Avenue in New Philadelphia, Sharon Moravian just outside of Tuscarawas, Fry's Valley Moravian Church, the John Heckewelder Memorial Moravian Church of Gnadenhutten and the First Moravian Church in Uhrichsville.
Each church has a long history, even the youngest, Schoenbrunn Community Moravian Church, which was founded in 1947. The oldest church, the John Heckewelder Memorial Moravian Church, was chartered in 1800.
"The John Heckewelder Memorial Moravian Church was chartered on July 3, 1800, but worship on the site was being held up to a year prior," said Michele Vesely, administrative assistant for Shared Moravian Ministry Ohio, which encompasses Gnadenhutten, Uhrichsville and Fry's Valley. "The church diary for July 17, 1799, says, 'Brother and Sister Zeisberger, accompanied by the Indian Brother Charles Henry, arrived by water from Goshen to conduct speaking with the Brethren in this place in preparation for the Lord's Supper.'"
The diary goes on to say, "Then Bro. David reminded us that there existed on this spot, many years in succession, a fine Indian Congregation, but that they were scattered during the war 18 years ago."
The first building of the John Heckewelder church at Gnadenhutten was built in 1803 and the second building in 1820.
Sharon Moravian Church got its start in 1810. Brother George G. Mueller started holding services once a month in the home of John Uhrich, just south of Tuscarawas. A year later the services were moved to a schoolhouse close to the present site of the church.
On New Year's Day in 1815, the first service was held in the home of George Blickensderfer, north of the current site of Sharon Moravian, with Brother Abraham Luckenloch, a missionary from Goshen, conducting the service. In 1817 a 26-by-32-foot log church was built. Then on May 29, 1856, the cornerstone was laid for the current church. An addition was added sometime in the 1960s.
Dover First Moravian was founded in 1842. "It's interesting because the church has had three or four different rebuilds, but it's been on the same corner of Walnut and Fourth for well over 175 years," Pastor John Wallace said.
Wallace is pleased with the tradition of the church and classical music. It is part of the Moravian experience and one they treasure. They also value the historical connection between Dover First Moravian and Schoenbrunn Village. Rev. Weinland, who was once pastor at Dover, formed the Tuscarawas County Historical Society in 1921 to locate and rebuild Schoenbrunn Village.
The Fry's Valley church was organized on June 11, 1857, and they are still in their original church from that year.
In the mid-1850s, the Swiss-German Lutheran farmers who settled there began congregating for worship in homes near land belonging to Samuel Fry, a Moravian Christian who was one of the regions earliest settlers. A pastor of the Moravian Church in Gnadenhutten traveled by horseback to preach to the group, and they elected to join the Moravian Church at large.
The next church to organize was the First Moravian Church of Uhrichsville on Oct. 24, 1874. They have been in their current building since Nov. 10, 1878.
Brother J. Mortimer Levering was the church's first pastor. Land was purchased, but the building was not built immediately. At the time the area was extremely poor and suffering through an economic depression, but the congregation continued to grow.
Schoenbrunn Community Church has only a brief history compared to the rest of the churches in the county since they were founded in 1947.
"We are the baby at 73 years old. Schoenbrunn has always been a good-natured church that knows how to have a lot of fun. Everyone who walks through our doors is considered a part of our church family," said Pastor Ben Lippert, who has served at the church since July 2017. "We are also known for shepherding many pastors through their first call."
The Moravian Church is always willing to change and explore options to help their members. Three of the churches with smaller congregations, Gnadenhutten, Uhrichsville and Fry's Valley, are now engaged in an experiment in shared ministry utilizing the program Shared Moravian Ministry Ohio.
"The joint boards of the three churches, during the call process of finding a pastor, decided to join together as separate churches but in cooperation in order to have a full-time pastor, accessible to all," Vesely said. "Together they are exploring new approaches to congregational leadership involving an ordained pastor and expanding roles for a variety of lay leaders."
Pastor David Geyer serves as pastor for Shared Moravian Ministry Ohio.
The Moravian Church was organized in 1457 and is the oldest Protestant church. They have members throughout the world. Moravians have a history of taking the gospel to places not usually visited by other missionaries. The church's motto is "In essentials, unity; in nonessentials, liberty; in all things, love."
The area Moravian churches today follow in the footsteps of their ancestors. There is still a focus on helping with mission work.
"When I came here, it really impressed me that they are doing these fundraisers, but the funds are spent for someone else's needs and concerns," Wallace said.
The Dover church is known for its Moravian sugar cake fundraiser. Dover First Moravian also participates in Sole Purpose to help children k-5 get new shoes. They work with area schools to provide Aspire classes, GED and English as a second language at their church four days each week. They also sponsor community concerts and help support Trumpet in the Land.
Rev. Lloyd Gooden, pastor at Sharon Moravian Church, was born and raised a Moravian in Jamaica. The Moravian missionaries went to Jamaica in the early 1700s.
"I love the missionary work in Africa, and the Moravian Church is growing by leaps and bounds in Tanzania," Gooden said.
Sharon Moravian wants to help others.
"One of the main focuses since I got here is to open our doors to the community," Gooden said.
As part of that goal, they are pleased to have a preschool run by the ESC and Indian Valley Schools on site. "We need to reach out to the community and help in any way possible," Gooden said.
Sharon Church also helps provide vouchers for students in need at Indian Valley Middle School. They have Bible study available every Tuesday at 6 p.m. Unfortunately, their choir is not active due to COVID-19. Gooden hopes the church can again host a community picnic in 2022.
Education is important at the John Heckewelder Memorial Moravian Church, which houses a Moravian Early Learning Center that offers preschool and pre-k classes. Some of the ways Gnadenhutten Moravian is connected to the community is through the Blessing Box and Martha's Quilters, who make prayer quilts for those who need them.
"We also send out our weekly bulletin to some who cannot worship with us and do not have access to the internet," Vesely said.
At the Gnadenhutten church, worship is every Sunday at 10:45 a.m. with an adult discipleship class meeting at 9:30 a.m. in the parlor. The Shared Moravian Ministry Ohio also offers worship services on its YouTube channel.
The Fry's Valley church is currently donating meals to Friends of the Homeless and routinely providing desserts for the Ladles of Love Community Dinner at the First Moravian Church of Uhrichsville. They also hold an annual chicken barbecue and car show that are open to the public.
The Uhrichsville church is currently serving the community with two meal programs. Ladles of Love is a community dinner offered the second and fourth Tuesday of each month, and Dinner on the Run is a ham-loaf dinner offered for purchase on the first Thursday each month.
The Schoenbrunn Community church concentrates on helping others.
"The Moravian Church is mission-minded and very focused on reaching out to people beyond the walls of the church," Lippert said. "We are active in helping Noah's Hope, the homeless shelter, the food pantry, and many other local and national organizations."
The church holds Food on the Fly meals on the second Wednesday of each month from 4:30-6 p.m. Anyone from the community can stop by and get a Swiss steak dinner for $8.
Last year Schoenbrunn started a Concert That Cares series. "Youth musicians in our congregation perform a concert for a local nonprofit, and all the proceeds go to that charity," Lippert said. "COVID-19 restrictions have prevented us from hosting one this year but check out our Facebook page for any live-streamed performances."
All the Moravian churches in the county often work together on combined mission trips and share Vacation Bible School programs and resources.
"Just recently for Lent, we did a combined Lenten Zoom Bible study that was hosted by all the pastors in the county. It was a lot of fun," Lippert said. "We also collaborate for our special Easter Sunrise service at Schoenbrunn Village. It is a special service to be a part of, and it is such a privilege to celebrate the risen Savior on such historic and beautiful grounds."
More information about each Tuscarawas County Moravian church is available by contacting the church or online.