Nature walk and fundraiser to support local recovery program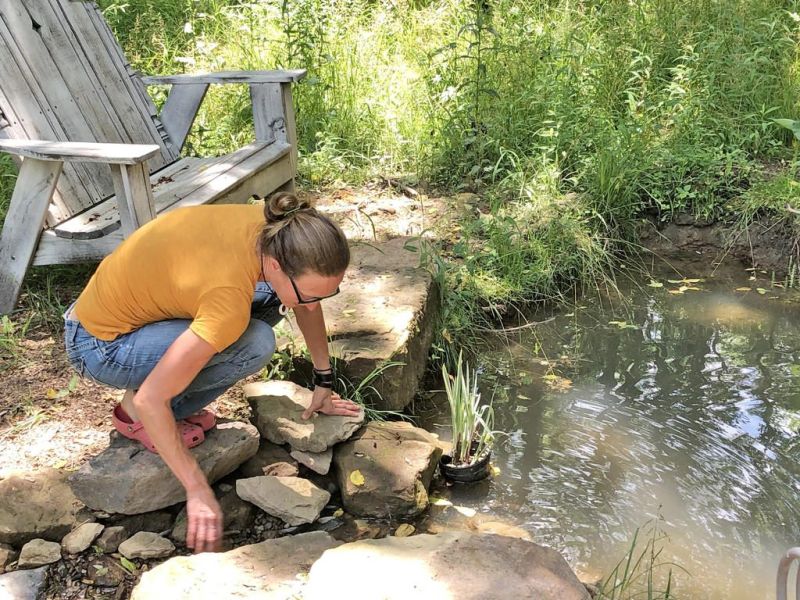 Beneath the Shade, a faith-based transitional-living space designed to help women struggling with drug and alcohol addiction, was just getting off the ground when the first wave of COVID-19 hit. An open house scheduled for Saturday, March 14 had to be canceled.
Founder Kathy Neal may have been blind-sided, but she didn't lose the vision she had for the program. She continued working on renovating the house and working the abundant land so that when the time was right, she could reschedule the event.
Instead of a traditional open house, Neal is now planning a nature walk fundraiser from 5-8 p.m. on July 18 to introduce the community to the program and the changes that have taken place since March of this year.
Those changes include the installation of a small fish pond near the house that is fed by a stream. "It's a really peaceful place to just sit and be quiet," Neal said.
Neal's goal is to have several places of refuge like the pond throughout the property.
Neal and other volunteers also have planted a vegetable garden that will provide food for the women while they stay at the house. It's just a small plot for now, but it will bear asparagus for the next 20-30 years. Other plants include tomatoes, beets, beans, mustard greens and lettuce.
"In the future I'm hoping to terrace the area above the barn with raised garden beds," Neal said. "So we'll be growing some of our own food and doing some canning."
Neal said the gardening is part of what she sees as therapy, self-care and work. "Part of it, too, for the women who come here will be learning how to just quiet down," she said.
Also new is a bee hive in the back yard that will allow the ministry to sell local honey starting next year.
The living room of the home has been decorated with furnishings, all of which were donated. Adirondack chairs, a gas grill and other outdoor furniture have been donated as well.
"I had plans for how I was going to have to find money for the furniture," Neal said. "But because of the COVID virus, all my plans were interrupted, and God just did his own thing."
About the ministry
Beneath the Shade will cultivate the opportunity for women to embrace community and connection and to discover who they truly are. The goal is for each woman to leave knowing her life is based on something bigger than herself, wanting to share what she has learned and ready to become a leader in her home and community. Neal believes women struggling with addiction are beautiful and worthy of living an abundant life. The recovery program will last between 12 and 18 months and features a strong religious focus.
Neal said she is still shooting for an early 2021 opening.
About the fundraiser
The event on July 18 will center around guided tours of the home and guided walks around some of the property. "I didn't want to host an open house and have too many people indoors at once," Neal said.
The event is free to attend, but food from Bahler Street Pizza will be available for purchase with the company donating 50% of its profits back to Beneath the Shade. Live acoustic music also is on the menu for the evening.
Additional fundraising opportunities that evening will include a silent auction of lifestyle items and the sale of Beneath the Shade T-shirts. "The shirts are amazingly soft and comfortable," Neal said. "Everyone has been really happy with them."
Masks will be required for anyone touring the house and will be provided for anyone who doesn't own one. Only five people will be allowed inside the house at the same item.
Help is welcome
Neal is searching for more donors for the silent auction and for volunteers who can help get the property ready for opening in 2021.
"We can use volunteers for outdoor work and painting/refinishing furniture," Neal said. "But we also have a need for skilled work such as plumbing."
Donations of items like bath towels and personal journals also would be welcomed heartily. Those wanting to donate materials or time — or learn more about the nature walk fundraiser — should call Neal at 405-668-2403.
Beneath the Shade is located at 5916 Middle Run Road in Dover.