Nearly 40 years of guidance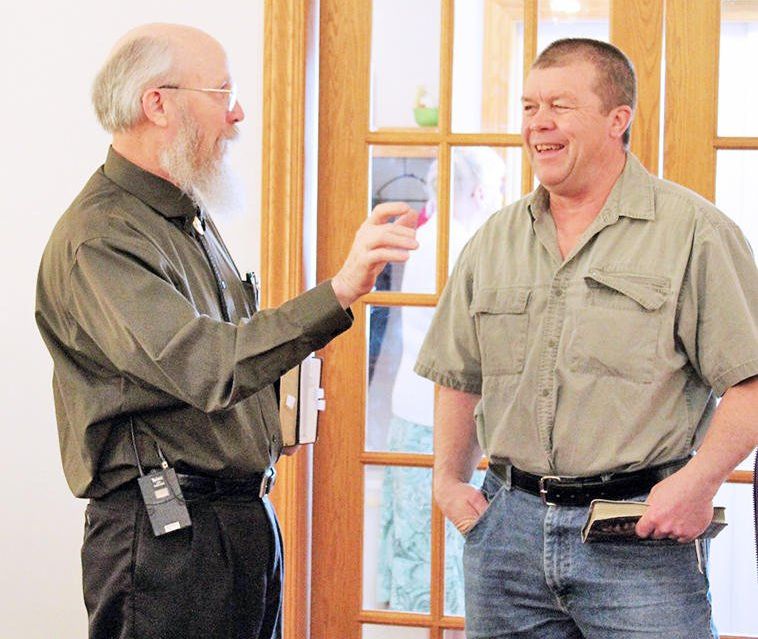 Sometimes when life doesn't go as planned, everything works out better than expected. That is exactly what happened when Rev. Lee Randolph accepted a call to preach at 21 years of age.
"I was out coon hunting one night by myself over in Brush Creek game reserve in Jefferson County," Randolph said. "I didn't hear a voice, I didn't see a light but I had a call. It was undeniable. I could still take you to the exact spot where I surrendered."
Previous to that incident, he had no inclination to go into pastoring. Once Randolph accepted his life's work, all he wanted to be was a full-time minister. After pastoring at West Point Church of the Nazarene in West Point, Ohio for a few years, Randolph was offered the opportunity to pastor at the Goshen Community Church of the Nazarene.
"I drove to Goshen and delivered a trial sermon on Feb. 15, 1980, and the church board voted to place me there," Randolph said.
Two weeks after the Randolph family moved into the parsonage, they received an unsettling visit from a Goshen neighbor. "He said, 'I just want to shake your hand and meet you because you're not going to be here very long,'" Randolph said.
It was then Randolph learned the church had not kept a pastor for more than two years for quite a while. "Thirty-nine years later, I'm still here," he said.
Preaching is Randolph's favorite part of pastoring. "It's very fulfilling. I love the Word," he said. "You could say to me, 'Lee, we need you to preach a message right now,' and I could go preach one right now. I always have a mental bank of ideas."
Randolph takes inspiration from his grandfather, the late Rev. Basil Pursley of Ripley, West Virginia. "He was a stump-jumping, hell-fire and damnation West Virginia pastor. He could preach hell so hot you could feel the heat and heaven so sweet you could taste the honey. I got saved under his preaching," he said.
After three years of being a full-time pastor at Goshen, Randolph had a hard decision to make. His wife Darla and he took stock of their financial situation and discovered they were down to $9.50.
"Anyone old enough to remember 1982 knows the economy tanked. So out of necessity I had to go to work. I had gone without salary for three months to keep the gas and electric on in the church and the parsonage. That is how tight the finances were," he said. "That Sunday I announced to the congregation that if I can get a job, I'm going to work."
As a bi-vocational pastor, Randolph did not take a salary from the church for 30 of his 39 years at the Goshen church.
Through his secular vocation, Randolph discovered instead of a congregation of 50-60 people, his work allowed him to help as many as 600 employees through his work in management at several companies in the plastics industry. He recalled many times he counseled people at work spiritually or financially and was able to prevent some planning suicide.
"God had a hand in my life, even when I didn't know he had a hand in my life," Randolph said.
Randolph said he is pleased with the work he's accomplished at Goshen. When he came there, they only had the church building and the parsonage. Renovations were completed inside and out on the church, and after an adjoining property was purchased, a fellowship hall was added.
The church recently paid off its mortgage on its last remodeling project and is now debt free. Future plans include adding a youth center and better handicapped parking.
Though he's been pastoring for 45 years, it's important to Randolph to continue to grow and study his faith. "In 2017, every other day I had a little mini spiritual revival," he said. "I spent the year reading through the King James Bible and compared it to the New Living Translation Bible, which I had a bias against. In the end I learned the New Living Translation is dead-on accurate."
In his spare time Randolph enjoys riding horses and volunteers at Salt Fork State Park each week to help keep its 80 miles of horse trails in rideable condition. "If I could make my living riding my horse, that is all I would do. I love riding my horse," he said.
Randolph and his wife Darla live in Stone Creek. They have two children: Chet Randolph (wife, Jen) and Melissa Swaldo. They have six grandchildren: Riley, Norah, Ella and Silas Randolph and Zane and Garrett Swaldo.
Helping Randolph at the Goshen church is associate pastor Alvin Conkey, who has been with the church for 14 years, and the newest member of the team, associate pastor Jonathon Rider.
It is rare pastors stay with the same church for so long, and Randolph said he has never felt a call to leave. Certainly the church and the Goshen community are grateful for it.