Ruslin Hills Church to hold 175th anniversary celebration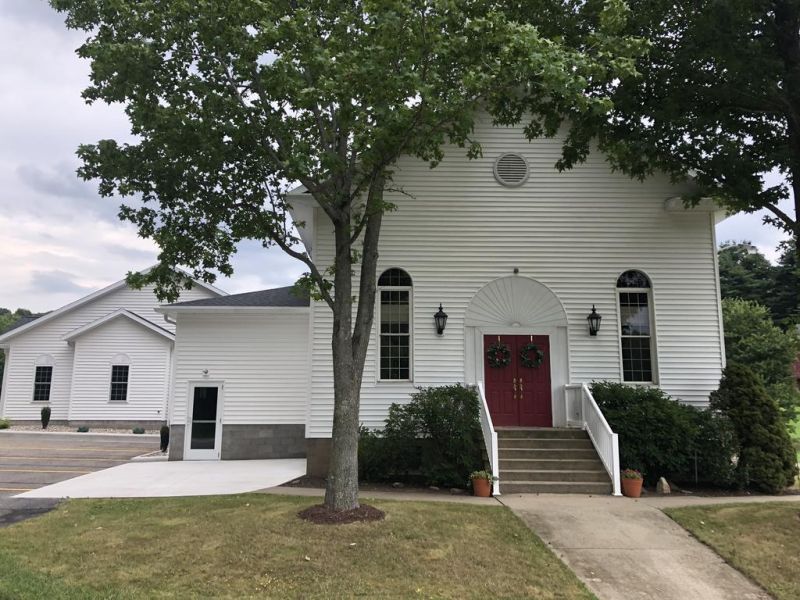 In 1846 Ohio had been a state for a mere 43 years and the Mexican War was raging over the annexation of Texas. Here in Tuscarawas County, a fledgling church congregation was just getting off the ground, organized by a circuit minister named Matthias Galster.
Today, that 175-year-old church is named Ruslin Hills Church on Ruslin Hills Road outside Dover. The pastor and congregation invite the public to help celebrate the anniversary with a free Sunday Come to Meetin' and Picnic on Aug. 29.
Church services will begin at 10:30 a.m. with Pastor Duane Houser arriving in a horse-drawn wagon. A chicken barbecue will follow church services at noon. The event will include horseshoe and hatchet throwing for adults, an old-fashioned cakewalk, plenty of games and toys for children, and live music by the High Country Bluegrass Band.
Mary Beth Marburger is part of the committee that developed the theme for the event. "I'm a little of a pioneer history buff, and I was thinking about what life was like for them — how important fellowship was to them. Fellowship was their social time and the way they knew each other's needs and how to help. So to hear there was a church coming to the area was, I'm sure, quite a big deal. So the idea behind the day was to give it a flavor of that era," she said.
Marburger said the church's history indicates an original log cabin church in the area of the Ruslin Hills Cemetery. "We think it burned down at some point, and the structure we use now was built in 1872," she said.
Thomas Bitticker, the church's unofficial historian, said there is good reason for this opinion. "There is an area in the cemetery where there are no headstones, and the void seems about the right size and shape for a building," he said.
As possible further evidence, Bitticker unearthed a large, rusted door hinge on cemetery land when combing the grounds with a metal detector. "You can tell it's old and was crafted by a blacksmith," he said.
Bitticker also found some old nails there that were made by a blacksmith, as well as evidence of a possible fire. "I'm thinking the old church may have burnt down because there are a lot of rolled-up balls of tar laying around that could have been from the roof," he said.
During the anniversary, Bitticker will give tours of the current church, which was expanded in 2020.
"The expansion is gorgeous," Marburger said. "It's accessible for everyone now. It's all one floor walking into the sanctuary. It turned out really, really nice."
Marburger said everyone is invited to dress in 1840s-era pioneer garb if they desire. "We want to have fun, but the emphasis is on remembering that this has been here for 175 years," she said. "It could never have happened unless the fellowship was following Jesus — his influence and his plan carried out through all the people who've come and gone through this church."
Ruslin Hills Church is an independent nondenominational church and a member of the Evangelical Association of Reformed and Congregational Churches. It is located at 5839 Ruslin Hills Road in Dover.