Sandy Valley church will host a special service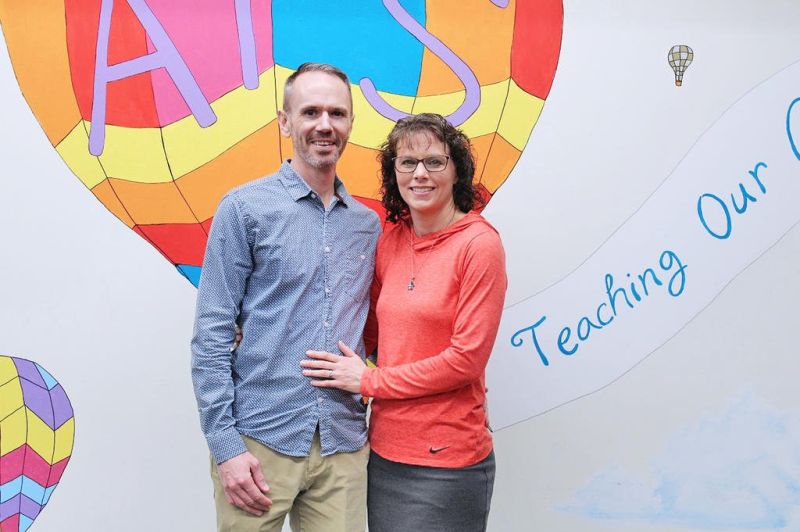 The Sandy Valley Baptist Temple in Magnolia will host a special service for Developmental Disabilities Awareness Month and is welcoming individuals from Advocates for Success of New Philadelphia to participate. The service will be held Sunday, March 19 at 11 a.m. at the church at 530 Elson St. SE in Magnolia.
Tiffany Sunde, whose husband Dan is pastor at the church, planned the event and is working with individuals at AFS to perform "What a Beautiful Name It Is" in sign language at the service.
Tiffany Sunde has been employed at AFS as a service provider for people with developmental disabilities since last September.
"We wanted to have our clients be able to showcase their talents," Sunde said. "They're also going to be singing and signing 'Jesus Loves Me.' We're going to have some tables set up, and they're able to bring their medals that they've won from Special Olympics, some of their arts and crafts that they've made, some pictures they painted, and other things to show off what they do."
After the service the church will host a lunch for the individuals.
"The people are going to be able to be a blessing and encouragement to our church folks, and then at the same time, our church folks can be a blessing and encouragement to our people," Sunde said.
Dan Sunde feels it's important to bring people together.
"I've watched the joy my wife has in working with the people here, the joy that it brings to her life," Dan Sunde said when he visited AFS. "I know sometimes in society we tend to steer clear of those with disabilities because we don't know how to interact with someone that has a disability."
Through Tiffany Sunde's work, she's given her husband more understanding, and he said people with disabilities are the most loving, the most giving, the most gracious and kind people.
"And I want our church family to be able to experience that too," Dan Sunde said. "We want to just help our folks know that those with disabilities are not different from them, and in reality there are some things that they cannot do that maybe someone else can do. But the more I realize, I think the more that we're all filled with disabilities of some sort, some more pronounced than others."
The church service is open to the public.
Dan Sunde served as the youth pastor at SVBT from 1998-2002, and he returned about a year and a half ago.
In addition to the other activities at the service, a six-minute video will be shown about a man with no arms or legs and how he has transformed his life into one worth living.
"It will just really show how those, even with such great physical disabilities, have been used by God in such a miraculous and amazing way to show that there is nothing impossible for someone who has faith, and that individual can make a world of difference," Dan Sunde said.
Dan Sunde also will deliver a message about disabilities based on the Bible for the service.
The event is just another way the SVBT is involved in the community. It also recently started a series on redeeming the realities of marriage.
"We have three primary purposes: to love God, to grow together and to serve others. That is why we're in existence," Dan Sunde said of the church.
Tiffany Sunde and everyone at AFS is looking forward to another event this month too. Advocates for Success in New Philadelphia, located at 638 Commercial Ave. SW, will hold a combined Developmental Disabilities Awareness/Doughnut Celebration Day on March 30 from 9:30 a.m. to 1:30 p.m. in its parking lot.
The Honey Girl doughnut food truck will make fresh doughnuts for purchase, and thanks to AFS, the first 50 people from the community to attend the event will receive a free doughnut. Other activities include door prizes, face painting, entertainment on drums and accordion provided by AFS clients, a line dancing demonstration, and Shar's Shirt Shack will be set up with items made by AFS clients for sale.
On March 21 AFS will be at New Towne Mall during lunchtime with some information tables, and as a service to the community, AFS also will clean off the tables in the food court.
AFS staff members also have been working with their individuals for the Tusc. Has Talent show on March 18. AFS staff members also will participate in the "Unseen" movie event at Buckeye Career Center on March 23.
AFS owners Nancy Hunter and Kim Chaney enjoy celebrating DD Awareness Month with their clients, staff and the community.
"We want the community to recognize that the DD population is absolutely a great population to work beside, to socialize beside, to have fun beside, so we really do believe that the DD population is a population that should be embraced by the community," Hunter said.
More information on the Sandy Valley Baptist Temple and Advocates for Success can be found on each organization's Facebook page.