Shreve UMC offers prayers for start of school year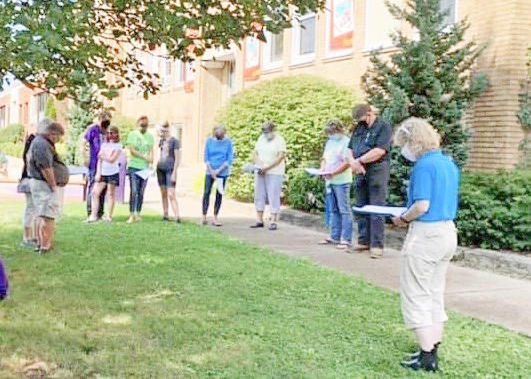 Standing with his two sons outside the Triway Local Schools buildings, Sean Wright understood the scope of prayers needed for staff and students.
Wright was part of a team from the Shreve United Methodist Church that gathered recently on a Sunday afternoon to pray for the start of the school year.
"It's easier to pray for all the people who make the school function when you see the landscaping, the playgrounds, athletic fields, bus lanes, parent pick-up areas, gymnasiums, et cetera," Wright said. "When you pray at home, it all gets lumped into praying for the school year. But to be there with my family and my church family, it really makes the experience powerful."
The church's evangelism committee organized the event, which had participants traveling in cars as families to Shreve and Wooster Township elementary schools, as well as Triway high and junior high schools. At each site the group practiced social distancing while praying for about 20-30 minutes before heading to the next stop.
"The plan was to pray at the Triway schools," Shreve UMC Rev. Mike Grant said, but the prayers were meant to represent all the schools in the area. "Our church, like many churches, has students and school employees at many of the local districts."
The group, he said, prayed for administrators, teachers, cooks, custodians, bus drivers, crossing guards and all those who serve children in the school. Additionally, the team prayed for those who are learning at home and for parents and teachers who are helping kids learn in so many different ways, both at school and online.
At the Triway high and junior high schools, the group walked around and prayed over some of the sporting fields and offered individual prayers for athletes and coaches.
"Being present at a physical location helped me focus my prayers," SUMC evangelism co-chairperson Holly Grant said. "There were teachers inside setting up at Wooster (Township) Elementary when we got there. I prayed for them even though I didn't know their names. You knew their love for their students as they were at the school working on a weekend."
Retired Triway Local Schools teacher Shelley Bower said she knows how much the school staff members appreciate prayers for the start of the school year. "I feel with all the changes this year (due to mandates dealing with COVID-19), it is really helpful for them to have spiritual support from the community," she said.
Wright, co-chair of the church's evangelism committee, said his son Emmet was praying for kids starting kindergarten this year, like he did last year, and his son Elliot focused on prayers for the bus drivers and kids riding the buses. Both are Wooster Township Elementary students.
Katie Geitgey said she was feeling "high anxiety" about sending her family back to school. Her children, Nash and Addalynn, attend Shreve Elementary School, and her husband, Matt, teaches at Triway High School. She said the prayer time at the schools gave her a sense of calm. "I felt it was a really great time of fellowship with people connected to the schools, kids, teachers and parents," she said.
Following the event, Rev. Dennis Rinehart, retired United Methodist clergy, said he is continuing to pray for God's protection against COVID-19. He said being on site helped him feel fully connected with the health and well-being of the lives of everyone using each location. He said solidarity and target praying are ways the church can invest in the public education of its communities' children.
"We are all united in prayer for our schools," Shreve UMC director of youth and children's ministry Adam D'Ettorre said, "and know everything is in God's hands."