Sonnenberg Mennonite to host Maple Syrup Festival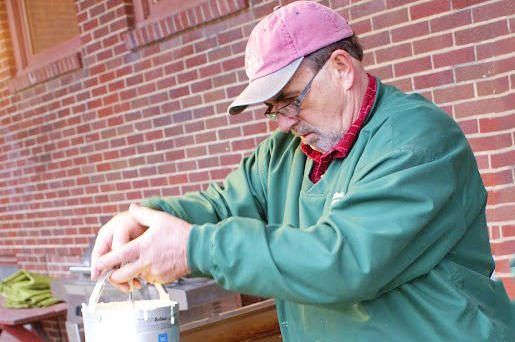 Sonnenberg Mennonite Church in Kidron has deep roots in the community and is active in reaching out to support mission work both locally and around the world. This year the 22nd annual Maple Syrup Festival pancake and sausage breakfast at the church, held Saturday, March 30 from 7-10:30 a.m., will help fund a varied list of programs. The breakfast features locally made menu items prepared by members of the congregation.
"We began 22 years ago when our members in mission fields were looking for a way to help fund their outreach efforts," Ken Neuenschwander of Sonnenberg Mennonite Church said. "The committee started the idea of a pancake breakfast with real maple syrup, and at first it was just for church members. Then members of the community were invited, and it just kept growing. We were able to begin dividing up proceeds from the breakfast among projects according to need."
Today the annual breakfast brings out 600 or more people, eager for a taste of the unique flavors offered.
"The syrup is made from sap gathered from local trees," Neuenschwander said. "Dave Ross, a member of the church, has a small sugar shack and began tapping trees in the middle of February. He has boiled up about 30 gallons so far and has plenty of sap on hand for more. I know he's got several people helping, going full force, working to get the syrup ready."
In keeping with reports by many maple sugaring operations this year, sap is running heavily from Ross' trees. "I know he's had a hard time keeping up," Neuenschwander said.
Everything at the pancake breakfast is made by members of the congregation. The pancakes are scratch made, and the sausages are stuffed by hand. "One of our members used to have a butcher shop and had his own special sausage recipe, which is always popular," Neuenschwander said. "I don't think you'll taste anything quite like it anywhere else."
There is no set charge for the meal. Instead, the church accepts whatever donation a person is able to offer. "You can donate as much as you're able," Neuenschwander said.
Proceeds from the breakfast benefit numerous missionary projects of the church including The Bridge of Hope in Liberia, Camp Luz of Kidron, CAMO of Honduras, Light House in Canton, Mennonite Central Committee of Kidron, Open Arms of Wayne County, Oryangurens of Argentina, People to People of Wooster and several other organizations. The Mennonite Central Committee oversees thrift stores in the area as a further fundraiser for church outreach.
"We have a lot of people who come out for the breakfast," Neuenschwander said. "But we also have quite a few who get their breakfast to carry out. Maple syrup and sausage will also be available to buy that morning to take home. We sell the syrup at the church all year round as well."
Sonnenberg Mennonite Church was founded in the middle 1800s. Today around 100 people attend services each week. The church is at 14367 Hackett Road in Kidron.