Wooster churches adapting to coronavirus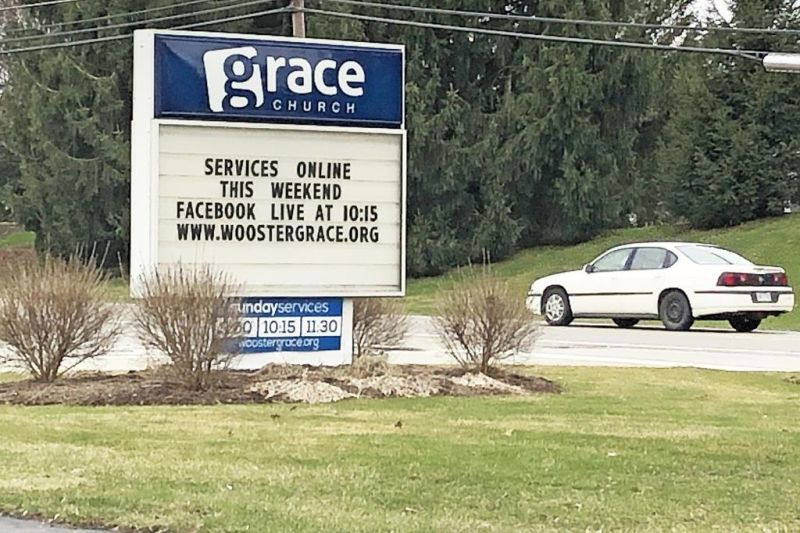 Due to the Coronavirus pandemic, area churches are facing previously unimaginable challenges in reaching out to their worshipers.
Rev. Dr. Kevan Franklin of Trinity United Church of Christ in Wooster said his church is trying daily to be responsive to the challenges.
"We're just basically doing a whole lot more electronically now," he said. "I think we were doing a pretty good job with our social media outreach already, but this has certainly taken it to new heights."
Franklin said Trinity now holds online services on Sundays at 9:30 a.m. and Wednesday evenings at 6:30 p.m. The services can be accessed via the church's website and Facebook Live.
"We had more than 200 join us on Sunday and 30 for what was our first Wednesday service," he said.
Franklin said the Wednesday evening online service is a more informal one, whereas the Sunday morning online service is recorded from the sanctuary, as it is given traditionally.
"I think it's kind of important for people to have that sense of continuity, to be able to see the pulpit, the banners and the cross,' he said.
Franklin said the church is seeing an increase in people seeking out counsel in the face of the pandemic.
"I know I've taken a lot more phone calls," he said. "We're all trying to figure out what to do; none of us has ever lived through anything like this. There's just a whole lot of general anxiety out there."
Franklin said the church has started a "telephone care network," where members are urged to stay in contact with and support each other by phone.
Trinity UCC is uniquely challenged because of the different ministries it provides at its donwown location.
For years, Trinity has hosted a popular breakfast program that has provided free hot breakfasts for those in need.
"The Akron-Canton food bank is facing challenges and we're still trying to get a healthy breakfast out to people, but we have to serve them on a take-out basis, now," he said.
The church also normally hosts a number of support groups, but Franklin said those meetings are now cancelled for the foreseeable future.
"People look to us for leadership, so I'm personally trying to stay up to date on all the information from the CDC, as well," he said.
"It's just getting even harder to help the people on the streets," he said. "They were already living on the edge, anyways."
Visit trinityucc.org for details of Trinity's programming.
Pastor Tom Broyles of Connection Church said although his church has had to totally shut down as far as in-person contact, the ministry remains strong.
Sunday church services will be shared on Facebook Live for the foreseeable future and in-person gatherings are postponed.
"We just have to think of new ways to engage people online. We are trying to be creative for our families," he said. "This week we held a fort building contest, where we posted a contest for who could build the best fort in their house."
Broyles said these difficult times don't mean the church can't survive.
"It's more important than ever for people to remember that Christ casts out fear," he said.
Visit the church's website Connectionchurch.cc for more information.
Grace Church has services available from its website live or on demand.
According to Grace's web site, in its March 21 sermon Pastor Nick Cleveland talked about Fear and Worry — "Right now, there's a lot of fear and worry in the world. But today we're learning why worry never works and fear steals freedom. Join us as Pastor Nick talks about how we can put faith ahead of fear."
The church's web site is woostergrace.org and Grace Church has an app that can be downloaded to engage in any of their services online from anywhere.
If you aren't familiar with your church's website and electronic presence, simply do a Google search for "Wooster Ohio churches" and a wide variety of churches is listed.