100 years of history: A milestone for the Wooster Elks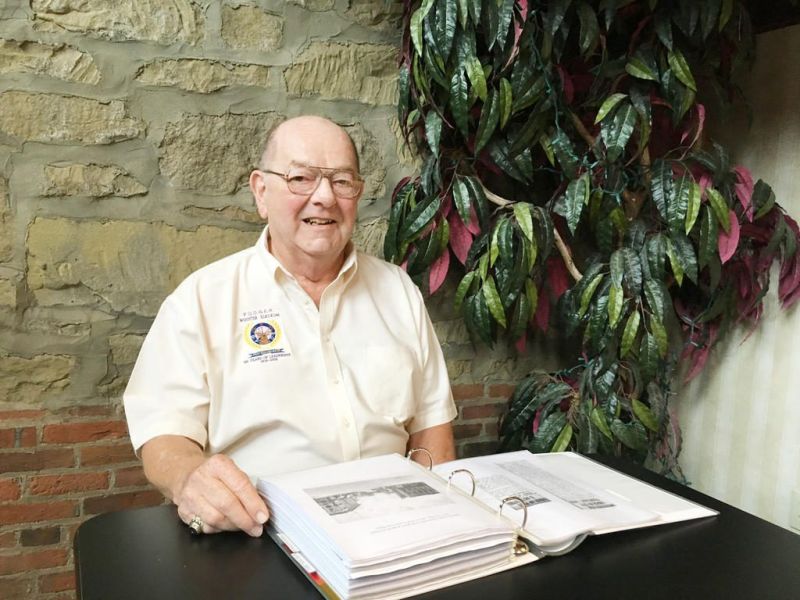 This year marks the 100th anniversary of the Wooster Elks.
"There is no doubt in my mind that the Elks Lodge has given over $1 million to the community over the past 100 years," Roger E. Bucher said.
If anyone knows the history of Wooster's Elks, it's Bucher, a 52-year member.
To help commemorate the achievement, Bucher decided to delve into some historical research. "When I found out that we have no lodge records prior to 1953, it bothered me," he said.
Bucher tried asking some of the older members where the lodge was located prior to its current location on Market Street, and no one seemed to know. "They'd say it was somewhere downtown," he said.
Having done both his own and his wife's genealogy, the research seems to come easily to Bucher. "I like to hunt for things," he said.
The longtime Elk has held several positions within the group including two terms as the exalted ruler and a stint as the district deputy of the Ohio North Central district.
By searching through old newspapers at the library, Bucher found two previous downtown locations and has thus far researched the history from 1905 through the 1940s.
The first mention of the Elks occurred when a group of members surfaced in Wooster and the newspaper ran an article indicating interest in forming a local chapter. It was 13 years later before Bucher found the Elks mentioned again. On Feb. 14, 1918, the Wooster Elks Lodge was born.
"They started out meeting on Market Street above where City News is," Bucher said. "In October of 1918 they moved to the northeast corner of Liberty and Buckeye Street."
The Elks headquarters is now at 335 N. Market St. in a house built in 1873. "That house was built by Jacob Frick," Bucher said. "They bought it in 1923 for the sum of $25,000. That translates to approximately $370,000 in today's money. They had it paid off in under three years."
Bucher discovered newspaper articles detailing the intense fundraising that went on to pay for the group's new headquarters. Over one 3-night period, the Elks put on a minstrel show and raised $14,000.
Bucher devoted much time and attention to creating this historical legacy for the Elks. "It's a way for me to give back to the lodge for what I feel was given to me," Bucher said. "I had no idea back when I joined that I'd ever hold office, let alone serve as exalted ruler."
Bucher recalled speaking in front of a group and said it was "not [his] cup of tea." The Elks solved his concerns in that regard.
There is much memorization required in carrying out the meeting rituals, and Bucher also said the idea of having to memorize anything when he joined "was horrendous." Yet, during his first year as ruler, the local chapter won a district competition based on correct memorization of the ritual of initiation. It was the first time Wooster had won the competition.
"It was a good feeling," Bucher said.
His wife is a 52-year member of the Wooster Emblem Club. That group was initially started as an offshoot of the Elks for women related to Elks members. It has remained a separate organization, although women have been allowed as Elks members since 1995.
Interestingly enough the Wooster Elks have their first female exalted ruler this year with Cindy Courson.
As part of the year's ongoing commemoration of the anniversary, the Elks national leader, the grand exalted ruler, will make a stop in Wooster for a luncheon on Aug. 16.
Back in the day the Elks were involved in such historical achievements as helping Wayne County purchase the area's first iron lung.
"They also helped provide oxygen, which was a rare thing," Bucher said, "like at the hospital or when a patient was being transported."
Cerebral palsy is currently a big focus of the Wooster chapter. "We are right at about $400,000, I believe, that the lodge has donated."
Of that amount Bucher explained at least $350,000 has gone to support individuals in Wayne County.
The Elks also support numerous other local organizations.
Feb. 14 marked the beginning of the 100th year for the local Elks, and Bucher plans to have his history completed by Feb. 14, 2019.
"I took a Winston Churchill saying, and I changed the word country to lodge," Bucher said. "A lodge who has forgotten its history has no future."
Thanks to Bucher, Wooster's Elks can now remember their history in detail as they look toward the future after a century of community service. 
The Wooster Elks has more than 700 members and is joined through invitation only.
Individuals may be invited to join by a current member. Local nonprofits wishing to inquire about receiving funds from the Elks may email the group's secretary at elks1346@sssnet.com.