Farm Toy Show, Ruritan pancake breakfast Feb. 1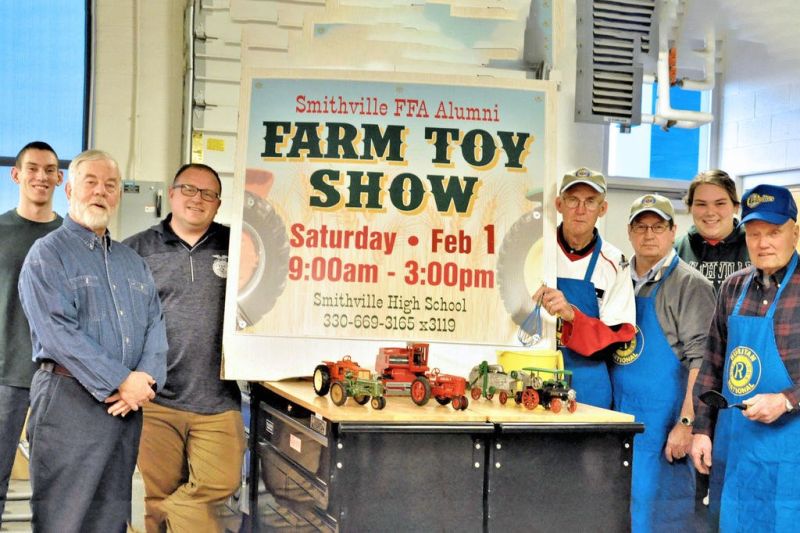 The annual Farm Toy Show will be Feb. 1 in the Smithville High School cafetorium from 9 a.m. to 3 p.m., and admission for adults will be $3. Age 10 and under will be admitted free when accompanied by an adult.
In conjunction with the Smithville FFA Alumni-sponsored Farm Toy Show, the Smithville Ruritans will conduct their second annual pancake breakfast at the Smithville Brethren Church from 7-11 a.m. Donations will be accepted for admission to the breakfast.
Both events will benefit the Smithville High Future Farmers of America with proceeds going toward the FFA's various leadership activities throughout the year.
"We have 60 vendor tables lined up for the Farm Toy Show," spokesman Bob Platt said. "All money generated through table rentals will go directly to the FFA."
Platt said items to be sold at the show will include toy farm equipment such as tractors and combines in addition to dioramas and a wide array of toys in general.
Lunch items will be available from 11 a.m. to 1 p.m.
The Smithville Ruritans have supported the local FFA program since 1966, the year the village's Ruritans chapter was chartered.
"Early risers can come to the church and enjoy the pancake breakfast with their families and then head on over to the school for the Farm Toy Show," Ruritan Rick Dilyard said. "It should be a great day, and we're always happy to be able to show support for the FFA."
Stephen Heppe, Smithville FFA advisor, said he has 28 students currently active in his FFA chapter.
"The proceeds of the breakfast and Farm Toy Show help the chapter in many different ways," Heppe said. "Most of them are leadership activities that our students attend at different times of the year."
For more information call Heppe at 330-669-3165 ext. 3119 or Platt at 330-669-9455.
Farm Toy Show dealers are asked to set up their tables that Friday from 5-7 p.m. or that Saturday from 7-9 a.m.
Smithville High School is located at 200 Smithie Drive in Smithville, and Smithville Brethren Church is located a 193 E. Main St.