NWN Ruritans speaker is Marine captain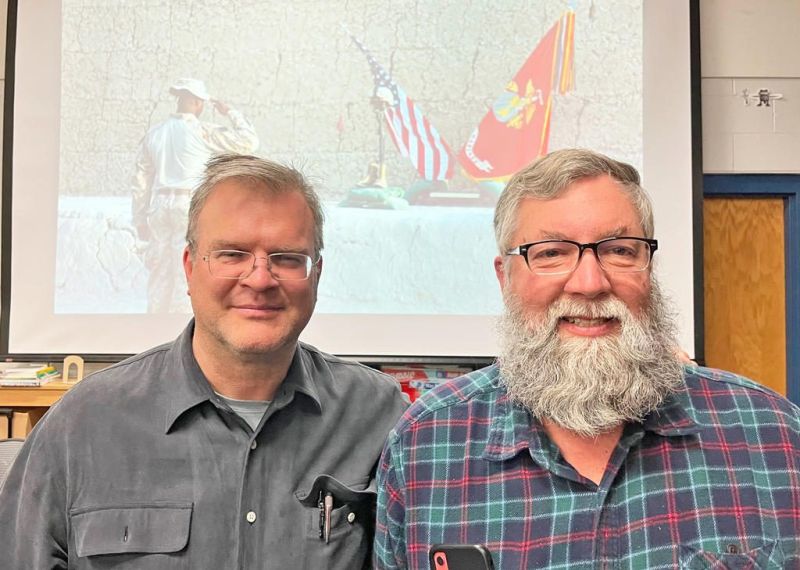 The Northwestern Ruritan Club met on March 7 for its monthly dinner/meeting at Northwestern High School. President Kim Wellert welcomed members and guests Gus Biggio, the speaker for the meeting, and his father, Dr. Tony Biggio. The group joined in singing "America" and the invocation was given by Jim Johnson. The dinner prepared by the Northwestern School Cooks was enjoyed.
Gus Biggio gave a most intriguing talk, mainly on his experiences as a Captain in the Marine Corps in Afghanistan. He was introduced by Cassie Chance, a former classmate in the Northwestern schools. Biggio had attended Northwestern Schools through seventh grade before he transferred to Wooster. While Biggio was speaking, Chance gave a slideshow of many fascinating images taken of soldiers, people, and countryside in Afghanistan.
Biggio was commissioned when he graduated from Denison University and served 4½ years in the Marine Corps. He returned to Ohio in 1997 and attended law school at Case Western Reserve. As an attorney, he lived in New York City and Washington D.C. With his country at war in 2007, he felt a strong calling to volunteer with the Marines again, even with a wife, who gave her blessings, a child, and another baby on the way.
Biggio was a team leader of special forces and had many close calls with the enemy before returning home. He wrote a fascinating book on his experiences in Afghanistan entitled "The Wolves of Helmand," which was available for members to purchase at the meeting. Biggio and his family are currently living back and forth between Washington and Switzerland, although he has always called Ohio his home.
Michelle Bowman's treasurer's report was approved subject to audit. Appreciation was expressed to Mike Becker for auditing the books and a motion was passed that the 2022 club budget be accepted. A thank you note was received from Brady Flinn, now retired after 20 years in the Air Force, for the care packages he received from the club's Husky Brigade. A thank you note was also received from Rev. Jeffrey Kaiser of Haven of Rest Ministries for the gift given to them. A motion was passed that the club purchase an ad in the 2022 Ohio District Spring Banquet program booklet. The banquet will be April 23 in Louisville.
Club members have signed up to assist folks at the recycling bins at the Congress Township House on Saturdays from 9 a.m.-noon in March and April, and superintendent Jeff Layton reported that NWHS seniors have picked up application forms for Ruritan scholarships, which were due in by March 16. Jamie Bowman announced the Parade of Flags publicity and order forms are being sent out.
The next meeting will be April 11 at 7 p.m. in the NWHS Cafeteria. New members are always welcome. The program will be by the Environment Committee, with Jerry Payn as chairman. The directors will meet that evening at 6:15 p.m. in the school library. With no more business, the meeting was adjourned with the recitation of the Pledge of Allegiance.