O.H.I.O. EXCA Club competes in obstacle challenge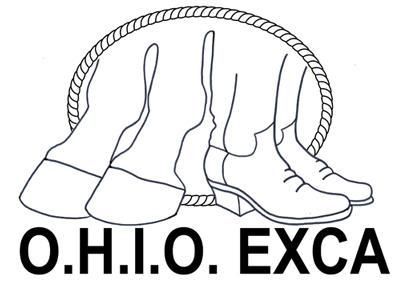 O.H.I.O. EXCA Club, a horse club based in Sugarcreek for both youth and adults that promotes a relationship with a horse through the use of obstacles, has begun its fourth year of hosting races as a sanctioned club through Craig Cameron's Extreme Cowboy Association out of Texas.
The first of three Eastern Ohio Obstacle Challenge series events was held at the new Creek Side Horse Park in Waynesburg in June, with the following results:
—Young Guns: first, Olivia Lang.
—Youth: first, Daniela Scheffler; second, Jordan Scheffler; third, Rachel Brick; and fourth, Abby Lang.
—Non-Pro: first, Danelle Osinchuk, 279.47; second, Katie Horton Finley, 243.62; third, Jennie Bower; and fourth, 229.34.
—Ride Smart: first, Bower, 249.12, and second, Kathy Sailer Friley, 234.99.
—Novice: first, Sharon Oetzel, 225.22; second, Bethany Van Voorhis Scheffler, 205.23; third, Finley, 204.81; and fourth, Stephen Oetzel, 204.34.
—Intermediate: first, Sharon Oetzel, 281.94; second, Osinchuk, 279.06; third, Jasmine Baker, 233.35; and fourth, Becky Jarvis, 211.64.
—Green Horse: first, Finley.
Numerous volunteers helped support and run the event including judges Kayla Schlabach and Logan Shetler.
O.H.I.O. EXCA will welcome back EXCA Level 4 judge Lee Hart to Ohio on Aug. 20 to facilitate a horsemanship and cattle-working clinic for club members and help judge the Aug. 21 EXCA race at S Bar L Rodeo Arena in Sugarcreek. EXCA races specialize in good horsemanship navigating obstacles where speed is a factor. Hart has reached the top of this sport, and clinic participants and racers will acquire great guidance and feedback.
While the Aug. 20 clinic is full, the Aug. 21 race is still accepting entries. Competitors may range between age 7 and Ride Smart seniors. Racing will begin at 9 a.m. after prayer and usually ends around 6 p.m. All can expect up to 80 timed runs that will include sorting live cattle, navigating a keyhole, crossing a rocking bridge, using a cache hoist, opening and closing a gate and more.
Riders who have committed to race in the past have various experience levels, and many are often new to EXCA. Spectators receive free entry. Several of those who race and gather high enough scores are likely to qualify for the EXCA World Championship Race in Texas this year.
August and October EXCA races will be held at S Bar L Arena in Sugarcreek, where SL Productions helped the club get started. Practices at this venue and at the new Creek Side Horse Park occur mostly on Thursday evenings from May through October with some cattle working opportunities at S Bar L.
The club's winter home for practicing is at Riverland Arena in Navarre on Sunday afternoons, and it also organizes some group trail rides and camping opportunities throughout the year, with the next scheduled for the weekend of July 24 at Jefferson Lake State Park.
Sponsors for the 2021 season include Weaver Leather, Silk Studio Photography, United Equine, Creek Side Horse Park, Saltwell Western Store, Kaycee Western Store, Equipride and EquiLix, and Soltice Equine Bodywork.
Sponsorships allow the club to help reduce youth entry fees for both club-hosted clinics and races, provide discounted club T-shirts, pay for cattle at races without raising entry fees, and provide prizes at races.
If interested in the O.H.I.O. EXCA Club as a member, volunteer or sponsor, go to the O.H.I.O. EXCA Facebook page.