Orrville safety council reviews first aid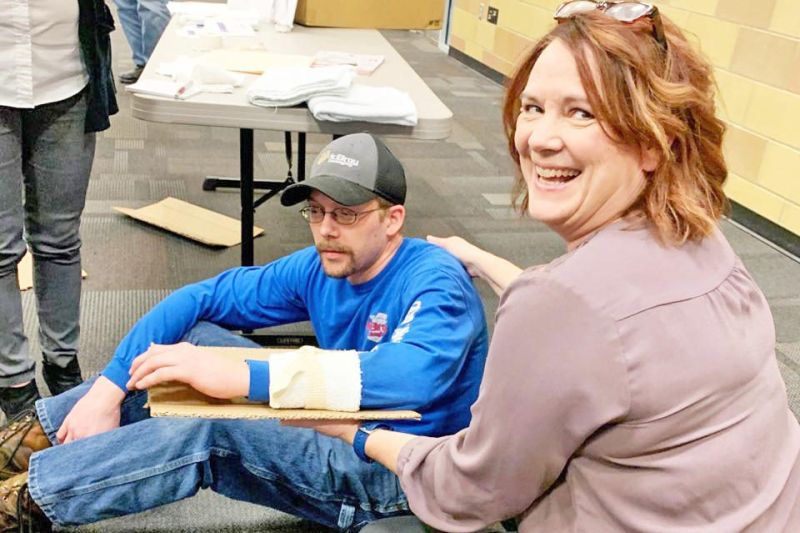 The Orrville Area Safety Council held a first-aid workshop for local employees to refresh and practice skills at the University of Akron Wayne College on Feb. 12.
Four interactive stations were incorporated into the program, all featuring injuries or health issues that could be encountered in the workplace.
Demonstrating stroke signs and symptoms from Aultman Orrville Hospital were Loretta Raff, director of population health, and Janeen Bradford, registered nurse education coordination. They educated attendees on the FAST test when determining if a co-worker could possibly be having a stroke.
Aleah Neuenschwander, wellness specialist at Aultman Orrville Sports & Medicine, had participants split up and practice supporting an arm injury with common workplace items such as a magazine and a shoestring to stabilize the limb during the wait before emergency medical help arrived.
Mike Arthur, Disaster Program manager with the American Red Cross Northeast Ohio Region, reminded participants that when someone experiences cardiac arrest, any help is good help. Performing hands-only CPR is an effective way to keep oxygen moving through the blood stream of the victim until further professional help arrives. The attendees were able to practice the simple technique of chest compressions on foam ambulances with his instruction.
The most popular among the Safety Council attendees was instructed by Nick Seitz, president of Firefighter Safe. Seitz brought life-threatening injuries into reality with a dummy with faux but realistic injuries. Attendees were invited to actively participate by getting their hands messy with fake blood while applying pressure to stop the bleeding on a life-threatening injury they could encounter in the workplace.
Next month's meeting will be March 11 at the University of Akron Wayne College Student Life Building from 11:30 a.m. to 1 p.m. The meeting will feature Matt Newman, registered dietitian with Aultman Orrville Hospital. The presentation will review sugar found in the food supply and give recommendations on how best to use nutrition labels.
The Orrville Area Safety Council is a partnership between Ohio Bureau of Workers' Compensation and the Orrville Area Chamber of Commerce. One does not need to be enrolled in Safety Council to attend meetings. To register, visit www.orrvillesafety.com or email safety@orrvillechamber.com.