Sportsman's Club gives $4,500 to Make-A-Wish Foundation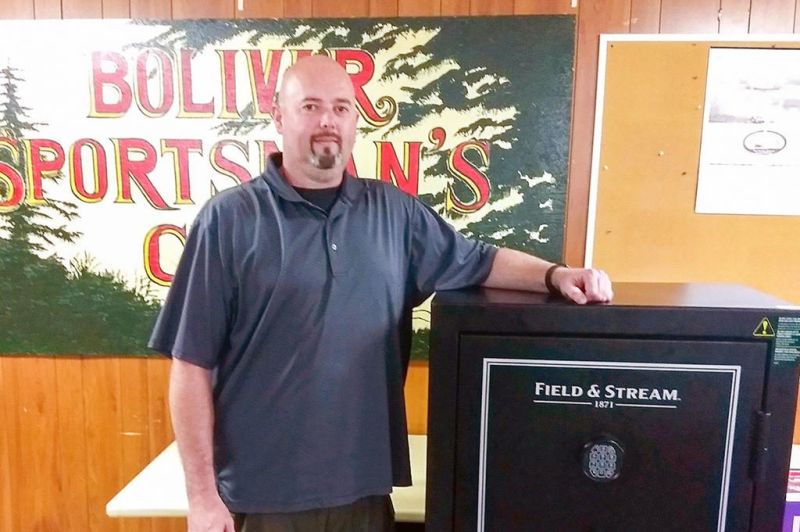 When the Bolivar Sportsman's Club started selling tickets for its most recent raffle, President Mike Gross was concerned they might not raise much money, given the COVID-19 crisis required them to cancel the event they had scheduled.
Gross need not have worried. The community came through with enough funds to allow the club to donate $4,500 to the Make-A-Wish Foundation, which grants wishes to children who have critical illnesses.
"We did very well this time, especially without an event," Gross said.
Gross said donating to charities that help people locally, especially children, started as a business decision but quickly turned into a passion, and he explained how the club decided which charity to give to this time.
"When we started talking about donating to one of the larger charities, we saw that there are only a few that really donate 100% back to someone who truly needs it," Gross said. "When I saw that Make-A-Wish was on that list, it got me thinking about my nephew Bobby, who died at a very young age from cancer and how Make-A-Wish sent him and his family to Disney World in Florida."
May raffle winner didn't expect to win
The winner of the May 16th raffle, Carl Charpia, Jr. of Apple Creek, took home a gun safe and guns valued at $3,500. Charpia, who has never been to the Bolivar Sportsman's Club, said he bought $60 worth of raffle tickets from his friend Joe Perry, a club member who was selling them on Facebook. Perry, who is a senior pastor at Dover Apostolic Church, remembers telling Charpia "I hope you win" when he bought the tickets.
"I didn't expect to win," said Charpia, who bought the tickets because he felt the raffle was for a good cause. "I actually forgot the drawing was being held that Saturday, so when Mike called, I was really surprised."
The merchandise will come in handy for Charpia, who is an NRA firearm safety instructor and will use the weapons in his classes.
A wish can be a game-changer for a sick child
Haibach said a wish granted to these families can be a turning point in a child's treatment. "We often hear that the wish encourages them to get through what can be some very difficult treatments," Haibach said. "Just knowing there is something good waiting on the other end that they can dream about is all they need. Wishes often provide a sense of normalcy that allows the child and the family to set aside thoughts of doctor's appointments and hospitals for a moment in time."
Thanks to advances in medical research and treatment, most of the kids being helped today live longer than they did when the foundation started 40 years ago.
"About 80% of our Wish Kids have gone on to overcome their wishes," said Keri Haibach, Northeast Ohio senior regional director of development for Make-A-Wish.
Haibach said the foundation is extremely grateful for the club's donation. "We rely completely on donations from donors and corporate sponsors. Without their support we could never do what we do."
Due to the COVID-19 crisis, the foundation has had to temporarily suspend granting wishes that involve large gatherings or travel. However, according to Haibach, they are still granting lots of wishes including quite a few in Tuscarawas County. "We just granted a wish to one child who wanted a camper, and we are working on a wish for a gaming computer and 3-D printer, as well as one for a backyard oasis."
Already in 2020, Make-A-Wish has granted six wishes to sick children in Tuscarawas County. The money from the Sportsman's Club raffle will go toward making a wish come true for a child in Tuscarawas County. "I was really glad to hear that," Gross said.
Club steak fry in June will help raise more funds for donating
Gross said this year has been a particularly hard one to raise money for the club's ongoing charitable contributions. He is hoping to draw a sizable crowd to the steak fry on June 13, starting at 5 p.m.
Tickets are $15 for the dinner, which includes a large strip steak, salad, baked potato, baked beans, fresh bread and beverages. Children 12 and under are free and can enjoy hot dogs, chips and Popsicles all night long.
"We will do our best that night to ensure social distancing," Gross said.
Measures include seating only eight people per table with tables placed 6 feet apart. All servers will wear masks and gloves. Gross said the club has hired Brahler's Cleaning & Restoration to thoroughly clean and sanitize the building, tables, chairs and equipment prior to the event.
Gross said they make very little money from the food tickets, so the raffles are critical for raising the money that goes toward charities. The steak fry raffle items will include a 60-inch smart TV, an Ohio Lottery basket, Stihl Chainsaws, several guns and other items. All children 12 years of age and under will receive a free ticket for a chance of winning a prize.
The Bolivar Sportsman's Club is located at 11286 Strasburg Bolivar Road NW in Bolivar. More information on the steak fry and club membership can be obtained by calling 330-209-7978.