Joey Votto's viral rant has a connection to Wooster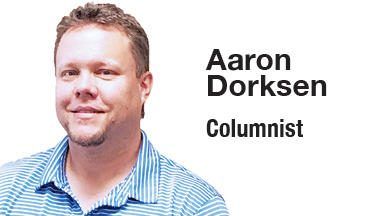 A few thoughts from the week in sports …
Anyone who follows Major League Baseball closely should know the name Joey Votto.
The Cincinnati Reds' six-time All-Star and Gold Glove winner is an outstanding player, with a personality and sense of humor to match.
Votto recently delivered a hilarious rant to commentator Chris Russo on MLB Network's "High Heat" program, which ended with a reference to an obscure player who was born in Wooster in 1891.
Votto brought up a comment made by Russo in May in which he said Votto and Royals pitcher Zach Greinke were more deserving of being inducted into the Hall of Very Good, instead of the Baseball Hall of Fame in Cooperstown.
"A couple of months ago, you said that Zack Greinke and I are Hall of Very Good ballplayers," Votto told Russo. "I think Zack and I would agree. You may be right, but I get the gist of what's going on here."
Then Votto proceeded to roast Russo.
"You're looking down on us," Votto said. "A couple small-market, Midwest ballplayers just because we're not big city just like you.
"Mr. New York City, Sirius XM Radio star, Mr. National Television, ESPN star, with your Fifth Avenue ties and your crisp pocket squares, your tailored suits and your polished shoes, and your hair, your perfectly coiffed, Broadway hair. Must be nice to sit atop that Madison Avenue ivory tower, looking down on us with those luscious locks. Not everyone can be the next Roger Peckinpaugh, Mad Dog! You should be ashamed of yourself! You're a disgrace!"
Russo could barely contain his laughter while co-host Alana Reza looked on in disbelief.
No doubt many curious fans across the country Googled the name Roger Peckinpaugh. "Who's that?" they had to wonder.
Anyone who researched Peckinpaugh quickly learned he was born in Wooster in 1891.
I had a reader contact me and mention the Votto interview and ask what I knew about Peckinpaugh. As a longtime Wayne County Sports Hall of Fame trustee, I've had a couple people over the years ask, "Why is Roger Peckinpaugh not in the Wayne County Sports Hall of Fame?"
For those who don't know the name Roger Peckinpaugh, he played shortstop for the Cleveland Naps (1910, 1912-13), New York Yankees (1913-21), Washington Senators (1922-26) and Chicago White Sox (1927). He was the AL MVP in 1925 and later managed the Yankees and Indians.
Peckinpaugh was indeed a very good but not great player. He collected 1,876 career hits with a .259 batting average and was a bizarre name for Votto to mention but somehow perfect for his rant.
Although Peckinpaugh was born in Wooster, his family moved when he was very young, and he wound up going to East High School in Cleveland. He died in Cleveland at age 86 in 1977.
Peckinpaugh's name has come up a few times in WCSHOF discussions, but since he didn't spend much time here, didn't go to high school here, it would make no sense to put him in the local HOF.
That would be like putting Steph Curry into a Summit County Sports Hall of Fame just because he was born in Akron, but he grew up in Charlotte, North Carolina.
I've loved learning about baseball history from a young age, and it's always interesting when names or interesting statistics from the past come up. I certainly hope Votto becomes a TV announcer when his playing days are done because he always has something interesting to say and is clearly a student of the game.
Big leaguers born in Wayne County
If you research Major League Baseball players born in Wayne County who played from 1900 forward, there are several. Members of the WCSHOF who played big league baseball are as follows:
—Bob "Dusty" Rhoads (born in Wooster 1879, played from 1902-09).
—Kaiser Wilhelm (born in Wooster 1874, played from 1903-21).
—Denny Galehouse (born in Marshallville 1911, went to Doylestown High School and played from 1934-49).
—Dean Chance (born in Wooster 1941, went to Northwestern H.S. and played from 1961-71).
—Mike Birkbeck (born in Orrville 1961, went to Orrville H.S. and played from 1986-95).
The biggest accomplishments among those players were Chance winning the 1964 Cy Young Award for the Los Angeles Angels and Galehouse pitching in the 1948 World Series against the Indians (he lost game seven).
Wilhelm attended Wooster H.S., but the school didn't have a baseball team yet.
Post-1900 big leaguers also from Wayne County are Scotty Alcock (born 1885, played in 1914) and Ginger Clark (born in Wooster 1879, played 1902).
Guardians trades
I'm not outraged by the Guardians' trades like some fans.
Cleveland traded Amed Rosario to the Dodgers for Noah Syndergaard to open up their shortstop spot to see what the prospects can do. The Guards had no interest in resigning Rosario, who hustles but isn't anywhere near an All-Star in the field or with the bat.
The Guards flipped Aaron Civale, who's been on the disabled list five times since 2021, to the Rays at his peak value for a good hitting prospect in Kyle Manzardo. And they saved more than $8 million by trading the underachieving Josh Bell to the Marlins for prospect Khalil Watson.
Cleveland is a mid-market team, and the 2023 club has never shown signs of going to the World Series despite battling in the weak AL Central.
It would have been nice to get more immediate help than just Syndergaard, but this will wind up being addition by subtraction and Cleveland will get a better idea how good its current young players are.
Parting shots
Congrats to 2023 Wooster H.S. graduate Abbie Leiendecker for winning the Teen Masters National championship in Allen Park, Michigan on July 28 after several near misses over the years.
Abbie joined older sister Allie as a Teen Masters champion, and they'll bowl together next season for Louisiana Tech.
—A pair of upcoming golf scrambles will be held to honor the late Nate Butcher and Harvey Geiser, respectively.
Butcher, who was a well-known area youth baseball coach and slowpitch softball standout, passed away in 2022.
The second annual Butch Hole Classic will be held Aug. 12 with an 8 a.m. shotgun start at The Pines Golf Club in Orrville. The entry fee is $400 for a team or $100 per player. All proceeds will go to help the Butcher family. There will be food, games and raffle drawings. To donate, register or for more information, email tonypertee@icloud.com.
Geiser, who was a football and strength coach at Waynedale, passed away in 2020.
The inaugural Harvey Geiser Golf Scramble will be held Sept. 16 with an 8 a.m. shotgun start at Riceland Golf Club in Orrville. The entry fee is $75 per player. All proceeds will go to the Harvey Geiser Memorial Scholarship. To donate, register or for more information, text Corey Mullins at 330-317-5441 or Cory Stryker at 330-347-7598.
Aaron Dorksen can be emailed at AaronDorksen24@gmail.com. Follow him on Twitter at @AaronDorksen.